The Greater Manchester Marathon saw around 7,000 people race around the streets of Trafford last Sunday in the hunt for running glory.
Whether a fundraising first-timer or a seasoned veteran chasing that elusive personal best, the mammoth 26.2mile circuit holds a challenge for everyone.
Despite lacking the trademark authentic 'Manchester' weather, the flattest marathon in the UK gave myself and thousands of other runners the chance to speed their way through Sale, Altrincham and Timperley.
Winner Andi Jones is now the fastest British male marathon runner in 2014 with a time of two hours and 17 minutes, while eight out of the top ten male times are from Sunday's race.
This was my fourth marathon and I managed to set a time of three hours and 40 minutes – five minutes slower than the personal best I set at last year's event.
And if you ask my strained groin muscle, it will probably tell you that time could have been as much as 20 minutes quicker with a bit more training.
I'll be propping up my poorly leg while the London marathon takes place this weekend, but if you've been bitten by the bug or always fancied giving it a go, here are five tips to take you from the sofa to the finish.
1. Best foot forward
Like with anything else, it's best to start at the bottom.
A solid pair of running shoes is naturally a strong start but these don't need to be flash as pair for £50 will suffice as long as they fit well and are comfy.
With approximately 46,000 steps in the average marathon, the soles of your trainers will be taking as much punishment as the rest of our body, so invest wisely.
The same approach should be taken with other aspects of race wear, especially if the Great British summer delivers its usual delights.
With the chance of rain ever present over the duration of a race, some lightweight waterproof shirts and shorts could be key to stopping Mother Nature breaking you down.
Not that it will stop her trying.
2. One step at a time
For even the most experienced runner, making the leap to marathon distance is daunting.
After taking part in a 10km trip and trying your hand at a half-marathon, it is best to build up slowly to the full distance.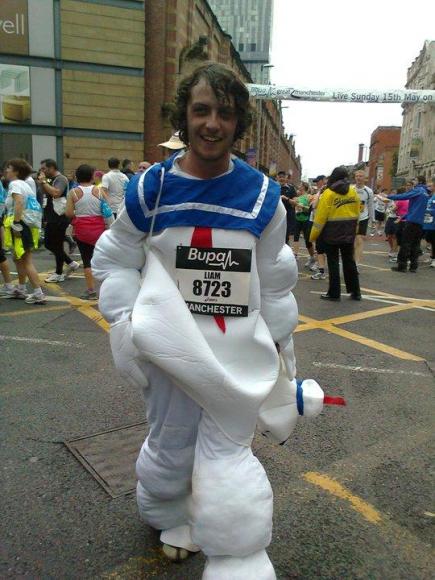 WHO YOU GONNA CALL? Liam after completing the Manchester 10k dressed as the Stay Puft Marshmallow Man, from Ghostbusters
If anyone has gone from a few metres to full marathon with no steps in between, they deserve a lot of respect – even if they have veered somewhat towards the stupid side of the 'brave/stupid divide'.
For mere mortals, the advice is clear: every mile is a milestone.
3. Leader of the pack
Marathons tend to be huge events with fields swelling up into the thousands. 
Almost 35,000 runners took part in the showpiece London marathon last year – and that number is certain to grow this time around.
For anyone looking for a bit of peace and quiet, competing in this discipline is not for you. 
There is a skill to running in a pack and that skill will be tested time and time again in a good marathon event.
Only race practice can give you the insight you need to spot gaps and gain the spatial awareness necessary to avoid treading on any toes. 
With rhythm playing such an important part in progress, the last thing anyone wants is to have to break stride to avoid a competitor.
The mental aspect of pack running is also worth considering. 
It is hard to anticipate how you will react to overtaking and being constantly passed by other runners, which can affect motivation especially as a 'tired body becomes a tired mind'.
The mental effects of marathon running should be not be taken lightly.
4. Train, train and train again
There is no substitute for intensive training.
'Fail to prepare, prepare to fail' may be the old cliché but it still rings true. 
Despite my own advice, I fell foul of this on Sunday when I picked up an injury four miles from the finish – and that was all down to a lack of training.
There is nothing worse than standing on the start line with a nagging doubt about whether a finish is on the cards and that's before a quick time can even be considered.
Steadily increasing mileage with a peak of full race distance up to around a month before the event is the way to go.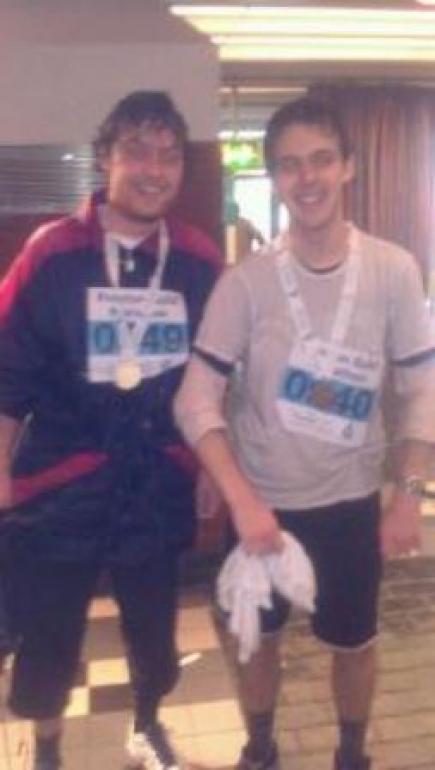 RELIEVED: Liam (l) after finishing the Preston Marathon in 2012
On the other hand, it is all too easy to tire those legs on the approach to the race, leaving them like jelly when it matters. 
To avoid this, stick to smaller distances in the days and weeks before the big day.
Whether you end up powering through those final few miles or pulling up at the side of the road clutching a pulled muscle in agony, it's all about the preparation.
5. Put a smile on your race
While it's easy to see a marathon as a load of hassle, don't forget to enjoy it.
Even for the unfit no-hoper, marathons create unforgettable memories.
While I will certainly have happier days than last Sunday, I will struggle to forget steaming past Emmerdale's Bob Hope in Timperley.
Tony Audenshaw, raising money for The Christie, eventually pipped me in the end as I tried to get my limbs across the line in some sort of recognisable order.
The ITV star was a big hit with the crowds who lined the streets to provide support – despite the threat of a downpour.
Very few of us get the chance to compete in front of thousands of people in anything, so make the most of it.
A marathon also offers a great chance to meet people.
The running community is very tight-knit – as last year's Manchester marathon showed when runners pulled together in the wake of the tragic Boston marathon bombings that happened in the weeks before.
On the same weekend, crowds at the Sheffield half-marathon passed out water after the event was cancelled on safety grounds, which is yet another example of the comradeship.
I even managed a chat myself when I was feeling fit on the 20-mile mark in Carrington to another runner who had a groin injury. 
I'll forgive him for jinxing me.
Image couresty of Richard Phipps, via Flickr, with thanks