World champion gymnast and London 2012 Olympic bronze medallist Beth Tweddle has been around the sport long enough to know a significant change when she sees one.
Since announcing her retirement in 2013, Tweddle was not only crowned Queen of TV series Dancing on Ice but she has also taken up extreme sports and has joined a roster of women as an advocate for national sports campaign, This Girl Can.
Back up North and leading by example, she is gearing up to launch Beth Tweddle Gym Stars – a new 10-week programme for children aged between 2-7 in collaboration with Total Fitness and Waterside Hotel and Leisure Club from March 13-15.
Tweddle has previous experience in this field having set up Total Gymnastics Academy in 2010 – the same year she was awarded an MBE.
And Britain's most decorated gymnast has seen a surge in her sport's popularity. It's just not what one might expect.
"We always say 'get more women in sport' but actually in gymnastics it's more boys into the sport," she told MM.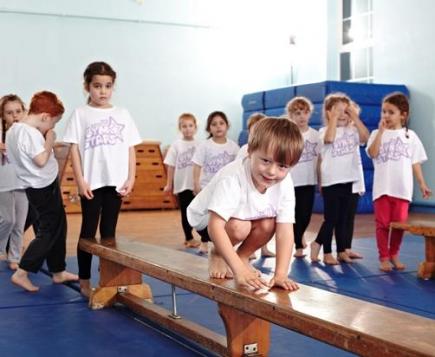 NEW LOVE: Boys are turning to gymnastics with 'cool' role models like Louis Smith and Max Whitlock.
"There are plenty of boys joining in, and the fact now that they've got role models on the international stage like Louis Smith and Max Whitlock, that really helps because parents now also think that gymnastics is for boys as well. 
"For the boys I think it's always going to be a hard one to try and make it look cool, but I think now we've had Louis who's done things away from the sport like Strictly Come Dancing.
"He's appealed to a wider audience."
Visiting each centre for the launches in Whitefield, Wilmslow and Altrincham, Tweddle's message is clear: 'Give the children an opportunity.'
"There's so much bad stuff around kids not doing what they should be doing these days," said the 29-year-old.
"But actually if you give them the opportunity there's so many brilliant things that children are doing at the minute.
"I mean we've done it in Liverpool, we started off with a small class and now we have classes all over the city so we can see that it makes a real impact on the child."
Designed with fun and play in mind, the programme aims to make gymnastics enjoyable and accessible to all children, teaching them the fundamentals of body management and awareness.
Starting with basic movements like forward rolls for the 'Twinkle Stars,' the idea is to teach children how their body works, Tweddle explained, and boost their body confidence at the same time.
"Hopefully that will all come with part of the sessions because the more sport they do, the more confident they'll become," she said.
"Once they find something that they enjoy and that they're good at, they'll go to the sessions and have a lot of fun with it, and make a whole new set of friends.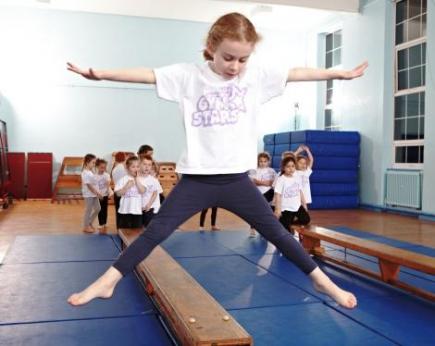 TEAM BUILDING: Tweddle hopes the programme helps kids develop friendships.
"For the younger children, they'll do nursery rhymes when they're learning how to move their bodies using actions, use hand held equipment and there's lots of colourful things within the centre.
"They're getting used to seeing different things because at two and three-years-old they haven't been to school yet so they're not used to a teacher telling them what to do."
Echoing the philosophy of Sport England's This Girl Can, an ongoing celebration of active women, Tweddle is eager to show young people that it is the taking part which is most important, spurred on by her own childhood experiences.
"It's all about having fun and trying something new," she said.
"When I was little I tried lots of different sports before I found gymnastics so it's just a case of showing the parents the opportunities for their child to have a go and that gymnastics is there.
"If the children enjoy it, that's brilliant, but if not, they've tried it and they can maybe try a different sport."
Focused on encouraging a new generation of children into gymnastics, Tweddle has no near future plans to compete professionally and has instead welcomed new challenges, using retirement as a springboard to new opportunities and more extreme sports. 
"Two weeks after the Olympics I was doing wing walking and sky diving, a bit of skiing, a bit of snowboarding – I'm just having a go at everything because when I was training I wasn't able to do it because of the risk of getting injured. 
"That's one of the things that I talk about when I go into schools and do assemblies, it's about trying something new and for me, I was given the opportunity to try ice skating at 27.
"I'd never ice skated in my life and I actually found that I really enjoyed it so that's one example I show to the children. One of the key messages we get across is to have a go at it first before you say it's not for you."
After a deserved bronze at the last Olympics, Tweddle is not remotely bittersweet as she looks forward to Rio 2016 in the hope her compatriots can go two better than her 2012 podium.
"Obviously Max Whitlock is Great Britain's big hope at the minute, he's doing really well he picked up the all-around silver last year.
"Claudia Fragapane has been doing amazing on the international scene so they're the two faces from last year that are doing brilliantly, but there's so many other talents coming through with British gymnastics it's difficult to single out one person." 
Although Tweddle has the big 3-0 approaching, such is her dedication to helping Britain cultivate stars of the future she'll be surrounded by eager kids on April 1, working in schools.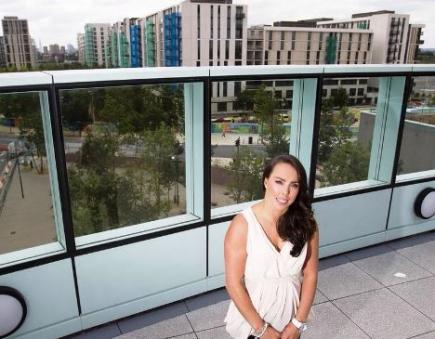 YOUNG AT HEART: Tweddle is approaching the big 3-0.
"That's what I love doing," she said.
"If I can have an impact and put a smile on a kid's face for the day then that's my job done. 
"Easter (the weekend next to her birthday) I'll able to spend with family and friends so hopefully everyone will be off. 
"I'm away a lot so it will be nice to just spend some time with them and maybe go out for a meal but I haven't made plans – I haven't got that far yet."
See Beth Tweddle at Total Fitness gyms in Whitefield (March 13), Wilmslow and Waterside Hotel and Leisure Club (March 14) and Altrincham (March 15).
Beth Tweddle Gym Stars is delivered by Total Gymnastics Academies. Sessions can be booked online at www.totalgymnastics.co.uk or by calling 0161 9790611
Images courtesy of Total Gymnastics, with thanks.