Manchester City stars Fernando and Fernandinho trained blindfolded this week but won't be adopting the strategy for Saturday's fixture against Burnley.
The midfielders tried their hands at blind football and sitting volleyball on Thursday along with 30 students from Crossacres Primary School in Wythenshawe.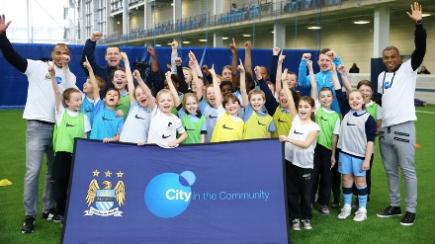 HELPING HAND: Man City have made it their goal to aid Manchester communities
The two Brazilians were supporting a disability awareness programme run by City in the Community (CITC) at the City Football Academy.
Paul Kelly is the Disability Coordinator for the initiative, which provides workshops for kids to raise awareness and promote positive attitudes towards disability.
"The players have been absolutely fantastic today and played an important role in educating the youngsters," said Kelly.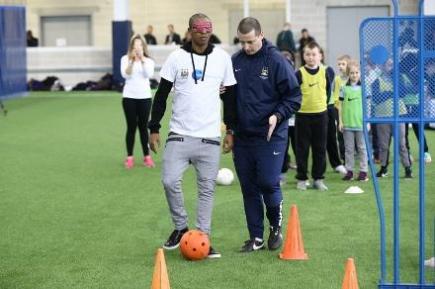 PASS AND MOVE: Fernandinho tests his skills blindfolded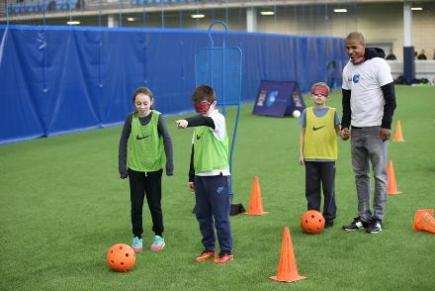 EQUALITY OF OPPORTUNITY: City's disability workshops allow children to experience challenges faced by disabled people 
"Our disability awareness workshops are great for young people to celebrate and improve their awareness of inclusion and it gives them a greater insight into the challenges faced by young people who are disabled.
"Manchester City is committed to promoting equality of opportunity, diversity and respect across all its activities."
The disability awareness programme is part of the 'One City', funded in part by the Premier League and The Supporters Club, which has helped more than 9,000 people over four years.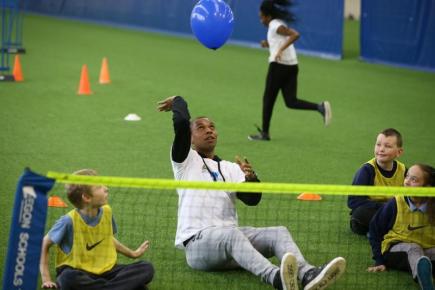 EYES ON THE PRIZE: One City has helped more than 9,000 people over four years