Possessing a wicked sense of humour, rather than a bullet arm, has brought Sale Sharks winger Tom Brady a lot of attention these past few weeks.
Brady, 24 last Tuesday, shares the name of the four-time Super Bowl winning quarterback who is married to Brazilian supermodel Gisele and lifted his first crown since 2005 on February 1 when the New England Patriots trumped holders Seattle for the greatest prize in NFL: the Vince Lombardi Trophy.
Sale's Brady, meanwhile, lost that same day against Newcastle in the LV=Cup then scored a try for the Sharks last weekend in the same competition.
Although he didn't figure in the club's Saturday outing to London Welsh it was probably not a bad idea to have a rest, especially after a birthday week that included being put through his paces in the press room by eager schoolchildren.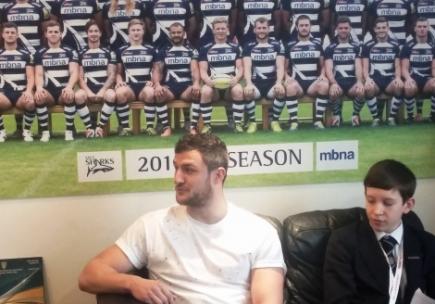 NO MERCY: Local schoolkids fire questions at Brady
MM caught up with Brady on his birthday to find out what it had been like to experience a massive jump in Twitter followers on the back of his namesake trending so much online as the Patriots swept to another Super Bowl title.
TB: Since I got involved with Sale the Twitter started going crazy so I ended up watching quite a bit and following the Patriots' progress.
excited for the big game tonight, the Pats are going to Disneyland! #getyapopcornready #SuperBowlXLIX

— Tom Brady (@tbrady14) February 1, 2015
It's hard to ignore it half the time with your phone going off!
MM: Have you had any contact with the 'real' Tom Brady?
TB: Ha! He's got bigger fish to fry! (laughs loudly)
MM: What's your favourite NFL position?
TB: Running back (guy who gets given ball by QB). I'd have to put on about 20kg but they just pick holes, put their head down and go for it. It's about being evasive, I'd like to have a go at that.
MM: What are the transferable skills you could take from NFL to rugby union?
TB: The footwork and their ability to beat someone in a one on one. Quite often they don't even have the ball but you'll see two players head-to-head, in-out in-out, then they're gone and offer themselves for a pass, so you can see the way that they work.
MM: How far can you throw a ball in the style of a quarterback?
TB: I've had both my shoulders reconstructed so I'm not the best overarm thrower. Nothing on Tom Brady unfortunately.
MM: Who are the biggest NFL fans at Sale?
TB: Phil MacKenzie, the Canadian lad, he keeps an eye on things. Magnus Lund is quite keen on his American sports.
*** 
Brady, the Sale one, was disappointed recently not to make the England 'B' squad (the Saxons) but he is confident that the Sharks feeder policy will pay dividends for him in the long run.
"The club gives young guys good opportunities, you see Mike Haley at full back this season," said Brady.
"Maybe at another club he wouldn't have had that opportunity. That gives us lads the hope of being involved in senior rugby."
Brady has had the privilege of learning from the Premiership's top try-scorer in Mark Cueto (he even replaced him last weekend and promptly scored!) and is grateful for the ex-England man's guidance.
"Mark's been a great role model and I've learned a hell of a lot from him, whether it's been on the pitch or upstairs going through clips and videos."