Great Britain's best paracyclists dominated last weekend's Paracycling International in Manchester as the countdown to Tokyo 2020 begins.
Jody Cundy and Kadeena Cox were amongst the medals but Jon Pett, Head of British Paracycling, said key preparation events like this would not be possible without the support of the National Lottery and the Exchequer.
He said: "It gives the athletes a chance to perform in front of their friends and family on home soil, which is brilliant and gives them an opportunity to showcase to their loved ones their progress and be cheered on."
British Paracycling will host between six and eight events in 2019 all supported through the National Lottery and without this support, they would lose their "competitor's advantage" over rivals.
"Things would look very, very different," Jon said.
"It's unlikely we would be in a position where we can afford the type of equipment we're using, athletes would be unlikely to be full-time and we would be competing on a slightly more level playing-field with the rest of the other nations."
Just 15 years ago, Paracycling received £516,000 for the Athens Paralympics but for Tokyo 2020 is to get almost 16 times more and this £8 million budget poses its own challenges for Jon and his team.
He said: "As you have more funding there are a lot of things you could spend the money on and it's about deciding where best you place the budget, what's going to give you the best bang for your buck.
"It's building a mentality that riders and the staff recognise which of the medal opportunities we should be targeting, where should we invest the money and what's going to give us the best opportunity.
"That might not always please everybody but hopefully it means that the dreams the can be achieved are."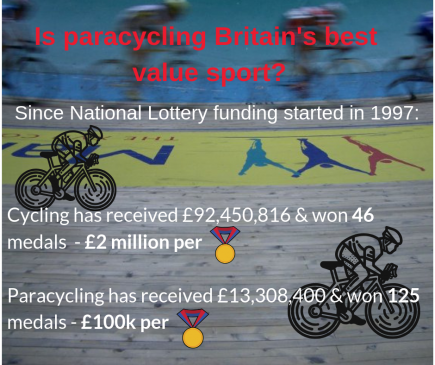 Since National Lottery funding began in 1997, British Cycling has received over £90 million and for all their incredible success, each medal has come at a cost of a little over £2 million.
Paracycling, on the other hand, has been given £13 million over the same period and with 125 Paralympic medalists to date, each medal has cost just £100,000.
Costing 20 times less per medal than its Olympic counterpart, is Paracycling Britain's best value sport?
With over 50 events, it is the third biggest behind swimming and athletics in terms of medal opportunities but Jon admits they have delivered "incredibly well from a value for money perspective."
Paralympic champions like Dame Sarah Storey have become household names but few would argue the programme's success would have been possible without the achievements of Britain's cyclists.
"We owe a huge amount to those who have come before us," Jon said.
"We wouldn't be here now without that and I think it's gone from strength to strength and it's now a much more integrated programme and gives us the opportunity to build on even more."
Paracycling featured at the track World Cup for the first time last year and will have its own race alongside the road World Championships in Yorkshire from 2019, part of this greater integration.
Competing at these events gives more media exposure to the riders, allows them to experience performing in front of big crowds and helps them prepare for the biggest date of all, Tokyo 2020.
Last year was another very successful one for the team, winning a total of 16 medals at the World Championships including their most successful ever road world championships.
Team GB comfortably beat their 2018 performance target of 6-12 medals but Jon is tight-lipped about revealing this year's aims as 2020 is the real target.
"I always prefer that the riders focus less on a target as such and more on their own performance, the process to get us through to the Games and on the target they have for Tokyo."
Britain's world-beating paracyclists had another weekend to remember and you can get a chance to see them when they return to Manchester for the National Championships at the end of the month.