It took going back to school and going back to basics for Olympic bobsledder Rebekah 'Bex' Wilson to truly appreciate how far she has come since 'falling into' athletics aged eight.
After fulfilling a lifelong ambition of competing at the Winter Olympics in Sochi in February 2014, Bex was invited to an Olympians' dinner by her old athletics club, Sale Harriers.
It was there that she was invited to become an ambassador for the Diane Modahl Sports Foundation, a Manchester-based charity which sends inspirational mentors and top coaches into schools to show students that sports is for everyone.
Bex now visits schools on behalf of the Foundation and through talking about her aspirations as a child, her sporting career, and how she has built it, she hopes to inspires the kids to work hard to fulfil their ambitions in life – sporting or not.
"I was asked by one of the children in one of the schools, 'are you a normal person like us?' and I was so glad that she asked it," she said.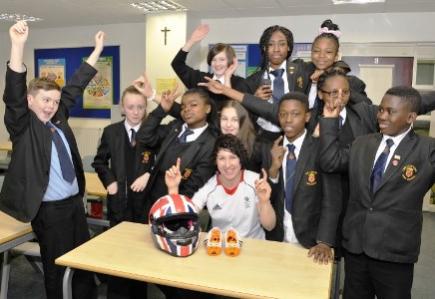 ONE OF US: Smiley Bex fits in easily with Manchester school pupils despite her Olympian status
"I said, 'Yes. Yes, I am and that is what I am trying to hit home to you. Do not let people tell you what you can and can't be, and if you really love something, go for it'.
"As cheesy as it can sound sometimes, it just comes back down to that: find what you love and do it. At the end of the day, what else do you get out of things? You've got to love things."
And it has been this love of sport – along with a yearning to succeed – that has pushed Bex throughout her career to take, and make the most of the opportunities presented to her.
Inspired by her brother and cousins, she had her first taste of sport at eight years old when she would go down to the track at Altrincham and District Athletics Club on Tuesday and Thursday nights.
Quickly, and without taking it too seriously, Bex excelled on the track – winning five national titles at 100 metres, and making a World Junior 4x100m relay final.
Perhaps, most impressively of all, at age 12 she set a European record for the 60m, which stands to this day.
"It was just something that I was included in and fell into like that really, to begin with," Bex said.
"I loved it even from then, and by the time I was twelve had my first British title. I was a year young as well, but I just threw myself into it.
"It was something that all happened quite fast, but it was very much a fun hobby. I loved being out on the track, but it wasn't serious up until that point.
"I look back now and wish I had savoured the moment more."
As she got older, success became harder to come by though – so much so that Bex decided she needed to make a change.
Although her pathway in sport began out of love for it, Bex admits a 'competitive nature' she claims is inherent in her as one of five children, 'took over'.
Her goal at the time was to compete in the 100 metres in the Olympics, but her physical characteristics – at just 5ft 2in and 66kg – made her lean more toward shorter sprints.
She was told the best she could hope for was a place in a Great Britain relay squad.
This was not enough for Bex, and so she seized the opportunity to try a new sport more suited to her build as a self-described 'small, stocky powerhouse'.
In bobsleigh, she and her coach Morris Condon reasoned, you never run more than 45 metres when pushing the sled, so her natural speed and power would transfer well.
"It was exciting, really, that it was another opportunity," she said.
"I didn't even know what it was. I had never followed it. I didn't know what was going on currently.
"So me and my eldest brother sat down with me, with a big bowl of popcorn and we watched 'Cool Runnings'. And then I went off on Saturday for my trial."
Unfortunately, despite warming to the idea over shared popcorn and cult 90s films, Bex had a tough time on her first week at push trials at an ice camp, and was put off the idea temporarily.
One year later, however, she answered the call to push for the GB number one driver, Paula Walker at the 2011 World Junior Championships in Salt Lake.
The pair won, and from then on she was hooked.
"I hated it at first – really hated it," she said.
"That first week was probably one of my most stressful and hated times in sport I have ever had.
"I was not used to being away from home. I did not know anybody.
"I was on the phone crying to my mum every single night, saying 'I want to come home, I want to come home.'
"But I have a quality that no matter how I feel, I don't give up.
"Twelve months on, it was on the track in Park City and Lake Placid, right there and then that I fell in love with it – the lifestyle, the way it was. It was completely different to the experience I had had the year before.
"I just absolutely loved it. It was very much, 'two-feet, jump in'."
Bex would eventually trial for the 2010 Winter Olympics in Vancouver, Canada, but finished fifth in qualifying, and so missed out on a Team GB place.
But after a year away from the national programme, her tenacity and persistence eventually took her to the 2014 Winter Olympics in Sochi, Russia, again partnering Walker.
There, she fulfilled an 'old childhood dream' of hers.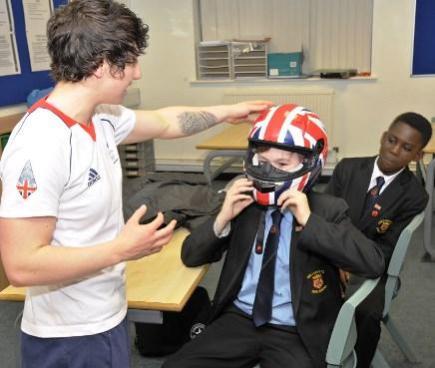 FEEL THE RHYTHM, FEEL THE RHYME: Bex hopes she can inspire a new wave of schoolchildren to take up 'cool' sports like bobsleigh
"As you get older and become an adult it never leaves you: that Olympic symbol and that pride that comes with it," she said.
"All of that just means so much to me.
"That kept me going."
Sadly, the reality did not match the dream, and Bex left Sochi disillusioned having come too close to the petty political side of sport.
"We miss those old-school qualities where everyone stands up and it is the taking part, it is the spectacle, it is this event," she said.
"Instead, it is quota places. It is podium potential. It is, 'who is the medal contender?' It is, 'who is going to get the funding for next year?'
"I was a piece of data, I was a statistic and that is what is sad about sport nowadays, is that it is a business.
"That really ruined it for me."
Bex and Paula ended up in twelfth position, missing out on the funding for top-eight finishers.
But rather than be disappointed with the result, Bex remembers her Olympic journey as the fulfilment of a childhood dream.
Now, after being invited to become an ambassador for the Diane Modahl Sports Foundation, she hopes to inspire school children across Greater Manchester to do the same.
"It was a shame, but now coming away from it and especially when I speak to the children and I'm doing my talks and I'm coaching, they remind me what I did, they remind me of the achievements I've got and why I did it," she said.
"For a long time I had lost that a little bit in all the political side of the sport.
"It has been so, so lovely working with kids because you show your medals and they're like, 'wow', or 'that's cool', and they look at you like I looked at people when I was younger, and I stand there in front of them and they look at me like that and it is very humbling."
The Manchester-based Foundation sends ambassadors into local schools to give talks and lead coaching sessions both at school and at Sports City, in the hope they might find they develop a love for sport.
Essentially, it provides a pathway into sport for young people who might otherwise not have had that access.
In many ways, Bex embodies what the Diane Modahl Sports Foundation strives to be about: triumphing over adversity, an open mind to fresh opportunities, a desire to succeed, and a love of what you do, whether in sport or not.
Bex could have let her size continue to be a disadvantage in her first sport, her first love, but instead she jumped at an exciting new opportunity in bobsledding.
She then could have let her traumatic first experience of the sport put her off, but she was not deterred, and came back stronger and more focussed.
Fundamentally though, what is apparent when listening to Bex talk about her career, and about her current work with the Diane Modahl Sports Foundation, is her boundless enthusiasm.
It is something she hopes to communicate to the attentive youngsters she now visits in schools across Greater Manchester.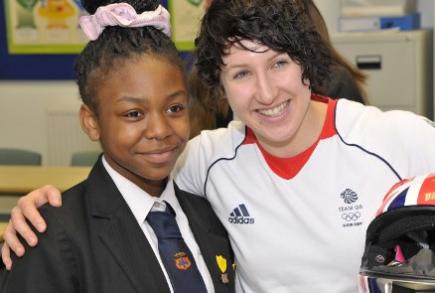 WE DON'T LIKE SPORT, WE LOVE IT: Bex wants to help children triumph over any adversities in their lives
"It breaks down these barriers you have as an adult – we put everything in sections and in boxes and in brackets and everyone is labelled – and as a kid it doesn't have to be like that," she said.
"It is nice to be a part of that.
"It is like, kids will be kids and let's go down to the track and let's remember why we do sport, and it's because we love it. So it is just going right back to the basics.
"I try to say to them, 'It might not be sport that you want to do: It might be that you're a writer or that you love doing art – anything.' I'm trying to show them that the qualities that you need to have are the same."