A 13-year-old snowboarding prodigy is on the rise after claiming gold at the British Indoor Slopestyle Championships last weekend, less than 12 months after surgery.  
Manchester's Tom Robinson won the Under 16s category and it was the first time he had competed since recovering from a dislocated elbow and a broken growth plate almost a year ago.
The teenager, who is preparing for the European competitions in January, has worked tirelessly to recover, something which has thrilled his coach Ben Kinnear.
"Tom's attitude and commitment to improving his performance is a real asset to his own development and to those around him," said Kinnear.
"His ability to come back from a fairly long-term injury and overcome a set-back like this means he thoroughly deserved his success.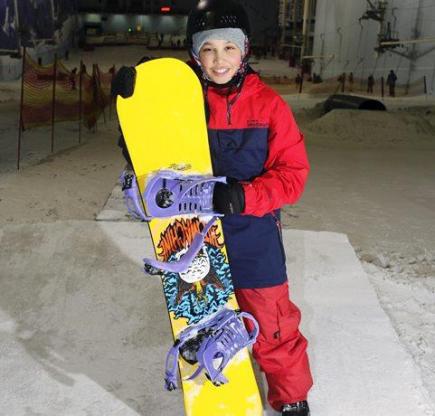 INCREDIBLE RECOVERY: Talented Tom back on flying form again
"I look forward to seeing Tom continue to improve this season."
After failing to make the latter stages of the open jam format at the championships, Tom blew his opponents away in the U16s Category producing two remarkable runs.
His performance granted him with his first win since last year and the youngster expressed his relief at just been able to get back doing the sport he loves.
He said: "It's been hard coming back after several injuries this time but I still love riding and it was great to ride with my team mate Billy Cockrell who won silver.
"I'm looking forward now to going to Austria this weekend with the team and getting ready for the European competitions in January."
Tom went to Harris & Ross, who have looked after numerous famous athletes, as part of his recovery.
Darren Roberts, High Performance Manager at the rehabilitation centre, said: "It's great to have a positive impact on athletes at a young age.
"Their natural instincts and talent needs nurturing rather than having it coached out of them.
"We're happy to help Tom with his performance management and be part of the great support network he already has around him.
"Tom's incredible recovery and passion for the sport is inspiring and sure to continue bringing him success."
Main image courtesy of Dave Allen, body image courtesy of Anthony Moss, with thanks.