Though the coronavirus outbreak has thrown the entire sporting calendar into chaos, there is still hope that the summer's county cricket season will go ahead.  
A new feature for this summer's schedule is The Hundred – the ECB's latest attempt to garner a new, younger cricketing audience with another T20-esque short, fast-paced format.   
With the T20 Blast flourishing and opposition being voiced to The Hundred's featuring city-based teams, rather than counties, there are still some doubters. But, all being well, we'll get out first glimpse of the tournament this summer.   
However, with no actual cricket to write about for the time being, I've taken it upon myself to craft a team for the Manchester Originals – Lancashire's team in The Hundred.  
After a gruelling selection process, in which I have only considered players who have played for Lancashire. I've got an eleven, who I am including at what they were like at their peaks – I'm not expecting Clive Lloyd to turn out aged 75.  
It may sound nonsense, but so is The Hundred. So don't take it too seriously.   
1. Sanath Jayasuriya
The Sri Lankan had an incredibly brief spell as a Lancashire player, joining as cover for countryman Muttiah Muralitharan for several Twenty20 cup games back in 2007.  
With a top score of 32 from his four innings, the Sri Lankan hardly set the world alright in his spell at Old Trafford, but looking at his international record, you couldn't leave him out of a team for The Hundred.  
Having played in 445 ODIs, scoring 28 centuries, and boasting a T20 career strike rate of 140.08, Jayasuriya is one of the game's iconic white ball batsmen. He should provide some boundaries from the start for this team.  
2. Joss Buttler (wicketkeeper)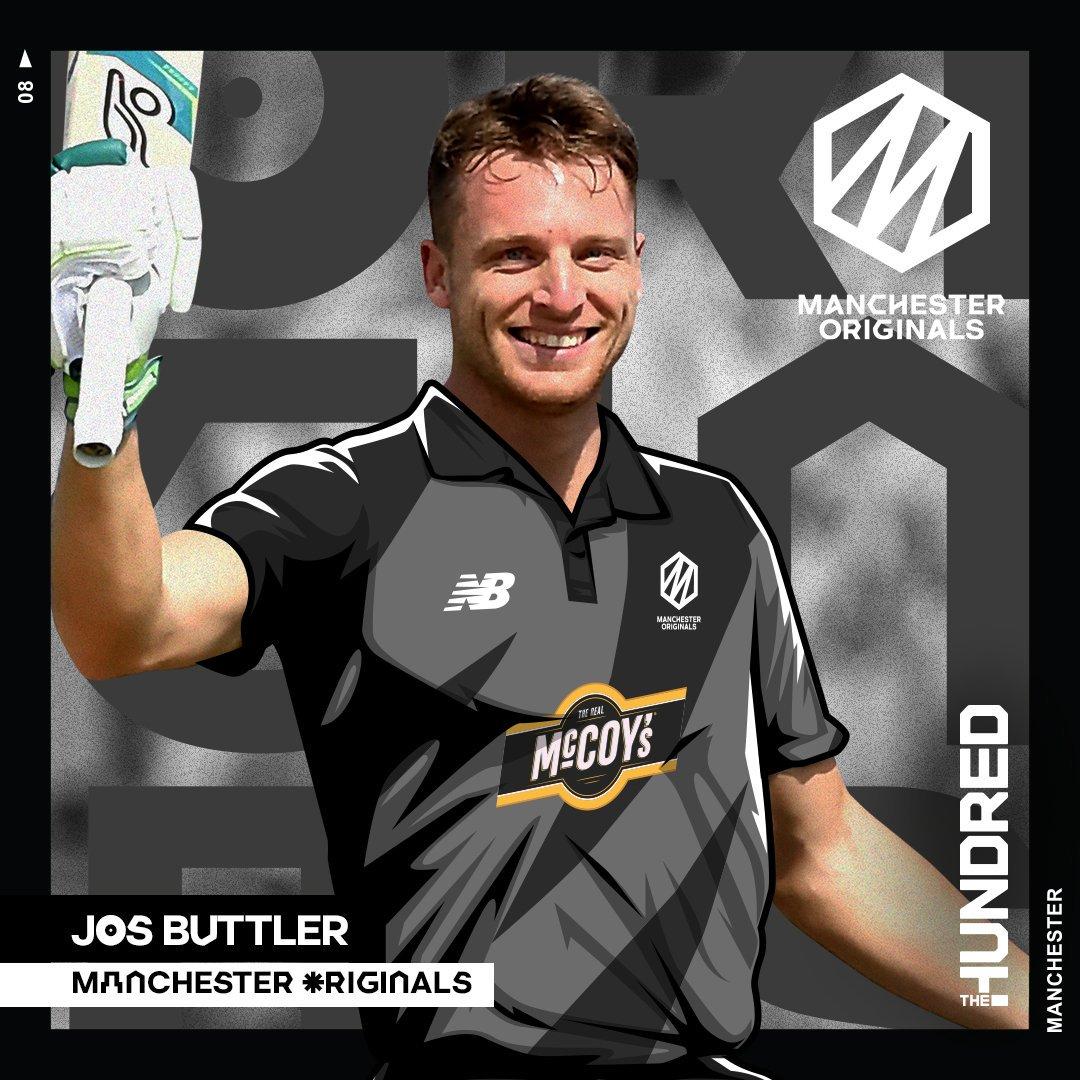 Buttler is the only player in this team who will actually turn out for Manchester Originals in real life, signing as a centrally contracted player for this summer's tournament.    
The England international joining Jayasuriya at the top of order means that my opening pair will be right-hand / left-hand, which can only be a good thing in a short game.  
One of England's and the world's best limited overs batsmen, Buttler's batting position in T20 cricket has been much debated. However, I will open with the wicketkeeper batsman, hoping that his average of 30.43 and strike rate of 144.73 in T20 cricket will translate to success against the new ball in the new format.   
His excellent limited overs keeping is also a plus. For all we know, games in The Hundred could be decided by the barest of margins.    
3. Andrew Flintoff
Despite not having the most impressive T20 batting record, boasting a modest average of 22.76, Andrew Flintoff, affectionately known as Freddie, was the first name I thought of when I came up with this hastily prepared daft idea.  
The most exciting cricketer of his generation, Flintoff became a superstar after the dramatic Ashes win in 2005, scoring 402 runs at 40.2 and taking 24 wickets at 27.29. England's man of the series became the world's premier all-rounder and captured the nation's imagination – becoming English cricket's first bonafide hero in a generation.  
The Prestonian's destructive batting, penchant for big hitting, incredible bowling spells and knack for a big moment made him truly box-office, which is surely what The Hundred dearly needs.  
After injury forced him into retirement after the 2009 Ashes, Flintoff returned to play T20 cricket for his home county as a 36-year-old in 2014, and he performed well, leading Lancs to the final, showing what he could do in the game's then shortest form.  
He'll come straight in when the first wicket falls in my team, keeping the big hitting going. I'll probably also ask him to bowl the death overs as well.  
4. Glenn Maxwell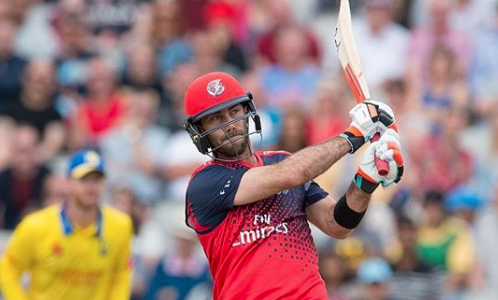 All being well, if this summer's cricket season does go ahead, Australian all-rounder Glenn Maxwell will be featuring for Lord's-based outfit London Spirit, after signing in the draft for £125,000.   
However, Maxwell is also signed to play for Lancashire in this season's T20 Blast. He played for the county in all three formats last season, averaging almost 50 in the T20 Blast and contributed to Lancs' promotion from Division Two of the County Championship.   
One of the most destructive strikers of the ball in world cricket, Maxwell excels in the game's shorter forms and has three T20 international centuries to his name. Brilliant against spin and always capable of dragging his team over the line, the Australian will anchor my batting order.    
He knows Old Trafford well, can find the boundaries with ease and his spin bowling is more than handy – he could well be the star in this team.  
5. Clive Lloyd (captain) 
Having played for the county from 1968 to 1986, Clive Lloyd won a 2017 poll to be named Lancashire's best-ever player, beating Brian Statham and Wasim Akram to claim top spot.  
One of cricket's greatest ever captains, Lloyd led the excellent West Indies sides through the 1970s and into the '80s. Though he played in an era where games were never anywhere near as short as The Hundred will be, his leadership and impressive List A record make him a key part of my team.   
Nobody quite understands how The Hundred will work, with over lengths and bowling regulations all appearing quite confusing. I'm trusting Lloyd's captaincy to cut through it all. Additonally, with one of his famous West Indian pace attack featuring in this side (to be revealed later), I also back Lloyd to make the right calls with his bowlers and keep opposition scoring to a minimum. He'd also be quite handy in the middle order in case of an early batting collapse.   
6. Neil Fairbrother
Arguably Lancashire's finest ever white ball batsman, Fairbrother will play the role of finisher in my team, coming in at six to see the team over the line.  
Another player whose career predated the birth of T20, 50 over cricket is the closest comparison to how he would perform in The Hundred.  
Fortunately, his record is excellent – with an average of 41.69 in List A cricket and having the distinction of appearing for England in three World Cups.  
The Warrington-born batter could be moved up the order if necessary, but having him in the dugout as my finisher would be incredibly reassuring and mean that this team would always be alright.  
7. Wasim Akram 
Providing some well-needed variation in this side, Akram, played for Lancashire from 1988 to 1998. One of cricket's best-ever left-arm pace bowlers, he has 415 test wickets and 502 in ODIs, and was excellent throughout his decade at Old Trafford.  
With accurate line and length, as well as great seam control, the Pakistani's swingers claimed plenty of wickets throughout his career and it would definitely prove useful in short-form cricket.  
Batting at seven, Akram will be one of the bowling all-rounders in this team, with his three test centuries and 17 fifties in List A cricket proving that he could be a helpful option lower down the order.  
8. Glenn Chapple
A @LancsCCC great and a leader of men. What's your favourite moment from @chappie03? 

Just the 1,373 wickets in all competitions…. pic.twitter.com/5NvNXHcdiC

— Lancashire Cricket (@lancscricket) December 28, 2016
Like Akram, Chapple was also capable of scoring some useful runs latter on and helps make this long tail look a bit stronger.  
He's also a genuine Lancashire legend, taking over 1300 wickets in all formats for the county. He also has an excellent white ball record, with averages of 28.55 and 23.32 in List A and T20 cricket.  
It was a travesty that the Skipton man only played once for England, so I hope that I'm doing something to remedy that with a place in my team.  
I had contemplated swapping him out for James Anderson, but the latter's poor T20 record cost him a place. I also wouldn't want to get in the way of the Burnley Express' return to test cricket either, to be honest.  
9. Michael Holding
West Indies legend Holding was quoted by Australia's Channel Nine as saying about T20 cricket: "I don't even call that cricket. It's Barnum and Bailey circus entertainment. Test match cricket is a test of your ability and your strength of character over an extended period."   
With that in mind, presumably the Jamaican will hate The Hundred, seeing it as a further bastardisation of the purity of cricket.    
All that being said, I'm definitely picking him for my Hundred team. He may not like the format, but I'm pretty sure he'd be good at it.   
Nicknamed 'Whsipering Death', he was a key part of the all-conquering West Indies team of the 70s and 80s – taking 249 test wickets at an average of 23.68. His extreme pace and silent, graceful run up terrorised batsmen the world over, as the West Indies redefined pace bowling.  
Holding, who played for Lancashire in the 1981 season, also boasted a great List A record and took 343 wickets in 249 matches in the format. His pace and accuracy would make the team a force to be reckoned with at the start of an innings, taking wickets and proving almost impossible to score from.In a format when yorkers could be key, Holding could well bowl the best of them.  
Hand the new ball to Holding. It won't go wrong.
10. Muttiah Muralitharan
The highest wicket taker in test cricket history with 800 wickets, Muralitharan also has a very impressive T20 record, taking 179 wickets from his 164 games and only conceding runs at 6.38 an over.  
Rated the greatest bowler in Test history by Wisden in 2002, 'Murali' had four spells at Lancashire, ranging from 1999 to 2007, and would have a vital role in this team – keeping the runs at a minimum, taking wickets and bamboozling batsmen with his variations. 
No team in The Hundred could call on a better spinner.  
11. Brian Statham
Brian Statham captures his 250th Test wicket as he traps Tiger Lance lbw in the 3rd Test at The Oval in 1965. The slip fielders are Ken Barrington and Colin Cowdrey with Jim Parks keeping. Atholl McKinnon is the non striker pic.twitter.com/AoBYLN8KUi

— Historic Cricket Pictures (@PictureSporting) October 13, 2019
This one certainly is a gamble. Statham is widely considered the county's greatest ever player, taking 2260 wickets from his 559 First Class matches at an incredible average of 16.37. 
The problem arises when you consider that these matches took place from 1950 to 1968, an era of cricket very much detached from the glitz and glamour of modern franchise tournaments.  
However, Statham did have some experience in limited overs cricket, taking 22 wickets from 15 List A matches, with an economy rate of 2.8, which is remarkably different from those of the modern era.  
Granted scoring was slower 50 years ago, but Statham's deviation off the pitch could prove useful in white ball cricket. It may be a stretch to assume that a bowler of the 50s would flourish in cricket's newest game, but if you can bowl as well as Statham did in one format, you can't be too bad in another.   
Known as an excellent fielder, he would be one of my boundary riders and takes the final spot in a bowling attack that no batsman would be confident scoring from.