British senior indoor 800m champion Jamie Webb has rounded off a successful BUCS career in style with a gold in the 1500m at the BUCS outdoor track championships.
The MMU sport scholar (pictured above, no 1143) has excelled as an athlete during his three years, including winning 800m gold in the BUCS outdoor championships in 2015.
Now the youngster is hoping to continue his early season success into the summer and bag himself a top spot at the British Championships – which double up as the British Olympic trials – in Birmingham from June 24-26.
"My main focus is to be in fast enough races where I get dragged around to faster times, and then the trials will be all about position," said Webb.
"Winning races is great, and in effect what it's all about, but if you win the right races then you'll eventually run very fast times."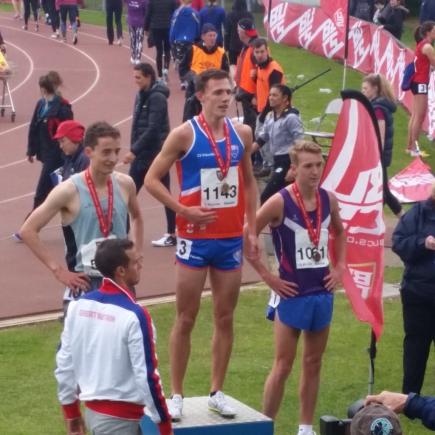 STANDING TALL: Webb tops another podium after leaving his rivals in a spin (image courtesy of Jamie Webb via Twitter, with thanks)
Despite his 1500m gold at BUCS, Webb will be setting his sights on the 800m this year and is already aware of what shape his British rivals are in.
"There are a few people around who've ran fast in the past," he said. 
"Michael Rimmer and Kyle Langford already hold the Olympic qualifying standard from last year.
"But they still have to show current form and perform at the trials." 
The Merseyside-born runner strikes the challenging balance between being an athlete and being in the final year of a Chemistry degree and plans to push himself beyond BUCS this summer.
"I'd say that making Euro under 23s last year is my greatest achievement however I plan to top that this summer," he said.
"This summer my main focus will be athletics and trying to make Rio.
"The plan is to open up my season in Manchester to shake the legs out before hitting Europe to try and clock a qualifying standard before the Olympic trials in June."
The 21-year-old runner says that experiences at MMU have helped him to develop as an athlete.
"My time at university has been my transition from an average athlete to what will hopefully be a professional level this summer.
"I've had brilliant support throughout from nutritional guidance, massage, strength and conditioning, and financial support, which has really helped me get the position I'm in now."
Main image courtesy of Gary Mitchell/Alamy Live News, with thanks.