Recently returned from the bright lights of Las Vegas, where he defeated former two-weight world champion Devon Alexander, Amir Khan's return to Bolton brought with it an air of celebrity.
Posing in front of the 24-carat gold-woven shorts he wore in the unanimous points victory, Khan can't stop smiling; such is the force of the boxing tidal wave he is riding.
 
Fans of the 28-year-old sportsman will be whetting their appetite for 2015 because the New Year could pit the Bolton-born boxer against the hitherto undefeated Floyd Mayweather Junior – the best pound-for-pound boxer around.
 
Getting Mayweather to agree to the fight is tricky, however, with the American reportedly seeking a swansong fight against Manny Pacquiao instead.
 
Speaking to MM, Khan, 28, said: "Floyd is probably thinking: why fight someone like Amir Khan who's going to give a lot of problems?
 
"When people fight Floyd they go down to his level. Mayweather only throws 300 punches a whole fight. I could probably throw that in one round.
"I have accuracy, I have speed and my punches go in bunches. He's probably thinking: I'm going to have to dig deep if I fight Amir Khan."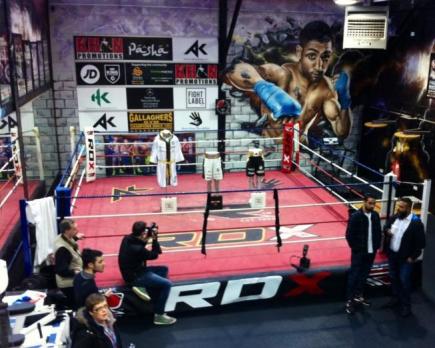 BOLTON'S KING OF THE RING: The 28-year-old is is a former two time world champion
Mayweather is understood to have accidentally stumbled in on Khan's victory party at a nightclub in Las Vegas before realising what was going on and leaving.
 
With a record that now stands at 47 victories (26 of them knockouts) and no defeats, it is understandable why Mayweather has all the bargaining power – people want to fight him.
 
He hasn't even fought anywhere else other than Las Vegas' MGM Grand since November 2006.
 
But Khan was quick to assure there's nothing personal between them. He said: "I've never been disrespectful. I've said he's one of the best fighters in the world, that's why I want to fight him.
 
"I'm at the level now where I'll always be thinking: if I don't fight him, what would have happened?
 
"It's just a waiting game. I think I've proven myself – I'm stronger at this weight, I'm wiser. As I'm getting older I'm getting better. I've hit my peak.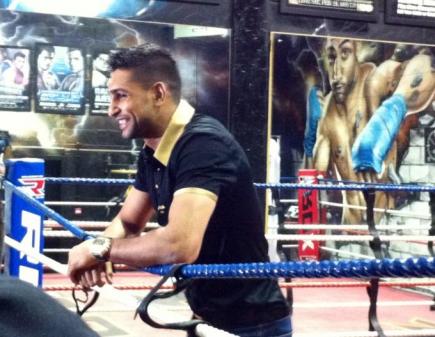 ALL SMILES: Khan poses in front of the 24-carat gold-woven shorts he wore in the unanimous points victory
"I have a style that is very different. I'm very unorthodox and that is different to most fighters. I'm not making the old mistakes I used to make before."
 
Khan intimated that he'd be keen on seeking a bout against Manny Pacquiao should an agreement fail with Mayweather and his team.
The Filipino's record is also outstanding – 57-5-2 – and Khan believes he has cemented his place in the boxing elite, alongside Pacquiao and Mayweather.
 
He added: "I've heard stories that when Floyd retires he thinks Devon Alexander will take the throne – and then we go and beat him convincingly, so I'm answering all the questions, I'm ticking all the boxes, I'm beating whoever they put in front of me.
 
"I can't see the Mayweather-Pacquiao fight happening. If it's not Mayweather then I'll go for Pacquiao.
 
"I want to prove myself and send a statement across the world."
Image courtesy of Visit Manchester, with thanks.