Not all couples can boast three gold medals at the Commonwealth Games, four Challenge Cup wins and a Manchester coffee shop.
But then, not all couples are Olympic swimmer Fran Halsall and St Helens rugby league captain Jon Wilkin.
Both athletes are well renowned, not just for their high achievements in their sporting fields, but also for bouncing back from adversity.
Wilkin's Saints side recovered from five Super League Grand Final defeats in a row to beat Wigan Warriors in 2014's event, while Halsall took gold in the 50m freestyle at Glasgow two years ago after a disappointing London Olympic Games.
And the 25-year-old, who will compete at trials next month for a place in this year's Rio Olympics, believes that she is in a better place now having experienced the lows of sport.
Halsall told MM: "That experience of not doing as well as you want, you learn a lot more from that. I think it's equipped me to be in a position to swim faster this time.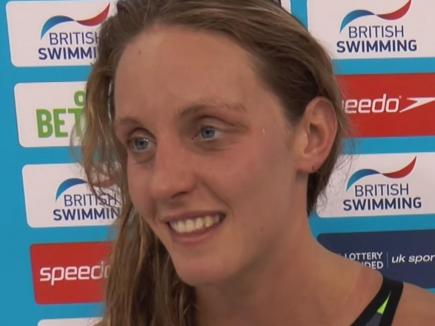 BETTER PLACE: Fran Halsall says a poor London 2012 Olympics will help her in Rio later this year (image courtesy of British swimming via YouTube, with thanks)
"It's given me the opportunity to take a look at how I did it, and what I went about doing in that cycle.
"I've swum a lot, I've swum better and faster and I'm in a better place now than I ever was before then.
"The sad thing about sport is you sometimes remember the bad things more than the good things. I don't think it plays on your mind, you just think of what could have been," Wilkin added.
"It would be different if I was sat here now and I had eight Grand Final winners' medals, we'd won them all. That would be ideal, but you learn a lot about yourself in those times.
"Success is something you treasure when you understand how agonising defeat is. It's certainly made me understand my profession a lot more than I did at first."
Now 32, Wilkin doesn't hide from the fact that his rugby career is nearer to its end than its beginning, but he insists that he's still in love with the game.
"To get paid to play rugby is pretty cool. It's the coolest lifestyle, apart from getting paid to swim," Wilkin said.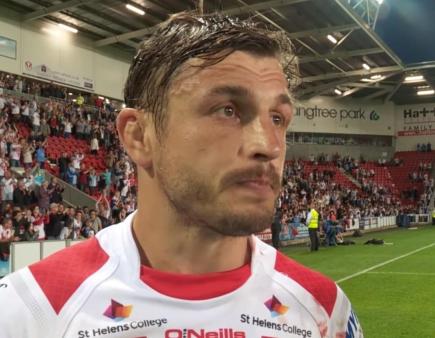 PRETTY COOL: Jon Wilkin says playing rugby league for a living is second only to being paid to swim (image courtesy of Super League TV via YouTube, with thanks)
Halsall interrupts to remind him: "My job's harder than yours, let's be honest. You're okay being able to do a coffee shop on the side. I have too much training to start up a coffee shop!
"I'm in the pool Monday morning, Monday night, then Tuesday, Wednesday, Thursday, Friday so I have a lot of double sessions during the day.
"I have breaks in the middle of the day, whereas Jon trains from 9-3 then he's done for the rest of the day, so one of us is either training or not.
"I feel really bad because since the season's started I've only been able to get up to one game because it's always Friday night games and I'm always training on a Saturday morning, so I feel like a very unsupportive girlfriend at the moment."
She may feel unsupportive, but Halsall insists she is a keen rugby league fan, although her boyfriend is not her favourite Saints player – that accolade goes to wing Tommy Makinson.
"It was my nana's 80th birthday the other day, and she was born and grew up in St Helens. My mum asked what she wanted to do," she said.
"My mum had envisaged taking her away to the south of France or to Italy, but my nana wanted to go to St Helens and watch rugby so we took her to watch them beat Wakefield.
"She thinks that she's a lucky omen now because they won and Jon scored."
With 14 years at St Helens, 16 caps for England and Great Britain, and hours of presenting on BBC Sport to his name, Wilkin is a familiar face in rugby league – but it's not his only passion.
Alongside former Saints teammate Mark Flanagan, Wilkin opened Pot Kettle Black in 2014, a swanky coffee shop in Barton Arcade, Deansgate.
Citing "boredom" as the excuse to set the business up in the first place, Wilkin is glad to have done so.
He said: "We get a lot of spare time and I'm conscious that I'm not going to play rugby forever. I'm passionate about coffee and I decided to make a business out of it.
"I'd encourage anybody who's passionate about something to find a way to make it into a business or to make money. There's money everywhere around us, people sometimes don't acknowledge that.
"Manchester's a vibrant city and it's exciting to be around and tap into it."
A recent study by Action on Sugar found that a staggering 25 teaspoons of sugar can be found in drinks sold by high street coffee outlets.
Despite this, the coffee industry will not be hit by the sugar tax announced by Chancellor George Osborne in last week's budget, which will instead target fizzy drinks.
Although they do see the move as a positive step in tackling childhood obesity, both Wilkin and Halsall are unanimous in their belief that tax alone will not solve the problem.
"Encouraging people to live a healthier lifestyle is important, but that being said it comes from parenting and your background," Wilkin said.
We like to make staying hydrated interesting, we always offer infused water with your coffee. pic.twitter.com/4rR8AmpecH

— Pot Kettle Black (@PKBcoffee) March 20, 2016
"I think we need to focus a lot on education rather than just taxing people for lifestyle choices that are influenced by their environment.
"We need to educate, and if it's not being done at home then the parents need to look at themselves. I think it's their job and their duty to educate the children to be healthy and live a healthy lifestyle.
"Having a healthy lifestyle and eating healthy is something that I've really got into recently as well, I cut out quite a lot of sugar from my diet and I was so happy with myself," Halsall added.
"Once you get over the cravings of it you're fine. I didn't really want it that much, I was really happy with how I looked and it didn't make me less energetic.
"And you always feel better in yourself if you look in better shape, so I think that it is education around sugar that needs to be sorted more than taxing people on it."
With sporting careers being amongst the shortest, both Halsall and Wilkin have one eye on the future, and the pair are excited about what's to come.
"After the summer I'm thinking about moving up here, and either training in Liverpool or Manchester," Halsall said.
"I'm still enjoying it. I'm still swimming fast so I can't see why I can't do another Olympic cycle. That's the dream, to go to four Olympics would be pretty special, and Tokyo would be totally different to Rio.
"I've got two more years left on my contract and after that I don't know," Wilkin added.
"I'm quite romantic about being dedicated to one club for a long time, so after that I think I might take some time to do some things you don't get to do, like travel. I'd certainly like to go travelling with Fran.
"I'm looking forward to the next chapter of my life. Rugby's been such a good part of my life and I've enjoyed it, but I'm equally as excited about what's to come next really.
"It's exciting that the future, for me and Fran, there's nothing there – it's blank. We can make it what we want and for me that's exciting, I've been excited about that for some time."
Image courtesy of Fran Halsall via Twitter, with thanks.