"Bolton Wanderers and the Champions League just do not go together, do they?"
It is hard to believe that the same Bolton Wanderers, who are currently bottom of League One, were incredibly close to entering Europe's elite competition amongst the likes of Real Madrid, Barcelona and AC Milan.
But, they were.
As 2006 drew to a close, The Trotters found themselves in third position in the Premier League.
Then manager, Sam Allardyce, realised the club were in a brilliant position to enter the highly coveted Champions League and asked his chairman Phil Gartside for money to buy certain players he believed would enable Wanderers to qualify.
His request was not met, and the side dropped out of the Champions League places where they finished seventh.
By the end of the season, Allardyce resigned out of disgust to Gartside's Champions League indifference and the club has not had a better chance since, before bowing out of the Premier League in 2012 after 11 successive seasons.
It all started in 2001, when a play-off final win over Preston North End earned the club promotion to the Premier League for the second time in its history.
Midfielder Gareth Farrelly scored the first goal during a 3-0 win over Bolton's local rivals and the former Ireland international revealed that the side were feeling confident that they would return to the Premier League.
"At the that time we would have felt like we were the third best team in the league and the team that had finished third had never been promoted.
"Everyone stayed focused and had a degree of belief that we would be successful.
"We had played Preston a number of times during the season and won.
"Everyone knew what they had to do."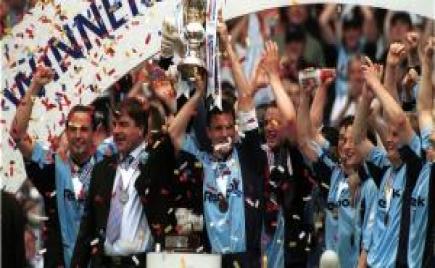 GLORY DAYS: Bolton celebrate promotion to the top flight
As Bolton geared up for their return to the Premier League during the 01/02 season, Farrelly admitted that the squad were motivated to upset the odds, as many people tipped Allardyce's side to be relegated once again.
Crucially, in his first season managing in England's top division, Allardyce guided Wanderers to a 16th placed position and would go on to oversee one of the club's most successful eras in their history.
From 2003 to 2007, Allardyce's Bolton consistently finished in the top eight and this attracted a whole host of top names.
World-renowned players Fernando Hierro, Jay-Jay Okocha and Nicolas Anelka all donned the white shirt for Bolton under Sam Allardyce.
'CATALYST' DJORKAEFF
This brought European football to the Reebok in the shape of what was known as the UEFA Cup, where the likes of Bayern Munich and Atletico Madrid travelled to Greater Manchester.
For Ian Bridge, co-founder of the Bolton Wanderers Supporters Trust, he believes that French international Youri Djorkaeff was the pinnacle of all the world-class players who represented The Trotters.
"My favourite player was Youri Djorkaeff, he was absolutely wonderful for Bolton.
"Even Allardyce was saying at the time 'Djorkaeff was the catalyst for bringing in the better players to the club.'
"He wanted to get back into the French national side, it was almost a convenience of both parties at the time, but he managed to persuade Djorkaeff to come."
Djorkaeff arrived at Bolton with World Cup and European Championship winners medal with the French national side as well as playing for the likes of Inter Milan and PSG.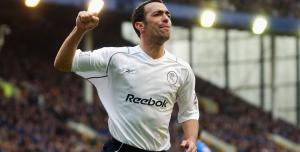 WINNING MENTALITY: Youri Djorkaeff brought World Cup and European Championship medals with him to Bolton
However, after watching his beloved side play in the fourth tier of English football, Bridge was quick to note that these good times under Sam Allardyce needed to be cherished.
"My two daughters started watching Bolton very young back in Burnden Park, but they only saw Bolton on the up really.
"I said to them a few times you really have to think these are the good times, enjoy it whilst they're here because you never know when they might disappear.
"For them to be watching the team running out in a brand-new stadium, watching those players playing in the white shirt was brilliant."
The University of Bolton Stadium, then called the Reebok Stadium, was opened in 1997 and was a modern, aesthetic ground which was suitable for the quality of players playing on its pitch.
Bridge commented how Allardyce made their stadium into a fortress, underlining that opposing teams, especially the London sides never liked visiting the Reebok.
Significantly, Bridge pointed to how Allardyce himself used to "ruffle a few feathers" with his opposite numbers, in particularly Arsene Wenger and Rafael Benitez, who then later dreaded their away fixture against Bolton.
However, as things on the pitch seemed to be going perfectly well for Wanderers, off it seemed to be a completely different state of affairs.
Financially the club was struggling with Allardyce, prior to his side's League Cup final against Middlesbrough in 2004, claiming that chairman Phil Gartside was concerned Bolton would go under if they won the trophy and subsequently qualified for European football.
Unfortunately for Allardyce, it was an unhappy return to the Millenium Stadium after the play-off final success as Middlesbrough won the game 2-1, but the Dudley man was still intent on European football, with the side later qualifying for the UEFA Cup.
'NO SMOKE WITHOUT FIRE'
However, Allardyce, looking to go one step further and qualify for the Champions League managed to propel the side to third in December 2006.
With the January transfer window set to open, he claims he pleaded with Gartside to invest in more players which would help Allardyce realise his ambitions, but he was to be disappointed once again by his chairman's reluctance.
Consequently Allardyce resigned from his position in the following April, but with Gartside himself refuting the outgoing manager's claims, Bridge believes there is some truth behind them.
"There is no smoke without fire. Who knows what the actual truth is?" he said.
"Unless if you were in that room where those conversations were being had you will always find different versions of the events, there is probably truth in both claims."
Nevertheless, Bridge believes Allardyce had Bolton's best interests at heart, having previously played for the Greater Manchester side.
Despite the perceived animosity in his exit, Bridge is full of praise for Allardyce and has credited him as being one of the pioneers in the sport who has been significantly under-appreciated.
"He was one of the forerunners in sports science and analytics. All sides do it now, as football has gone on a lot more clubs have embraced that.
"He said if his name was Allardici and not Allardyce he would have had all sorts of top jobs all over the show!"
Following Allardyce, Sammy Lee, Gary Megson and finally Owen Coyle tried to sustain Bolton's top half finishes, but the club were eventually relegated in 2012 under the Scottish manager.
From there, the club's financial problems started to mount, with owner Eddie Davies, who had pumped in £185 million into the side, deciding to stop his investment in the club.
This decision has caused a split between Bolton fans according to Bridge, with one half adulating their former owner for providing them with brilliant memories whereas there are Wanderers supporters who believe he was the root cause of the club's problems.
In 2016, with the club facing a winding-up order over an unpaid tax bill of £2.2 million, Davies sold his 94.5% in the club to Sports Shield, led by former Wanderers striker Dean Holdsworth and businessman Ken Anderson.
FALLING APART: Bolton's fortunes went south under the ownership of Ken Anderson
Worryingly, Anderson had been banned from being a company director for eight years in 2005 after eight of his companies went bankrupt and later took full control of Bolton after Holdsworth's Sports Shield went bust.
Immediately, alarm bells began to start ringing for Bridge, who expected administration imminently.
"It was coming and it was a long time coming. It was pretty obvious from that things were falling apart, wages were not being paid, bills were not being paid either.
"It culminated in the players going on strike at the back end of last season."
'ABSOLUTE SHAMBLES'
By the end of the 2018/19 season, the club had entered administration with the club facing many winding-up orders in the previous 18 months over unpaid tax bills to HMRC amounting to over £1million.
The club finished the season in ignominy after a player strike meant the side were unable to field a team against Brentford, 10 years after the club had finished 13th during their eighth season in the Premier League.
The start of the 2019/20 season did not offer any respite either for the suffering Wanderers fans, with the club starting on minus 12 points and forced into cancelling another league game, against Doncaster Rovers, due to welfare concerns for their youth players who had been promoted to the first team.
On August 23, the EFL ordered the club's administrators to sell the club to new owners within 14 days or face expulsion from the league.
Five days later, the club was thankfully saved from expulsion and likely liquidation, after Football Ventures acquired the club.
However, as Bolton were saved from expulsion another Greater Manchester EFL club Bury FC were unable to find a new owner and were expelled from the EFL a day before Football Ventures saved The Trotters.
Subsequently, there has been uproar from Wanderers and Bury fans who have pointed at the inadequacy of the EFL's owners and directors test which enabled both Ken Anderson and Steve Dale to own Bolton and Bury respectively.
Bridge commented: "The owners and directors' test is a shambles, an absolute shambles.
"If anybody does fail that test it is a surprise.
"The more critical test is the profit and sustainability test, but again how have the EFL ended up in the situation at Bury where Steve Dale is owner?"
However, football finance expert Kieran Maguire believes the EFL were in a difficult situation.
"I think the EFL were pretty helpless. Once you've got someone in charge of a football club who has not got the best interests of the club at heart, it is impossible for the EFL to get rid of them, because they are limited companies first rather than members of the EFL itself.
"As a consequence of that it puts the EFL in an awkward position because from a legal perspective it has got relatively little power apart from the actions that it did take in terms of point deduction and, as far as Bury were concerned, expelling them from the league."
'SELF-INTEREST' STATUS QUO
Nevertheless, these problems are not just exclusive to Bolton and Bury, with other EFL clubs Oldham Athletic, Southend United and Macclesfield Town all struggling financially as well.
Calls have been made by some football fans for the government to step in, and form an independent regulator which will stop clubs receiving the same fate as Bury, but Bridge believes this will never happen.
"I do not expect the EFL, which is a group of 72 clubs, to approve that.
"Turkeys don't vote for Christmas do they? That club will only ever regulate to the benefit of the majority which people might say that is the way it should be."
Likewise, Maguire believes an independent regulator would not be approved.
"There is certainly no desire for that to come from the football authorities themselves because there is already a power struggle in football.
"You've got the Football Association, the Premier League and the EFL, all of whom are competing against each other to a certain extent, in terms of fans and broadcasters' interest.
"There is so much self-interest at present and there is no way that the owners are going to be willing to sacrifice power in order to have somebody come into the game who can see things from a more long term or strategic perspective."
Although a change is needed to stop incompetent owners from destroying football clubs and their communities, Bridge is pleased his club were saved.
However, he is adamant that the new owners have a lot of work to do, if they are to restore the club's Premier League status.
"I think the honeymoon period is over.
"They're working under difficulties which they have inherited to put Bolton Wanderers back up to the level people want and seem to expect them to exist, at the top end of the Championship or Premier League.
"The transfer dealings in the January transfer window have partially raised eyebrows, there was an opportunity there for the new owners to do some planning for next season which everybody expects will be in League Two."
Currently, Bolton are bottom of League One, 21 points away from safety and relegation to England's fourth tier for the second time in the club's history likely.
Although the club will not be hitting the heights of playing at the Allianz Arena next season, and will be playing at Morecambe's Globe Arena instead, there is certainly a sense of gratitude that the club did not follow Bury into expulsion from the league.