The Imperial War Museum North welcomed 14,000 poppies to the public on Wednesday November 10th, just in time for Remembrance Day.
The artwork, Poppies, is located in Salford Quays, with the ceramic poppies scaling up 30ft in IWM North's Air Shard.
After travelling to 19 different locations across the country, Manchester is now the poppies' final resting place and permanent home. 
This follows on from the success of Poppies: Wave and Weeping Window which was part of the Blood Swept Lands and Seas of Red concept. 
This was originally installed at the Tower of London where 888,246 ceramic poppies represented every soldier who lost their life in the First World War.
Yet after two months of building the exhibition and 14,000 welded poppies later, the sculpture is finally open to the public, free of admission.
Poppies became a familiar sight on the battlefield for the soldiers as they flourished on the devastated landscape.
They then quickly became a symbol of remembrance after the poem In Flanders Fields by poet and soldier John McCrae. 
The exhibition is the work of ceramic artist Paul Cummins MBE, who is internationally renowned following the installation of Blood Swept Lands and Seas of Red at HRP Tower of London in 2014.
Cummins was assisted by associate designer Tom Piper MBE. Piper has worked with the Royal Shakespeare Company and was closely involved in the redevelopment of the Royal Shakespeare Theatre.
Senior curator at IWM North, Laura Clouting, spoke to Mancunian Matters.
She said: "It's an incredibly dramatic sculpture, it's part of the display that everybody is probably familiar with from the Tower of London."
"We felt that it was an incredible location really to bring it to IWM North and our amazing architecture that we have."
"It's an epic piece of social history."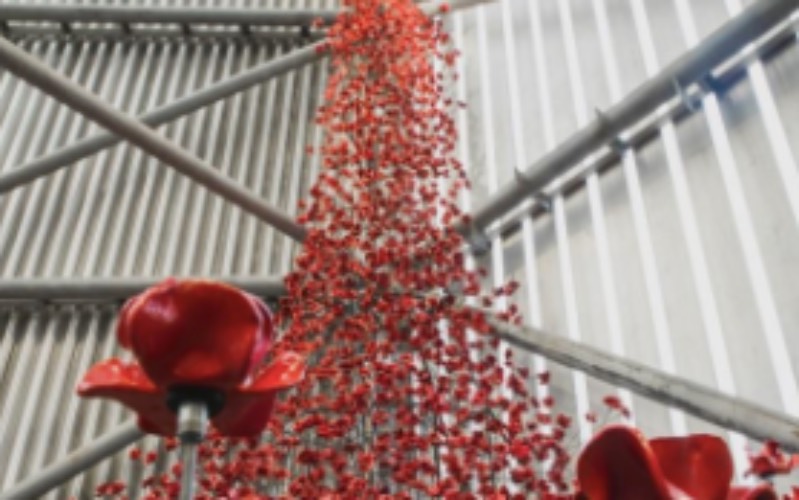 When you walk into the room, you are greeted with a sea of red which cascades down 30ft and pools across the floor of the museum.
The contrast of the rich scarlet poppies wrapping themselves around the bold and contemporary grey beams of the air shard created a beautifully eye-catching piece.
Clouting added: "People might see it as a feeling of horrible loss and why so many lives have been lost in pursuit of these wars.
"There's so many different feelings that can be evoked by the poppies, it's up to people to decide how to feel.
"When people wear them and think about them, there isn't really a right or a wrong way to feel, but they clearly provoke different feelings."
When taking in the exhibition, I instantly thought of the life lost at war with the striking red resembling the blood of the soldiers flowing down the building.
Then I felt a sense of hope the more I took in this spectacle, hope that there wouldn't be such a devastating war as World War One.
She said: "We want to allow people to connect with it and reflect upon what war is like.
"What we're trying to do is to get people thinking of questions more than telling them how to feel.
"This piece is meant to be thought-provoking and makes us contemplate lives which have been lost as a result of conflict.
"We're really thrilled to invite visitors in from Wednesday to see the spectacle for themselves."
To see this exhibition, the Imperial War Museum North is open until Sunday November 14, 10am to 5pm with entry to the museum being free too.