Thousands of people flocked to Liverpool's iconic waterfront to welcome Little Amal to the city for the first time.
The 3.5 metre-tall puppet made a two-hour visit to the Royal Albert Dock during a new journey through England as part of World Refugee Week.
Little Amal travelled more than 8,000km from Syria to Manchester last year, in support of refugees, and is now touring the UK.
The puppet is of a 10-year-old a Syrian girl who travelled alone across Europe to find her mother, representing all displaced children and refugees separated from their families.
Visitor Harriet Wilson said: "Seeing Little Amal for the first time and learning about what the puppet represents, has been a magical day for me and my family, I think its wonderful that such artwork can symbolise and create awareness for refugee children and families".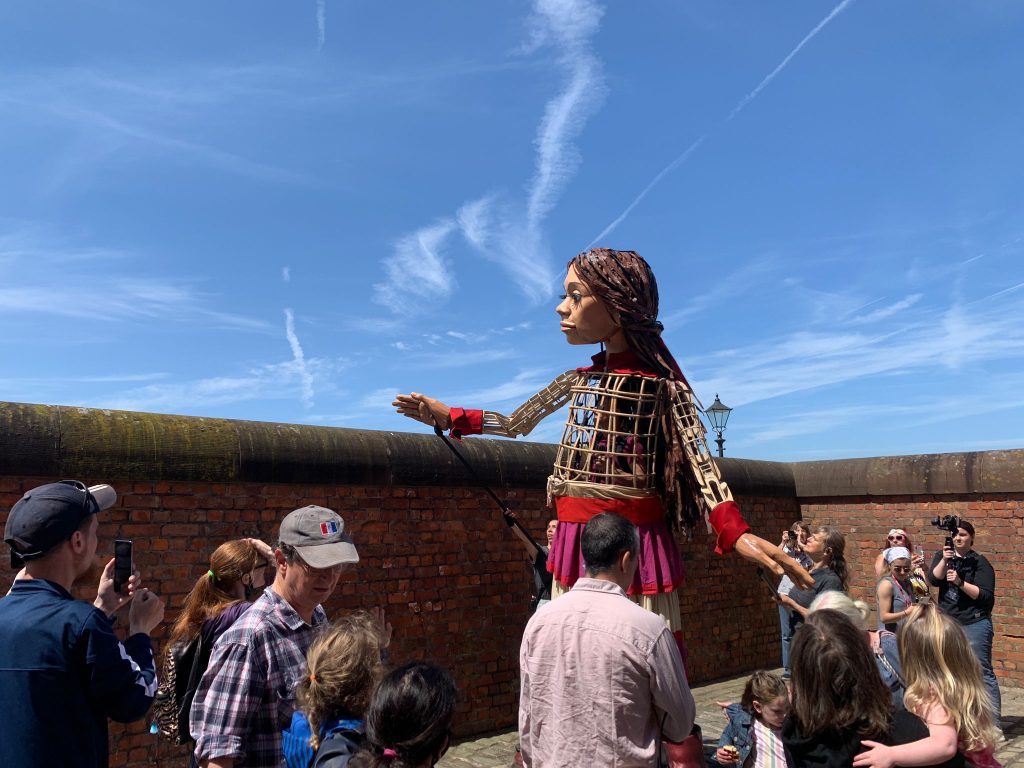 The puppet is travelling to 11 towns and cities as part of her 'New Steps, New Friends' tour, including Liverpool's historic waterfront where she learned about the city's history of migration alongside Tate Liverpool and National Museums Liverpool.
Amal enjoyed a kick around with Liverpool FC Foundation's Inclusion team, inviting her to put her football skills to the test outside the Martin Luther King Jr Building. Liverpool FC Foundation's Inclusion team delivers a Refugee Football programme weekly, providing four sessions to more than 150 refugees across the city.
Following this, Amal made her way down Hartley Quay, towards Tate Liverpool where she met 60 children from Smithdown Primary School who took part in art activities.
The children are part of the gallery's Tackling the Blues project, partnered with Edge Hill University and Everton in the Community, which uses arts-based education to support young people aged 6-16 who are experiencing, or are at risk of developing, mental illness.
Little Amal also visited the Ugo Rondinone's fluorescent sculpture, Liverpool Mountain, which stands tall at 10 metres in Mermaid Courtyard, providing a picturesque backdrop for photos of the event.
The National Museums Liverpool encouraged Amal to become part of the Museum of Liverpool's community archaeology team at Piermaster's Green, investigating the lives of people who lived and worked on the docks, before offering the opportunity to reflect on Liverpool's long maritime history, as well as its links to the transatlantic slave trade.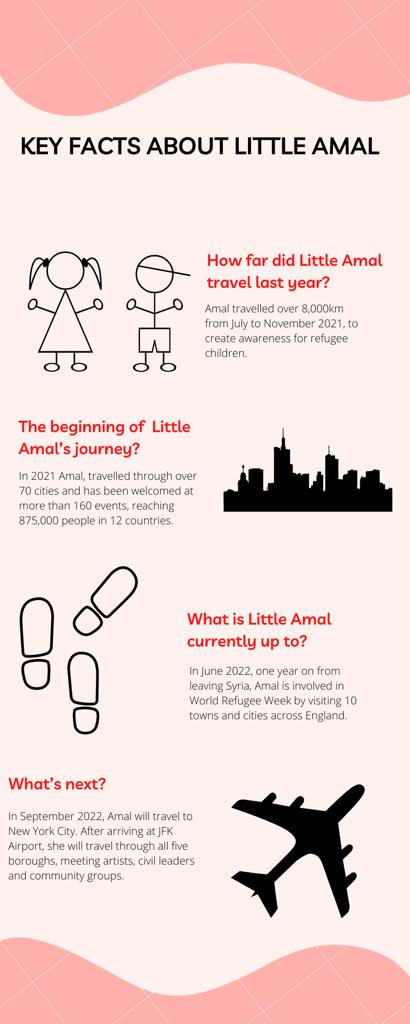 Resident Lyn Senior said: "Today was a sad and lovely day, it's a shame that refugees, and families are still suffering around us, that's what makes me sad but days like these can help promote and make others aware of what is happening in the very world we live in."
As a final farewell for Amal's time at the waterfront, Asylum Link, a local choir supporting asylum seekers and refugees in the city, performed for Amal on the Museum of Liverpool's steps before she continued her journey with Liverpool Everyman and Playhouse Theatre.
Organiser Henry Bohannan said: "Today will be remembered in history that the 3.5 metre puppet Little Amal, was able to walk along the cobbles of the Royal Albert Dock and give Liverpudlian people an insightful look into the powerful projection one puppet can have on our community.
"Liverpool has many refugees within our city, and we will always continue to welcome and support anyone we can."