In Samuel Beckett's Happy Days, a woman is buried up to her waist in a hole and then later up to her neck.
It sounds absurd –and it is – but the play is touching because of the surprising intimacy between the character who can't find her answer, and the audience who can do nothing to help her.
The plot explores the human experience and that which is hidden or unseen, a recurring theme in Beckett's work.
Maxine Peake plays Winnie and David Crellin is her husband Willie in this outing in Manchester. The pair rotate slowly on a mound of dirt, with Peake constantly at the very centre of the Royal Exchange's in-the-round theatre.
Happy Days does not tell the story of a woman stuck in a hole. Instead the woman recalls what she can remember from times before she was stranded there.
Peake captures the predicament Winnie finds herself in brilliantly. She portrays Winnie with fantastic energy and vulnerability. Beckett wrote the play with strong hand gestures in mind and Peake lives up to this expectation with authenticity.
Crellin has few lines as Willie and is asleep for most of the play. His performance, however, is enigmatic and the play relies on his inaction to explore Winnie's character, who rejoices when he dignifies her with any kind of response.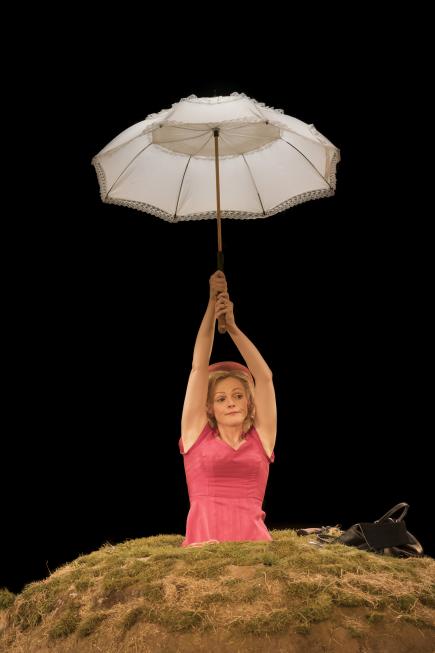 TRANSFIXING: Maxine Peake lures in the audience throughout the production
Although physically static, Peake's Winnie is actively engaged in all kinds of thoughts. She babbles on, trying to remember quotes that sum up her situation and express her feelings.
Winnie does have her handbag though, which creates some sense of normality amid the bizarre overall scene. Winnie, who is in her 50s, is well put together and speaks elegantly. She methodically produces items from her bag, which tell her past story and help her get by in this present situation.
Sarah Frankcom's direction is simple, yet bold. Combined with the jarring lighting and alarm bells that periodically ring, the effect is one of starkness and helps focus the attention on the fragile human experience of Winnie.
There are also some well-placed pyrotechnics and in the second act TV screens transmit Peake's head to the audience – a clever way to display Winnie's emotions in-the-round.
What Peake brings to the role is nervous movement, much like Beckett intended with the original. The character's entrapment allows Peake to be very expressive both in her face and upper body. Her sense of enjoyment of the role is palpable.
At one point, Winnie comments that it is as if people are watching her. This is one of many examples of Beckett's dry sense of humour and helps open up the performance beyond the charcater's excitable utterances.
Peake is successful at using these bits of the script to their full advantage. With the words, she allows herself to scan the audience and connect with them.
She really is a seasoned pro. Even when buried in a mound of dirt Peake knows how to knock on the fourth wall and work the room.
The audience love her and find great humour in Peake's sincerity, vulnerability and her rebukes to Willie.
Towards the end of Act 1, it becomes slightly taxing to concentrate on the content of the dialogue, but Peake is energetic and moved the show forward skilfully.
The Royal Exchange can be a tough place for actors, but Peake takes control of the space expertly. The actress' screams, as Winnie gets more desperate, resonate beyond the theatre and through the building.
Peake is, of course, a household name, having appeared on screen in Black Mirror, Dinner Ladies and Three Girls, to name a few. She carries the Royal Exchange with her every breath in an incredibly physically and mentally challenging role for her.
Audiences will be transfixed on Maxine Peake throughout. This a play exploring human emotions and memories. It is well worth the trip.
*Happy Days is playing at the Royal Exchange Theatre, Manchester until Saturday, June 23. You can buy tickets HERE.