The Magic Gang and Manchester's Albert Hall – could music fans ask for a better combination?
You see, it doesn't matter who you are or how many records you've sold, the venue will always be the co-star of any performance you play there.
W.J Morely's 2,290-seater masterpiece opened in 1908 and after its renovation in 2012 is the perfect venue for any intimate performance piece thanks to its neo-baroque gothic charm and its simply magnificent acoustics.
The Magic Gang – who currently reside in Brighton but are from Bournemouth – knew this and were happy to recognise the enormity of the position they found themselves in when they played there on Thursday.
During the set, the four-piece said: "This is madness because it's the biggest venue we've ever played and it's also the most beautiful as well."
The group weren't trying to endear themselves to an already smitten crowd composed mainly of ardent fans, they meant it.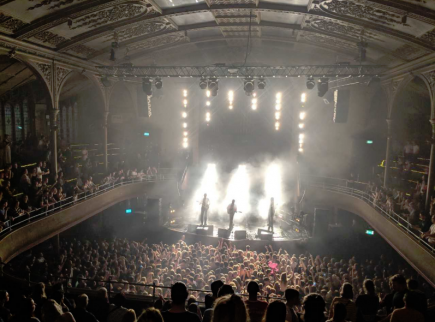 Given most spent the lead up to the gig just marvelling at the craftsmanship of the ceiling, the beauty of the stain glass windows and the enormity of the gothic pipe organ situated at the centre of the horseshoe-shaped hall's stage, it seems many agree.
The Magic Gang is composed of Jack Kaye (vocals, guitar), Kristian Smith (vocals, guitar), Angus Taylor (bass and backup vocals) and Paeris Giles (drums).
Aged between 23 and 26, it is little wonder that the majority of their fans – at least on the lower deck of the auditorium – were aged approximately 15 to 19.
'The Gang' opened with Alright, a song that did little to dissuade those in attendance from the opinion that this band is 'the English Weezer' – a serious compliment as far as we are concerned.
As lead singer Kaye vivaciously strutted around the stage, it was hard not to see the image of a young Buddy Holly.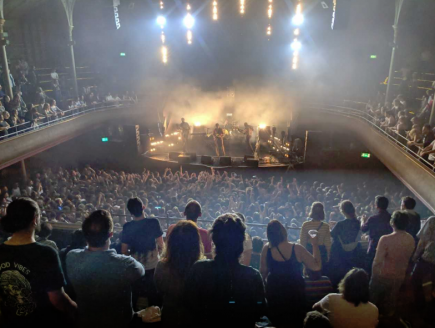 The mass of Generation Z'ers below us went berserk akin to a festival atmosphere and amidst the mini mosh pit there was even a sighting of the now-customary pink flamingo (though it has to be said they did so with a sense of decorum that's rarely seen at such outings).
Like the band themselves, they were there to have a great time but they were going to do so in a loud, vibrant and yet civilised manner – not a teenage dirtbag in sight, the kids are alright.
The Magic Gang lads were intensely likable and delivered a mature performance that belies their youthful appearance. With the type of pleasant tunes and catchy hooks they play, it would be easy not to take them seriously – but you'd be wrong to underestimate them.
No sooner had they exited stage right to rapturous applause that the cry of "one more song" echoed from a thoroughly satisfied but insatiable fan base.
They were never going to disappoint and returned mere minutes later with a beautiful three-piece harmony.
"One more song" may have been the request, but the crowd were treated to two as the show was brought to a tumultuous end with a rendition of All That I Want Is You, which is seemingly about one of the band having an imaginary friend.
Seriously, listen to the lyrics. It's another underrated part of many of their songs.
In short, it would be easy to look past these fresh-faced Bournemouth boys, but MM's advice is – as the group say in their song Caroline – is "you just have to open up your mind."
Trust us, you will be glad you did.