Lovers of Spanish and Latin American film will have to wait another year before sating their appetite once again after Manchester waved adios to the ¡Viva! Film Festival.
The festival celebrated its 20th edition at the Cornerhouse after running for two weeks featuring the best of Spanish speaking cinema.
And while Mancunians may not be able to get a helping of Spanish sunshine they can take comfort knowing that they have played a part in the expansion of Spanish language cinema.
The Iberian Peninsula in particular is facing an uphill battle to expand its borders and Roger Gual is one leading independent Spanish filmmaker looking to make a difference.
The 40-year-old jetted into Manchester for the screening of his newest film, Menu degustacion, a comedy-drama which follows a couple who make a year in advance reservation at one of the world's finest restaurants, only to have separated by the time the date rolls around.
The Catalan director spoke to MM about his latest film, working with his partner Marta Torne and the struggle faced by aspiring filmmakers in his home country.
"In Spain it is really fucked up," says the 40-year-old, relaxing on a couch in the bowels of the Cornerhouse.
"To make a film nowadays is really difficult because the government is not helping at all, there is no film law. We are not protected and it is really hard to finance a film if it is not an international co-production.
"Nowadays there are more and more Spanish directors who are making it across the borders but it's a contradiction – we are not in a good position to make films because there is no space or money."
Roger says that there are those 'up and comers' who opt to try and imitate the Hollywood pictures that represent a large portion of the market.
But he believes this current crop of filmmakers can turn the tide, regardless of any language barriers.
"There is a whole world out there looking for films, and usually, depending on the film, there are young Spanish filmmakers trying to make films like you see in America," he says.
"But sometimes you see a new voice and way of telling a story. It doesn't matter which language the film is in – the important thing is that you get a fresh air from someone who is giving you a different point of view.
"My generation is trying to change things. There are a few Spanish directors under 40 who are making films, some in Spanish, some in English, going to international film festivals.
"But it doesn't matter anymore, that's the point I'm trying to make – you just have to give a different view."
Menu degustacion is Roger's fifth feature as both writer and director, with the idea for the film conceived during idle bar conversation.
The film was released in Spain last June and while the Catalan feels that he has matured as a filmmaker and is pleased with the result, there is always room for improvement.
"I've got a friend who is a filmmaker who says you never get a film 100 percent how you want to make it because if you did you would never make a film again, so I guess I would say I am 80 percent happy with this one," he laughs before shrugging: "It's fine."
"It's about asking questions," Roger continues.
"If people leave the theatre asking themselves if they are living the life they want to live, if they are happy doing what they are doing, eating what they want to eat and enjoying their life every day, that's all I want."
Roger believes that the most important aspect of a film is to be able to invoke the audience's emotions, and that crossing genres enables a director greater freedom to do this.
"When I go and watch films I like, they are films that make me feel what I want to feel. They ask questions, and I think it's the same with comedy and drama," he says.
"Like in life – sometimes you are in a sad mood but someone makes you smile or laugh and then that can change your mood.
"It gives you more freedom to touch on emotions.
"We are human and we are contrary, so we get to a certain level of emotion that is a sad place but we can get through there with comedy.
"I just think it's more interesting. I mean, I don't judge – I like Lars von Trier's movies! But sometimes if there is a certain amount of comedy you can get to the viewer's heart in another way."
Sitting next to Roger is Marta, who played a small role in Menu degustacion and until now has been engrossed in her phone, but perks up when asked how she found filming – an experience that she and Roger both clearly enjoyed.
"I always enjoy working, whatever the work," she says, before Roger cuts in.
"But in this case she was sitting, eating lobster and drinking wine!
"There were some of the best chefs in the world and I have never been in this kind of restaurant before.
"Every shoot there was a new dish, and every time they shout 'action!' I started to eat and by the end I was so full!"
Roger agrees.
"It was one of the few films where afterwards you say 'let's make another one (shoot another take)' and the actors are like 'yes! I can eat some more!'," adds Roger.
"Jan and Claudia, who play Rachel and Marc, said it was the first time in their lives they ate 10 lobsters, but they were fine with it."
So were there any problems during the shoot?
"Her character is the translator who wasn't supposed to be there and is just getting drunk all the time," says Roger, with a jesting frown at Marta.
"She was getting drunk for real and I had to take the wine off the table."
"I read the script and I thought that's perfect, I can drink during shooting!" she confirms.
"It was an actor's method thing," continues Roger, as the couple burst out laughing.
"She was starting to get really drunk so I said 'let's get rid of the wine!'.
"She enjoyed filming."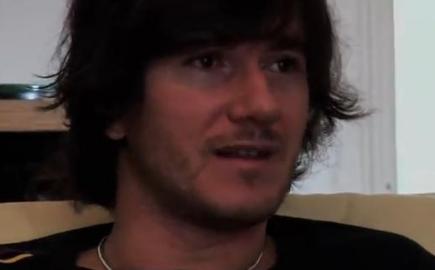 LIGHTS, CAMERA, ACTION!:Director and writer Roger Gaul (Image courtesy of El tigre de Ciberia, via Youtube, with thanks)
After the light-hearted interlude Roger goes back to talking about the importance of festivals to up and coming directors in an ailing Spanish film industry.
"Whenever someone says to me 'I want to make my first film', I tell them to get some friends, get a camera, go shoot it and send it to festivals," he adds with authority.
"That's the way to do it.
"Film festivals are the perfect platform to show 'different' films, because the space is limited.
"Usually screens are occupied by big American films, so there's a big need for film festivals in the world."
However, despite being his belief that American productions have too wide of a berth in the market, Roger admits that he was delighted when Menu degustacion was accepted to open in the US.
"I was very enthusiastic when I saw the trailer of my film with the Motion Picture of America Association and I was really happy for it," he laughs.
"Obviously it's important because this film is going to be opening in the US and none of my other films have, which is great for me and a brilliant opportunity.
"I think this film is a little bit more universal.
"I remember when they showed Smoking Room in Manchester, which is all in Spanish with a lot of dialogue, seeing the faces of people leaving the theatre and it was like they had finished reading a Russian novel! But this one I think is lighter and easy-going."
Following the screening of Menu degustacion and a question and answer session with fans, Roger and Marta plan to see what Manchester has to offer in the way of sightseeing.
"Work today, and then tomorrow we have a free day, so we will see Manchester – Affleck's Palace," says Roger.
"She wants to shop for vintage clothes.
"I want to see Morrissey's home," Marta interjects, before revealing – as would be expected of a Catalan – a love of football, particularly Barcelona.
"I love football, love it," she exclaims, as Roger concedes that he finds it 'okay'.
"Manchester (United) are not doing good this year," claims Marta as she shakes her head disapprovingly.
"Wait! Did you see the Champions League?" she shouts suddenly, before whipping her phone out and checking the draw.
"Ohoho! Bayern Munich…you are dead, man."
Her prediction shows that, as with ¡Viva!, Mancunians' and the Spanish-speaking world's minds are on a closer wavelength than initially appears.
Image couresty of VEOCLIPS, via YouTube, with thanks