There are some pairings so obvious that your brain can't help but fill in the gaps: strawberries and x, salt and y, Berlin and …
Yep, you guessed it.
But while the city's passion for techno is well-documented, less attention is paid internationally to the city's vibrant music scene beyond the realms of dance tracks and DJs.
Mancunian Matters met up with five music insiders based in the city to hear what their favourite Berlin music act is.
Given the demands of reporting during a global pandemic, Mancunian Matters recorded these interviews at a safe distance from our interviewees in Tempelhof, the city's former-airport-turned-park.
Can't get enough? Understandable: You can hear longer answers about the city's music scene in the audio clips (complete with some background noise).
Interviews have been edited and condensed for clarity.
SEBASTIAN HOFFMANN RECOMMENDS ALBERTINE SARGES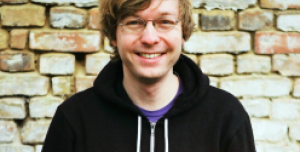 Sebastian Hoffmann moved from his hometown of Stuttgart to Berlin 16 years ago and has been working in music ever since then. He works for the Smart Cooperative for freelancers, the Touring Artist helpdesk, he curates the concert series Fourtrack on Stage at Schokoladen, the Down by the River festival and since early 2020, he's been working as a jury member of Musicboard.
"At the moment [my favourite act] is Albertine Sarges, who is a fantastic original Berliner – she was born in West Berlin in the '80s. I think what's really special about Albertine Sarges is that I've known her for quite a while and she's metamorphosed a lot.
She's been active in the Berlin music scene in many different forms and I got to know her when she was more like a singer-songwriter playing dingy folk-basements. Then she started a duo with her partner called ITACA which plays very synth-heavy Italian pop music. They only sing in Italian, they write their own lyrics in Italian.
"They tour Italy and she's joined two larger bands, she's joined Kat Frankie and Holly Herndon's bands [as a session musician]. Her newest project is her debut as Albertine Sarges & The Sticky Fingers which is going to come out soon on a UK label.
"[In terms of genre when it comes to] Albertine Sarges & The Sticky Fingers – I would call it post-punk. It follows this UK art school tradition of the '80s and '90s of bands like Pulp, the Raincoats. It's not really a genre, I think it's an approach to music-making, it's very free. It's all over the place, it's very performative.
"I loved the shows that I saw her play because they were very free form, not just using this classical setup, but her band members walked into the audience; perfume was sprayed around; she sold her first demo EP as a download code inside Yum-Yum instant noodle packages.
"Yes, it's very playful! Her album is coming out soon."
GIUDITTA PANZIERI RECOMMENDS TATIANA HEUMAN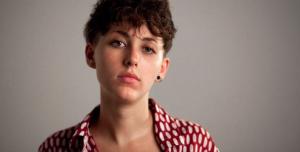 Photo: Martina Ridondelli
Giuditta hails from Pisa, Italy and was started her career in music in London, where she worked at music management company The Bakery, which focused on a small roster of DJs. She has also worked as a social media manager at Bologna's roBOt Festival. 
She's been intermittently Berlin-based for a couple of years and works as part of the Torstraßen Festival team. Giuditta was on holiday in Italy at the time of our interview, so we talked via Skype.
"Someone I would really suggest checking out is Tatiana Heuman, she was one of the acts who performed at this year's edition of [long-running indie music festival] Torstraßen festival, which we ended up doing online due to the whole Covid situation, so you can check out her last performance on YouTube. 
"It comes as no surprise that the Berlin music scene is very international so you have a lot of foreign artists living in Berlin and despite the German-sounding name, Tatiana was born in Buenos Aires and also moved here a couple of years ago.
"She's a very interesting act because she's a drummer, singer and producer and she makes very quirky electronic music. You can really hear the fact that she is a drummer because she has a very interesting take on rhythm, with a lot of unexpected stops and space and voids between her music.
"She's also part of a music collective TRRUENO which is again, a music collective born in Buenos Aires but its members are now based between Argentina and Berlin. They have a very experimental take on music and technology.
"One of Tatiana's songs which has an extremely good video is "Quemó Tu Curuyú" and I think this really gives a nice idea of Tatiana's sound."
AMANDE DAGOD RECOMMENDS PEOPLE CLUB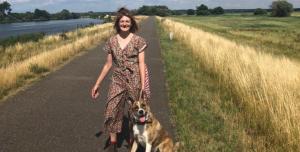 Photo: Tim Wulff
Amande Dagod hails from Annecy, France and relocated to Berlin ten years ago, where she started work as a European booking agent for the agency Julie Tippex and then at Puschen.
She co-founded the record label Späti Palace, which she ran between 2013-2016. She currently heads up production for Puschen concerts in Berlin and co-leads artist management at A-Okay, a company she co-founded which represents artists like Gurr, World Brain, Fenster, John Moods, Dena, Magic Island.
"I really like this new band called People Club. They are a five-piece who make alternative pop, lo-fi soul — you can see the influence from Motown sound, but there are also contemporary acts which are kind of similar, like this band TOPS from Canada.
"They're all from different parts of the world: US, UK, Australia, New Zealand.
"That's one cool thing about Berlin, it's so international so you can meet people from all over the world. I really admire People Club because they started this project here and they didn't know so many people but I've been seeing them working really hard and being very serious about their music and making connections and getting their music out there.
"I think they're quite interesting because I can't really think of another band that makes the same kind of style of music. 
"Where to start with their music? They released an EP in November and I really like their song "Perfume."
ANITA RICHELLI RECOMMENDS MASSAJE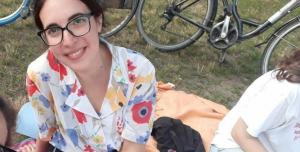 Photo: Elisa Bongiovanni
Anita Richelli hails from Verona, Italy and has been living in Berlin for ten years, where she works as a booking agent and concert producer who organises tours across Europe and the UK.
She has worked for the Italian Music Export, Listen Collective, Interzona and she founded the Berlin music collective Collage. Collage organises DIY shows with a focus on accessibility and inclusivity.
"The band that I've chosen is Massaje — it's a very "young" band, I think they only formed last year. It's made up of three people and I think it's also very typically Berlin that these three people all come from different countries: Norway, Sweden and Brazil.
"They all studied at the music school at Funkhaus together and they play really light, smooth, fun music. I discovered them when they played a show for this collective that I was organising and they immediately captivated the room.
"They've been one of my favourite discoveries. They play synth-pop with a bit of an '80s and '90s flavour.
"In terms of a track to start with, there's a song on Spotify that's very new and it's called "Maybe 95."
Also, Massaje's singer Emma Nydén just released a song the other day called "About You" and it's very beautiful as well. I hope she'll release something else soon!
SLOW STEVE AKA RÉMI LETOURNELLE RECOMMENDS JAAKKO EINO KALEVI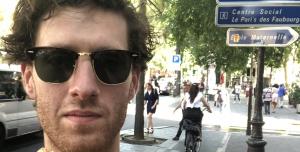 Rémi is from Reims, France and moved to Berlin ten years ago, where he formed part of the band Fenster for four years before leaving the band to found his own project, Slow Steve.
He founded the legendary (now defunct) Neukölln venue Internet Explorer and worked there as the technical supervisor.
Nowadays you can find him working at the Kreuzberg music venues Marie Antoinette and Fitzroy as a booker and technical supervisor and freelancing as a sound engineer.
"One act I really like which I think is a pretty big name is Jaakko Eino Kalevi, on [the British record label] Domino. He's from Finland but he's been based in Berlin for a while now. He's played several times at my club and it's always an amazing show. I love synthesizers and I love very groovy baselines.
"His music is definitely indie, a little bit synth-poppy. But also the guy is a great drummer, so it's pretty groovy. I'm pretty bad at describing genres, to be honest. I don't explain them well! 
"The man's a bit of a dandy — he's a "men-izer", a womanizer [in terms of the energy he puts out onstage], he's pretty elegant onstage and has this attitude. I would say it's pretty good music for a date because it's nice, groovy. He's got a low voice. 
"Start with "J.E.K." — I just love this song, it's a very simple, great opener for an album. It's got a weird vibe and an elegant atmosphere. If I'm 100 percent honest, I don't love every song on that album — some of them are really, really good, some of the others I'm a bit less touched by.
"But this one song is just so good that I've listened to it [over and over] for years."