Bright-eyed and immediately warm, Kwabs has an undeniable presence that draws you in.
In just a short time his powerful baritone voice has captured the hearts of thousands, including some seriously well-respected artists and producers.
MM caught up with Kwabs ahead of his Lumia Sessions gig at Chadderton Baths in Oldham. The once derelict site provided a surreal shabby chic setting to showcase such an interesting vocal.
"It's always great as an artist to be able to step on untrodden or rarely trodden territory", he said.
"It's amazing to be here, in a swimming pool, performing my music and doing something a bit unusual that has a real artistic flair to it."
In 2011, Kwabs appeared on the artist discovery series Goldie's Band: By Royal Appointment, which aired on BBC Two and was hosted by drum 'n' bass pioneer Goldie.
On the show, he performed Lost Child during a final rehearsal at Christ's Hospital in front of an audience that included Prince Harry.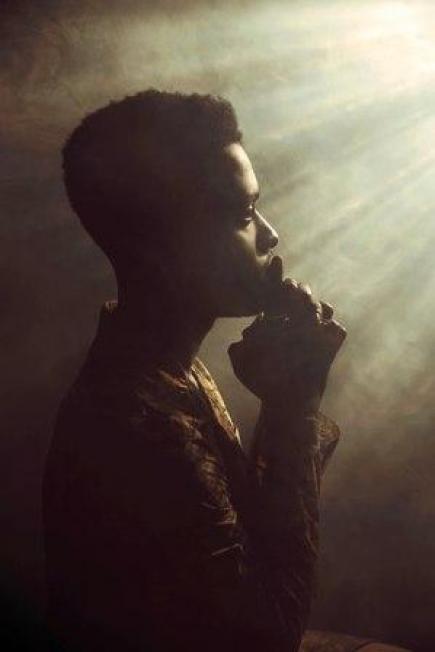 RIDING THE CREST OF A WAVE: Kwabs first hit the big time on the artist discovery series Goldie's Band: By Royal Appointment
Wrong or Right was the artists first EP and was released on February 4 this year, which was followed by Pray For Love which dropped on May 19.
The musician has been tipped for greatness by the likes of India Arie, Jessie Ware, Joss Stone and Plan B who he supported on tour in 2012.
He said with a smile: "It's amazing, I really respect those artists and it feels great at such an early stage to get that support on and have those people on your side. I never thought they would be interested in what I was up to.
"I'm just doing my thing, but it's that mark of approval which is great."
It's not just other artists who think the Royal Academy of Music graduate is the bees knees, last year Kwabs was in the Top 10 most blogged about artists in the world on Hype Machine.
The South London based artist brings his African roots to the table alongside R & B as well as gospel influences all set against a heady backdrop of synthesized soul.
He revealed: "Great singers from all eras inspire me, Aretha, Bill Withers, Marin Gaye and anyone who upped their game, pushed boundaries. I like Kanye West's last album I thought that was really interesting.
"If could collaborate with anyone though, it would be Prince."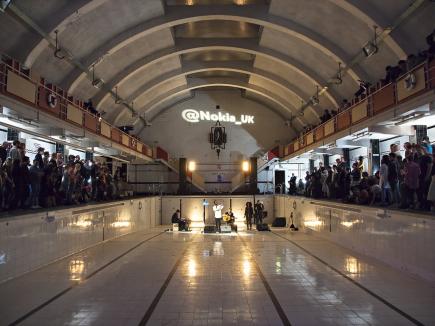 IN AT THE DEEP END: Kwabs performing at the iconic Chadderton Baths
On stage Kwabs is charismatic, engaging and ultimately captivating. His voice sounds ethereal in the baths.
The acoustics in the place are fantastic, deep melancholic harmonies reverberate off the walls creating a beautifully serene atmosphere.
Prince's impact on Kwabs is clear. The man is a real showman and tracks like Pray For Love have a real funky feel allowing him to throw down some pretty sassy shapes and get the audience on their feet.   
That said, the guy knows how to deliver a ballad with class, and you could hear a pin drop when he performed a stunning cover of James Blake's The Wilhelm Scream.
A show stopper though was Perfect Ruin which ended the show. For that he took it to church and brought the house down.
The 23-year-old is part of a wider movement of singer songwriters making their marks on the charts and bringing something different to the industry.
His contemporaries like Laura Mvula, Sam Smith, Jessie Ware, Banks have all had great success both here and internationally, and it feels that it may be Kwabs' time to shine.
"It's encouraging but it's more than encouraging, it's exciting because it's happening at a similar time for all of us," he said.
"I just feel really positive and excited about the prospect of us all having long and successful careers, because I really believe in the talent and other artists I'm seeing.
"We're all on each other's side, were into each other's music, we come to each other's gigs and I feel supported and I'm part of a group and that I belong in this generation of new artists.
He added: "At the minute I'm just going to ride the wave and see where it takes me."
Images courtesy of Lumia Live, with thanks