The world is currently looking upon the UK with a mixture of bewilderment and bemusement.
But long before #BrexitShambles was even a thing, it was the United States who solely provoked this reaction – and Green Day capitalised on it with their 2004 concept album American Idiot.
Dubbed a 'punk rock opera', the record went on to become a soundtrack for disaffected youth before later spanning a musical in 2009. It first opened on Broadway in 2010 and is now celebrating its 10th anniversary with a string of dates at Manchester's Palace Theatre.
Over the course of two acts it follows three adolescents who – while puzzled by a post-9/11 world of Bushisms, hysterical mass media and 'the subliminal mind-fuck America' – decide to ditch the supposed confines of suburbia for the big city.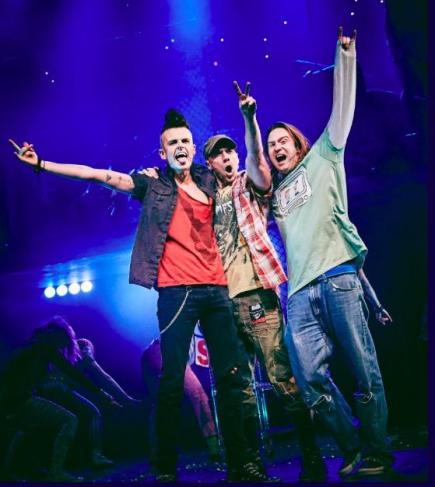 STORY: The musical follows three young lads who vow to leave suburbia
The production kicks off with a rendition of the album's title track American Idiot. It's certainly a crowd-pleaser, albeit not quite satisfactory in setting up the narrative as one might expect from the word 'go'.
The picture doesn't become too much clearer with Jesus of Suburbia, a nine-minute anthem full of twists and turns. We at least come to know our three leads though, Johnny (The Voice's Tom Milner), Tunny (Joshua Dowen) and Will (Samuel Pope), even if there's still a question mark about where things are heading.
It's not long after this when it becomes easy to forgive the narrative failings and simply enjoy the music. Tunes like Holiday and Boulevard of Broken Dreams follow, which are enough to hold people's attention as the characters are fleshed out a little.
There's always a lot going on. A live band accompanies every song, making the whole show feel part-gig/part-musical. The set is two-tier, with at least one character usually occupying the upper level. In addition, groups of dancers flood the stage for the more action-packed numbers.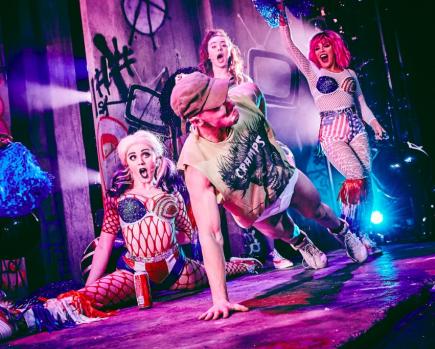 COLOUR: The show lives up to its reputation as a 'punk rock opera'
It's sometimes quite a lot to take in, especially since the narrative eventually starts to run in three different directions. Will ultimately stays in suburbia with his pregnant girlfriend, Tunny enlists in the army, and Johnny turns to drugs – which leads to the manifestation of St. Jimmy (X Factor's Luke Friend).
The cast largely works well with the material, though some of the jokes are admittedly less hit and more miss. Everyone appears invested in the story they are telling, which in turn makes it easier for the audience to lap up what is arguably a rather questionable narrative.
Saying that, it would be difficult to recommend this to a theatre-goer who isn't a fan of Green Day. It's perhaps not necessary for people to have once had to eat, sleep and breathe the album American Idiot (as a lot did upon its release), but you'll at least need to look upon the record with a degree of affection to enjoy what's on offer with this musical.
It does, however, take you right back to 2004 – and what part of that doesn't sound like a good night out?
*American Idiot is showing at Palace Theatre, Manchester until Saturday, April 6. You can buy tickets HERE.