Brighton rockers Royal Blood disappointingly missed out on a Mercury Prize last week and to add insult to injury the duo suffered another blow when they were awarded a parking ticket in Manchester.
The band, who are currently on a major European tour, woke following a sell-out show at The Ritz to find a luminous yellow slip slapped on the windscreen of their tour bus outside the Witworth Street venue this morning.
Composed of bassist and singer Mike Kerr and drummer Ben Thatcher, the duo were tipped to win the elite Mercury Prize award after critical acclaim from industry insiders but were pipped to the post by hip-hop artists Young Fathers.
Despite missing out, it's been a good year for the rifftastic rock'n'roll band who stormed the charts with their debut self-titled album.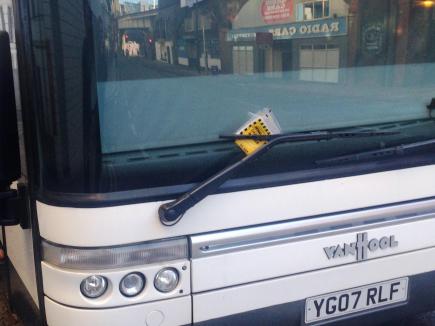 FIGURE IT OUT: Can the duo use their Royal Blood to avoid the fine?
Royal Blood hit the number one spot and was officially named the fastest-selling British rock debut in three years.
The band have also received support from previous Mercury Prize winners Arctic Monkeys and the twosome were invited to support the Sheffield rockers at two huge outdoor London shows earlier this year.
Pals Mike and Ben also went on to secure a number of slots at some of the UK's biggest music festivals and appeared on bills at Glastonbury, Download and Reading.
The boys will play the Liverpool Academy tonight as part of the Northern leg of their UK tour. 
Fans reacted to the band's triumphant set at The Ritz, Manchester last night on social media and praised the rock duo, who played a 12-song set in their signature heavy, bluesy rock style.
Absolutely superb in Manchester last night @royalblooduk you lads tore the roof off the ritz! Ears are still ringing now ! Awesome

— Elliott Cunningham (@ellclfc) November 3, 2014
Royal Blood. Pretty f*****g amazing at The Ritz, Manchester tonight. pic.twitter.com/Auoes1y5bR

— Nick McAllester (@basketball_nick) November 3, 2014
Royal Blood are gonna have my ears ringing all night #royalblood #manchester #ritz #outoftheblack http://t.co/meDkvQ63jX

— Dean Cavanagh (@DeanoCav) November 2, 2014
@BenjiTalent @royalblooduk. Absolutely worldclass in manchester so glad to catch em before the arenas get on them pic.twitter.com/Hq1JpZDd0q

— lee cosgrove (@lee_2805) November 2, 2014
Photography by Sam Moulson.