A Manchester-based film director is crowdfunding to produce a short horror film inspired by 'a journey home in a dodgy taxi'.
Helen Lyons-Curran has taken to IndieGoGo to raise the funds she needs for Ends Meat, a 20 to 50 minute long film that follows 'a devoted father [who] is haunted by a horrific secret; the result of a dark proposition from deep within the shadows of the city's underworld'.
The campaign is asking for help to budget for actors fees and other running costs, but, is struggling to reach its £4,000 target with under a month to go.
Helen told MM: "Our Crowdfunder ends on April 1 so it's imperative we raise enough by then to be able to shoot.
"We are doing everything as cheaply as we possibly can like all independent productions, so it's integral that the campaign goes as well as it can.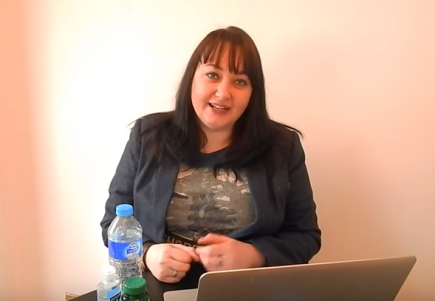 REALLY WANT TO DO IT JUSTICE: Helen is appealing for help to make Ends Meat a reality
"We really want to do the story justice and without enough funding we just won't be able to do that."
On the Ends Meat campaign page, Helen explained that 'the tale will combine several styles, from horror-noir to Brit-grit, and will evoke the spirit of such modern thrillers as Nightcrawler and Drive'.
She told MM that, if enough funds are raised, shooting for the film will hopefully begin in April with a predicted release date set for summer.
The entire film will be shot in Manchester and the promotion video on the IndieGoGo page promises that the cinematography will take full advantage of the city's nightlife as well as 'the loneliness of the backstreets and canals'.
Helen said: "I guess I do have a love and loyalty to Manchester having been born and raised here, but even so I think London is captured so often in films and television that any opportunity to show another city is great.
"I think Manchester is so bright and vibrant, and the architecture is lovely.
"It's a great backdrop for our story.
"The concept was pitched to me many years ago by Kris Heys, the writer, but neither of us were in a position to advance it any further.
"At the time I'm pretty sure his initial inspiration came from a journey home in a dodgy taxi one night. The night life scene in Manchester has been a massive influence too.
"Since then the story has developed so much."
What's happening at the #Manchestercanal? New #HorrorFilm looking for #Backers & #Producers https://t.co/h02sXmmkSH pic.twitter.com/iWdyZIWUy8

— ENDS MEAT (@EndsMeatMovie) 16 February 2016
Helen's previous work includes Gone (2013), Delicacy (2014) and Dad (2015) for which she has been presented with seven awards including the Best Student Drama for 2015 at The Royal Television Society North West Student Awards.
"Each film I've directed has had its own set of challenges, and Ends Meat is definitely the next step for me," she said.
"With Delicacy, my graduate film, it was a two-hander set in one location.
"I was just really conscious when looking for my next project that I challenged myself in a whole new way.
"Ends Meat is very different from anything I've done yet as it really pushes the boundaries I've worked in with short film so far."
Helen believes that the different genres used in Ends Meat will satisfy the tastes of different audiences.
The film will star Mark Vanhendrijk, from Shameless, Emmerdale and Coronation Street, and Christopher Faith, known for Down and Out, Sophie's Fortune and The Icehouse Project.
"I think anyone that would initially be put off by the horror element would be surprised when watching the film," she said.
"I wanted to capture that very Northern element, and humour that's so specific to the region. Although the film is dark, there are quite a few moments of humour as well.
"Mark Vanhendrijk, our lead actor, I first met a few years ago when he starred in a short film I produced.
Help make it happen for our unique #Manchester set #film https://t.co/h02sXmmkSH #indiefilm Check out the trailer https://t.co/edkUX3N0I2

— ENDS MEAT (@EndsMeatMovie) 22 February 2016
"We'd talked about working together again a while ago, and Mark immediately came to mind when I read the script for Ends Meat.
"Our supporting character, Kevin, is played by another Manchester based actor Christopher Faith, who I've always wanted to cast, it was just a case of waiting for the right role."
"They have incredible chemistry together and that's something that is really going to be apparent on screen."
And although Helen admitted that she made this film with the hope that it will open doors to even more ambitious projects in the future, she is confident that Ends Meat will showcase all those involved with the project's talents.
Helen said: "I hope the film gets some exposure for everyone involved.
"I always say that I'm grateful for every screening a film gets, and the more recognition the better.
"Hopefully this film will showcase the skills of the writing, the performances, the visuals, sound and will hopefully open the door to even more ambitious projects like a feature film."
To find out more about the project, click here.
Images courtesy of Helen Lyons-Curran, via YouTube, with thanks