Part love story, part tribute to the astonishing bravery of the sappers who tunnelled underneath battlegrounds, Birdsong is as good a commemoration of the immense sacrifices made during the First World War as you will ever see.
Rachel Wagstaff's stage version of Sebastian Faulks' 1993 novel, showing at The Lowry until Saturday, is on its fourth and final UK tour until July, the month the 1914-1918 Great War began.
Faulks states in the programme that "the whole production team believes it is the best yet" and he's keen to find out whether that's true. He won't be disappointed.
This fast-paced, emotional and educational version – directed by Alastair Whatley with Charlotte Peters – takes us from the Western Front in France between 1916-18 and back to northern France in 1910.
Tim Treloar is spellbinding from the get-go in the role of the sapper (Jack Firebrace) taken from his job in London – tunnelling for the ongoing construction of the Tube – to being 50 feet below a blood-stained battlefield, working with others to dig tunnels under enemy lines to gain the upper hand.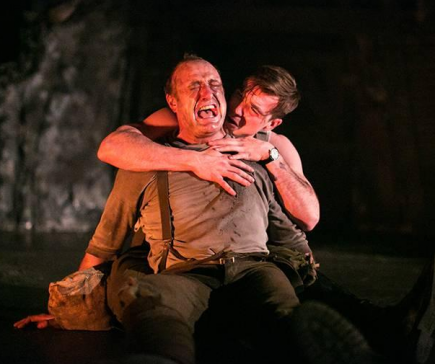 HEROES TOGETHER: Tim Treloar (left) with Tom Kay, left alone near the end in a moving finale to a gripping two hours of theatre
He wrestles with his own emotions – leaving behind a wife and son who falls ill – while trying to keep his men motivated in the face of a dire existence.
There are incredibly tough times but ultimately, as is proved even nowadays on the Army Sappers website, humour is their greatest weapon. Always was and always will be.
"If in this place you are detained, don't look around you all in vain, but cast your net and you shall find that every cloud is silver lined… still," wrote a long-forgotten miner in pencil on the white chalk roof of a recently discovered tunnel, alluded to in the programme by Mark Fisher in his 'Tunnel Warfare' feature.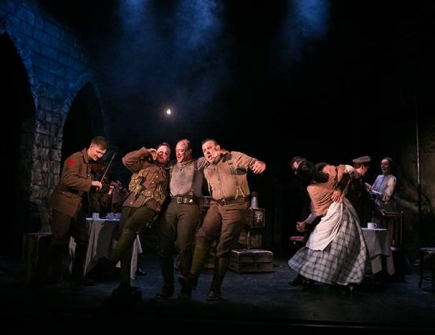 KEEP CALM AND CARRY ON: The high spirits required to survive in the trenches is explored in Birdsong, on its fourth and final UK tour
Keeping your spirits up is a theme running throughout the play, as we meet Stephen Wraysford (Tom Kay), a young British Army lieutenant who comes across Firebrace and his men in the trenches.
Still coming to terms with the sudden vanishing of his love Isabelle (Madeleine Knight), who he meets when in Amiens in 1910 while learning about the French textile industry from her abusive husband, Wraysford seems at first detached and cold. He dissects a rat to see what fate beholds him.
Yet he is made of stern stuff – he survives the 141-day Somme Offensive in 1916 which claimed the lives of nearly 20,000 British soldiers on the first day in July – and his dedication to the war effort is commendable.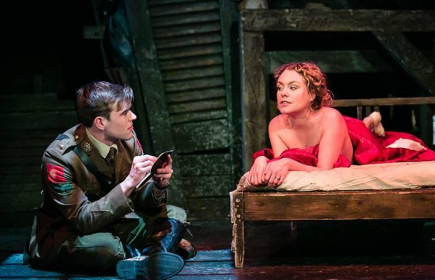 HAPPIER TIMES: Tom Kay and Madeleine Knight enjoying their newfound love before the Great War ripped European societies apart 
With the optimism of 1914 long since gone – the Military Service Act of 1916 enforced conscription for single men aged between 18-41 with a few exemptions – those around Wraysford begin to lose their minds, a young lad (Tipper – Alfie Browne-Sykes) who lies about his age taking his own life moments before the Somme.
Like the tunnels in which the play is often set, there are twists and turns which ultimately makes for a gripping two hours of theatre. Faulks will be proud and very likely moved at this stirring stage portrayal.
Birdsong is showing at The Lowry until April 7, tickets here. For the nationwide tour see here.
All images courtesy of Jack Ladenburg, with thanks.