Picture a Shakespeare production with text messages and dance parties aiming to attract a younger audience.
Lowhurst Productions are premiering their modern version of Twelfth Night from July 6-8 at The King's Arms: Vaults in Salford, as part of the Greater Manchester Fringe festival.
The company was founded this year by students Brontë Appleby and Jack Stewart, and the cast and crew consists of students all aged 17 or 18, from Xaverian College in Rusholme.
"The aim of the company is that we want to nurture upcoming talent from Manchester, because I don't think there's enough exposure to it," said Appleby, 18.
"There aren't many people that take a risk on younger performers and give them the experience that they need."
It's not all ruffled collars and lengthy letters as their adaptation of Twelfth Night promises to be "quite controversially" different to Shakespeare's classic comedy.
They have chosen to include technology in the form of text messages, and even a few dance parties held by the character Orsino, played here by Anthony Gallagher.
Appleby said: "When you think of Shakespeare, you think of period dress and long monologues, but we have it as modern as possible.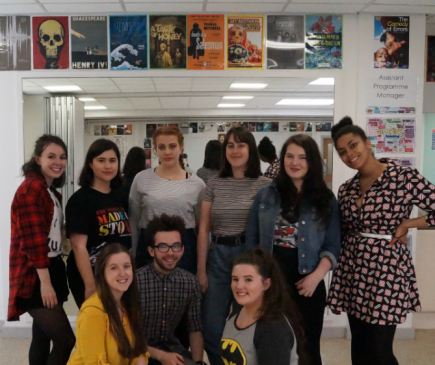 RELEVANT MESSAGE: Shakespeare's words still resonate with people despite his death exactly 400 years ago 
"Shakespeare is so relevant because it has a message that is applicable to all time," she added, noting this modernisation aims to bring a younger, alternate audience to a theatre production.
The inspiration for the company came from many cast members being drama school applicants, and while it is statistically more difficult to get into drama school than Oxbridge, this production may provide the start of their professional careers.
Lowhurst Productions are optimistic about the future, with hopes to create an independent short film by Christmas.
They also aim to perform another Shakespeare play at next year's Fringe festival in the form of Much Ado About Nothing.
Twelfth Night is running for three dates next week, with only 20 tickets remaining. A Monday preview show at Xaverian College was added due to demand.
The play stars Millicent Thomas, Anthony Gallagher, Madeleine Healey, Daisy Brocklehurst, Venezia Williams, Appleby, Grainne Stagg, Sophia Allinson and Jess Whelan.
Appleby and Stewart are also involved in the direction alongside designer Megan Wilson.
More information on the play, and on Lowhurst Productions, can be found on their website: http://www.lowhurstproductions.co.uk/twelfthnight.html