Hordes of wrestling fans descended on Victoria Baths as the New Wave Wrestling Alliance spooktacular brought together a mix of halloween fun and in-ring action.
'Nine Lives' offered something for all in attendance, combining story driven wrestling with a range of spooky kids activities, including face painting, a bouncy castle and a fancy dress competition.
Inside the ring the five matches provided a showcase of some of the UK's most exciting wrestling talent.
The first two matches were short and action packed. They resulted in victories for Martin Kirby and Violet Vendetta.
Next up was a match featuring Mark Andrews who has previously wrestled in America on Total Nonstop Action Wrestling, which drew a lot of attention from the fans.
This was highlighted by the amount of people scampering towards the ring when it was announced the TNA star was available for a photo opportunity.
Andrews faced off against CJ Banks, who was accompanied by his manager Pat Sharpe. Both Banks and Sharpe provided plenty of entertainment during the match.
Early in the match Banks complained of hair pulling from his opponent, yet Banks has no hair. This led to chants of 'baldy' from the crowd.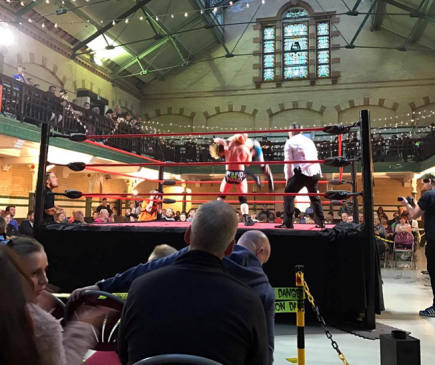 GROWING EVERY TIME: NWWA production director Lauren-Klair Soar told MM they can't wait for the 2017 event as crowds are getting bigger and bigger
As the match continued Sharpe interacted with the crowd trying to stop the boos directed at Banks. This consisted of Sharpe telling fans to 'shut up' which only infuriated them further.
The match up ended in Banks taking the victory with interference from Sharpe.
After the interval the crowd were treated to an exhilarating eight-person tag team match, Momentum shifted from side to side and ended with the fans' favourites losing.
The time came for the main event. A North West Derby with a difference. In one corner stood Liverpool's number one Zack Gibson. In the other Joey 'hot stuff' Hayes from Manchester.
The match up certainly delivered more excitement than the drab 0-0 draw between the two football clubs earlier this season.
In a fight that Gibson seemed destined to win with the help from the mandatory wrestling weapon, a steel chair, Hayes fed off the crowd to turn the tide and overcome the odds to defeat the Liverpudlian securing the North West bragging rights.
Speaking after the event the NWWA production director Lauren-Klair Soar told MM: "The event was a massive success. We are very happy with the crowd size and it's growing every time.
"We can't wait until next time."
NWWA will be celebrating their second anniversary with their next event "Something's Gotta Give!" which will take place on March 11 2017. For tickets Click here.