This summer, Manchester will serve up a plethora of cultural delights to whet the appetite of music and theatre lovers, festival-goers, jazz enthusiasts and food junkies.
The city will come to life to host five major festivals from June until September, featuring some of the finest international arts and musical talent, the freshest music and the best of the city's emerging new talent.
Followed by 11 days of food festivities you won't want to miss, summer 2015 in Manchester is going to be one to remember!
Parklife, Heaton Park
June 6-7 
Kicking off in June, it all starts with musical heavyweight Parklife.
This two-day festival returns to take its place in the vast grounds of Heaton Park, the largest in Europe, surrounded by greenery and the grade I, neo-classical Heaton Hall.
The line-up promises to be something to remember, featuring an all-star cast that includes dynamic dance duo Disclosure and British singer, FKA Twigs, renowned for her show-stopping performances.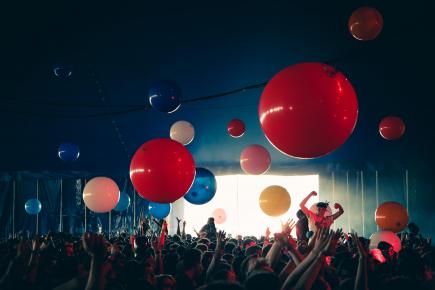 MUSICAL HEAVYWEIGHT: Parklife will see artists like Disclosure and Jessie Ware take to the stage (© Daniel Watson, with thanks)
Add in Mercury prize nominee Jessie Ware, who will take to the stage with her haunting and soulful voice and Mancunians, Everything Everything, who will serve up a slice of their high-octane indie-dance.
For hip-hop fans, the legendary Wu-Tang Clan will perform and for those interested in something a little more chilled, there's acoustic pop/rock from George Ezra.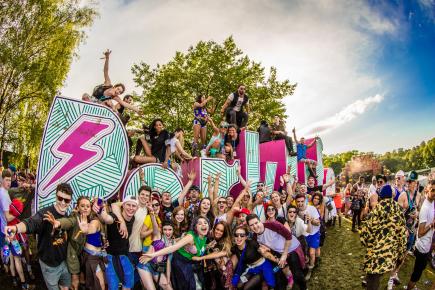 FRANTIC: The two day weekender takes place in Heaton Park (© Shane Webber, with thanks)
If it's non-stop dance/house, then you won't be disappointed with critically acclaimed musician, DJ and producer Jamie XX making an appearance, as well as DJs Julio Bashmore and Richie Hawtin.
Plus Manchester shows off more of its local talent with DJ sets from Krysko, Will Tramp and Now Wave.
More information can be found here.
Manchester International Festival, various venues
July 2-19
This is the fifth instalment of the Manchester International Festival (MIF) which takes place in some of the most historic, alternate and iconic venues in the city.
This year's programme features, in equal measure, huge talent, innovation and original work spanning the arts spectrum and is the last one to be led by artistic director Alex Poots.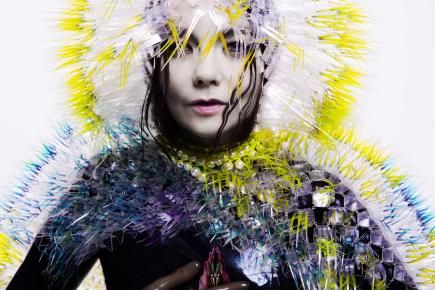 DAZZLING: Icelandic singer-songwriter Bjork will return to the Castlefield arena (© Inez and Vinoodh, with thanks)
Highlights include the awe-inspiring Icelandic singer-songwriter Bjork. Returning for a second time after her dazzling performance in 'Biophilia' in 2013, she plays at Manchester's Castlefield arena, with material from her new album, 'Vulnicura'.
New performers include electronic music producer and DJ, Four Tet, who will play a live set in the vast surroundings of former abandoned warehouse, Mayfield Depot in '10×10'.
And don't forget the critically acclaimed FKA Twigs, who will bring the 'wow' factor to Old Granada studios by taking up a week-long residency to collaborate and create seven short films which audiences are invited to experience and observe.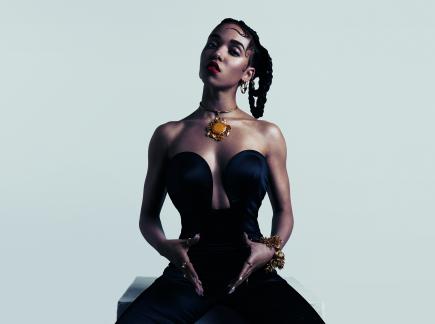 CRITICALLY ACCLAIMED: FKA Twigs will bring the 'wow' factor to Old Granada studios (© Dominic Sheldon, with thanks)
New production, 'The Skriker', starring British actress Maxine Peake (another returning performer), as a disturbing shapeshifter in an ancient fairy story set in a fractured England, promises to be a chilling and captivating performance.
While 'Neck of the Woods', debuting at Manchester's newest cultural space, HOME, brings to life the story of a wolf from Charlotte Rampling, the Broadchurch starlet.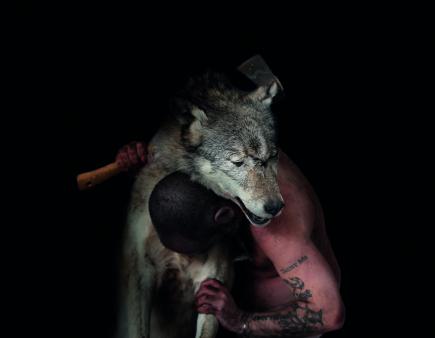 NECK OF THE WOODS: Broadchurch starlet Charlotte Rampling will bring to life this story of a wolf (© Douglas Gordon, with thanks)
'Richter/ Pärt', an exciting collaboration between a world class composer and artist, who have created new musical works inspired by and dedicated to one, will be performed live in the stunning surroundings of the Whitworth Art Gallery.
There's also a healthy injection of inspiring debate and discussion for two days at 'Interdependence' and a groundbreaking science show, featuring Professor Brian Cox.
If you just want to sit back and soak up the carnivalesque atmosphere, with great food and enjoy some free performances, you can do that too at Albert Square.
More information can be found here.
Manchester Jazz Festival, various venues
July 31 – August 9
Over 10 days an exciting array of international, regional and local jazz talent will take to the stage in some of the best music venues and spaces in Manchester.
With over 80 performances bringing together multiple genres of jazz and local and international talent, there's sure to be something for everyone, including some very special jazz acts.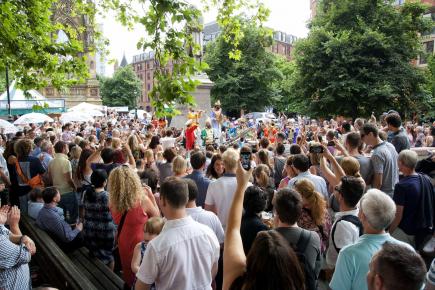 SOMETHING FOR EVERYONE: The jazz festival will see local, national and international artists descend on Manchester (© Lee Wild, with thanks)
Launching with the New York Brass Band (NYBB), hailing 'from the mean streets of Yorkshire', they will be bringing their swagger and energy to Albert Square to start the party!
The big band sound of Orquestra Timbala, will return with their distinctive Afro-Cuban beat, and a unique collaboration between Manchester's Efpi records and Paris' Onze heures Onze, will be performed by French quartet OXYD at Manchester's hippest night spot, Soup Kitchen.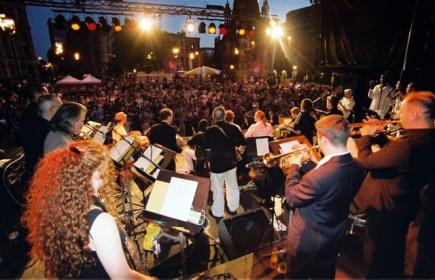 DANCING IN THE STREETS: Orquestra Timbala will bring an Afro-Cuban flavour to the city streets (© Daniel Parker, with thanks)
For something new, Jazz North will be showcasing new talent from The Matt Holborn Quartet, an emerging gypsy jazz band hailing from Leeds, who will be performing in the Central Library.
More information can be found here.
Pride: The Big Weekend, Canal Street
August 28-31
Held over the bank holiday weekend, this is the 25th anniversary of the Manchester Pride festival, a celebration of the city's gay, lesbian, bisexual and transgender community for four days of 'BIG' festivities.
This year's headlining act is award-winning pop-indie giants Texas, plus performances from Union J, DJ Fresh, US DJ Andy Butler and Hercules and Love Affair.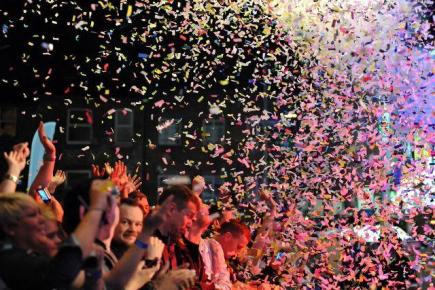 STAR STUDDED LINE UP: Some of the biggest names in the charts will be entertaining Canal Street   
Pride festivities will kick off with the annual carnival parade, complete with floats, music and spectacular fancy dress, followed by a variety of acts and performances in different venues, including fringe arts events & performances throughout the city.
It'll all culminate in a poignant candlelight remembrance vigil at Sackville Gardens, paying tribute to HIV/ AIDS victims.
More information can be found here.
Manchester Food & Drink Festival, Albert Square and various venues
September 10-21
Returning for another year, this 11 day gastro-food extravaganza is a 'must' in the calendar for any foodie enthusiast.
Albert Square transforms into a food and drink village with a vast range of delights from the best of traditional British, to street food from all corners of the world, and the finest selection of chocolate, cheese, craft beers and cocktails, to wash it down with.
The festival also features a wide range of local, national and international food talent and includes tastings, talks, demonstrations and events, addressing themes and issues in the food and drink industry.
Highlights include, 'Three Wine Women' featuring Guardian food and wine writer, Fiona Beckett, owner Jane Dowler from tapas bar Evuna and the BBC's Kate Goodman, owner of the Didsbury Reserve Wine Shop, who will share their insights.
And don't forget the 'Big Indie Wine Fest', featuring the best wine merchants from Europe or the first-ever 'Great Manchester Bake Off', where you could win a chance to dine under a dinosaur at Manchester Museum!
More information can be found here.