Repression. Puberty. Lust. Love. Parental abuse. Teen pregnancy. Abortion. Depression. Suicide. Nihilism.
Spring Awakening is an ambitious, sweeping musical about teenagers trying to make sense of the world around them in socially repressive 19th century Germany, but with a very contemporary feel.
Steven Satar and Duncan Sheik's rock musical take on the 1891 Frank Wedekind play of the same name comes with an illustrious history – with previous incarnations winning a host of awards including eight Tonys – and therefore carries with it a certain level of expectation.
Thankfully, this version does not disappoint.
Flitting between compelling drama and concert-like musical numbers, the intimate setting of The Hope Mill Theatre is utilised to its fullest potential, with the audience feeling in the middle of the action for every scene and in the front row for every song.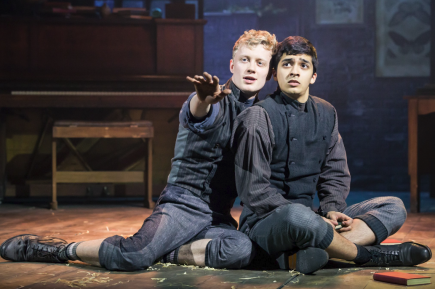 WELL-EXECUTED: The production successfully combines comedy, drama and music
A fast-paced, emotion-filled yet oftentimes funny production, which grabs from the opening song, Mama Who Bore Me, and refuses to let up for the entirety of its near two-hour duration. Its young and vibrant cast bring the group of repressed, pubescent youths to life with all the restless vitality and angst that is synonymous with that period of life.
The musical's writer, Sater, in his programme note calls the original Wedekind play 'the most scabrous indictment ever written of adulthood. Of parents, teachers, and a clergy, so invested in their social prestige, they will sacrifice even their children to protect it'. Alluding to the recent Parkland shooting in America, he goes on to assess that society is still 'not listening to the pleas from our children', and classes his musical as being part of the 'outcry' against that.
And with that message still palpable throughout – the group are censored, silenced and dismissed by every adult in their lives, eventually leading to tragedy – the cast who bring this version of the classic to life are what stand out here, with an infectious energy injected into every single scene.
Darragh Cowley as the charismatic lead, Melchior, embodies the role with a confidence that would lead you to disbelieve that this is his professional debut. Gillian Kirkpatrick and Neil Stewart, playing the various adults of the story, bring a sense of experience and calm, providing a counter balance to the frenzied energy of the hormonal youngsters surrounding them.
It's Jabez Sykes who arguably steals the show as the anxious and eventually suicidal Moritz – to name only a few from a roundly strong cast, all of whom work well together.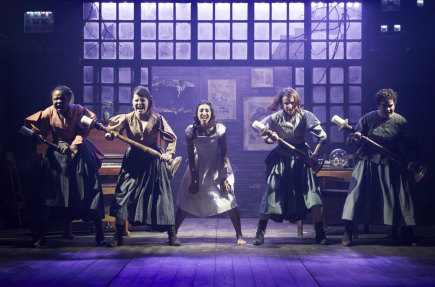 INTIMATE: The venue makes the audience feel part of the action
The songs are all brilliantly performed, with the cast feverishly belting out rock ballads about their adolescent plight while they writhe and gyrate as though their bodies are about to explode from the internal turmoil, with Tom Jackson Greaves' choreography adding another level to every performance. And Nic Farman's lighting actually manages to transform the small Hope Mill stage into a neon-lit, concert-like atmosphere at times.
As someone who has never seen or read the original, it was striking that the complexity of some of the plotlines would undoubtedly be better suited to true exploration through a long-form mode of storytelling – but that is exactly because the original was written as a three-act-play.
As a musical though, this Spring Awakening is enjoyable, well-executed, and thought-provoking, successfully combining comedy, drama and music into a production that, though it runs for nearly two hours, feels considerably less.
Following the final sequence, one last rendition of audience favourite Totally Fucked and an extended standing ovation for the production's beaming cast and crew, as the theatre lights came on and the front doors opened, the woman sitting beside me turned and said 'wow' – not a word I tend to use, but in this case, I may have to agree.
*Spring Awakening is playing at Hope Mill Theatre, Manchester until Thursday, May 3. You can buy tickets HERE.