The lights faded, the crowd screamed, and astronomer Carl Sagan reflected on the Pale Blue Dot…
After spending time in the US in the wake of their extraordinary success with 2012's Bones, Young Guns had returned to Manchester as part of their UK tour. And they took the stage at Academy 2 in philosophical, yet emphatic style.
"We haven't had a main show in the UK for two and a half years," declares lead singer, Gustav Wood.
"So we're here making up for lost time. We want to have one hundred percent connection and energy. Everyone in this room, make some fucking noise!"
Deafening noise emerged, as palpable anticipation unleashed into an almighty, impassioned roar, manifesting itself in bellowing fans catapulting a sea of liquid into the air.
The band arrived with single, I Want Out – which perhaps intended to symbolise their fresh 'new wave' sound on awaited album, Ones and Zeros, derived from working in a more organised fashion with hip hop producer, Dan the Automater.
But after a legion of fist pumps and jumping, and the second track, Dearly Departed, from their last album, Bones, Gustav announced: "This is seven minutes into the gig, and already it's the best show of the tour, Manchester! And It's only going to get better."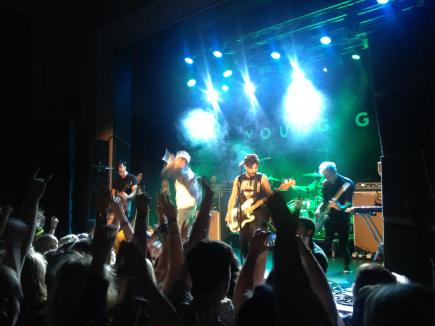 CROWD-SURFING MEET-AND-GREET: Fans rode along the waves to shake hands with Young Guns frontman Gustav
Young Guns had so far delivered, and if the fans had waned after the band's absence, the five-piece certainly couldn't tell.
"We came back to re-connect with you, but I see a full fucking room! This is a lot more than I was expecting," said Gustav, as the crowd screamed once more.
The band introduced Rising Up and oldie, Stitches, before Gustav shouts: "I see two handsome security guards here on either side and they haven't done much so far, so I want to see all the crowd surfers right now!"
Scenes that followed could only be described as a crowd-surfing meet-and-greet, as individuals rode along the waves in order to shake hands with Gustav, who saluted each and every one.
"My man!" he says to an adolescent crowd-surfer.
In a recent interview, bassist Simon Mitchell told MM that their crowds in England are usually young. In this gig, hoards of youth, some with fluorescent hair, dominated the room.
But you could spot grown adults who were either fans, or supervising their kids –  all of which were bobbing along to drummer Ben Jolliffe's beats.
The band performed oldies, with Gustav thrashing at the fore: After The War, Crystal Clear, Elements, Brother In Arms, each track reigniting the crowd's hearts once more.
You could tell the difference between old and new compositions, the latter a mix of keyboards riffs, powerful, call-and-response chorus' doused in a more distinguished rhythm.
After hundreds of cheers, Gustav then addressed the elephant in the room.
"We're here promoting our new album which is released on Monday. How many of you have pre-ordered it?" he said, as the audience screamed incessantly.
He then quipped: "How many of you have downloaded it illegally?" The crowd screamed even more. "Fuck you! Fuck you!" He yelled, with a smile.
They revert to new song, Daylight and then Weight Of The World, before Gustav – covered in his and his bandmates' sweat – falls on his knees and lies on the floor in euphoria.
"Hold on, let me enjoy this moment for a second," he said, prior to being disturbed by Ben's loud drumming.
The band enter their final moments, as Gustav applauds the crowd and praises their support acts, Nothing But Thieves and Dead.
"We live in an age of mercilessness, a world that takes no prisoners," he said. "We've taken a break to spend time on our new album.
"But I'm not bullshitting Manchester, you are easily the best show on the tour. Thank you so much. Everybody, make nothing but noise!" Ben drums incessantly in salutation.
Gustav led the band in performing Speaking In Tongues and You Are Not, receiving an explosive response from the crowd – hands raised and clapping.
"Let's see you hold your hands in the air," exclaimed the lead singer, who dictated the crowd's emotions fantastically all night.
Before the night ended, Gustav prepared the crowd for their hit single, Bones. "Let's make sure that Norwich tomorrow is the worst show of them all.
"But don't tell them I said that," he added. "I've never felt this good."
The band then erupted in conjunction with the audience. As crowd-surfers became aplenty, Gustav climbed off stage and leant over – breathing in the aroma of all their adoring, sweaty fans.
Main image courtesy of Young Guns, via YouTube, with thanks.