The music world moves quickly – going away for five years is a luxury many can't afford.
Indie rockers Starsailor did just that but frontman James Walsh feels they are much better for it.
Meeting Walsh in a back room of the basement of the Whisky Jar in Manchester's Northern Quarter, he appears to be laid back following his solo set which kicked-off the launch for the Whisky Sessions Festival.
The last few years have allowed the 34-year-old to get used to playing alone – but now he is ready to enjoy the best of both worlds following Starsailor's reformation in May.
"To be honest, I enjoy both playing solo and with the band. With Starsailor, I've got my mates to rely on and fall back on, feed off as well, whereas playing on my own its all down to me," Walsh told MM.
"The satisfying thing about playing solo is when things go right and I've got the crowd onside then you get a certain sense of pride that you've managed to do it on your own.
"But equally if a string snaps or the mic starts cutting out there is nothing to fall back on, there's no guitarist or keyboard player to quickly come up with a little solo."
Forming in 2000, Starsailor took the noughties by storm with Walsh's distinctive and wide-ranging vocals setting them apart from the Britpop crowd.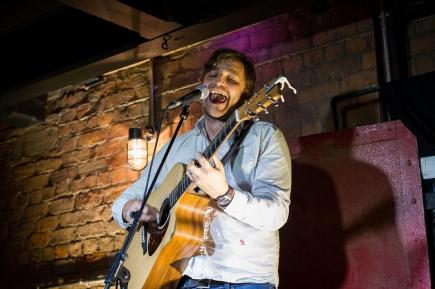 I'M A STAR: James Walsh is back with his Starsailor pals
Ten top-40 singles followed as well as a number two album and numerous sell-out shows and supporting the likes of Manic Street Preachers and rock legends Rolling Stones on tour.
But in 2009, the band decided to take a break to allow Walsh to concentrate on his solo career.
While he pursued his own personal goals, the other members focused on their own projects and it seems to have refreshed them.
"It's really good to be back with the band, the time away has done us good," he said.
"James Stelfox, the bass player, spent some time spiritualising and learnt a lot from doing that.
"And Ben and Barry, the keyboard player and drummer, they've been away teaching and I think that's helped them and given them a new outlook on things so it's been great."
The band's first live performance since reforming came at the Isle of Wight Festival back in June and now the band are lined up to support Manchester band James on their November UK Tour, including at the London's Royal Albert Hall.
Alongside the stadium tours, Walsh now has the chance to play more intimate gigs, such as his Whisky Sessions set, where he can enjoy a more personal crowd.  
"It's really good to be able to play different venues – I'm in a really good place at the moment in that respect," he said.
"It's good to be busy all the time with music because I love it. 
"At the moment, if Starsailor are off I'm writing with different artists or doing solo gigs, it feels a lot more like a 24-hour sort of full-time job which is good."
Originating from nearby Chorley, Manchester has a fond place in his heart and it is almost a home away from home for Walsh and Starsailor.
 "Whenever we play in Manchester, all our mates from Chorley come down and I think to their credit a lot of Mancunians took us under their wing," he said.
"They have been good to us even though we're not like the Doves and Elbow – we're not from the Greater Manchester area – but we've still been accepted into the fold so I've always appreciated that."
The fondness for Starsailor remains despite the fact Walsh is a passionate Liverpool FC supporter.
"I keep that under my hat when I'm playing around here," he laughed. "The sense of humour is great as well, I get some ripping for it but they've not disowned me as of yet."
Walsh was promoting the Whisky Sessions, a festival set to hit Manchester's Victoria Warehouse on November 21 and 22, combining great music, such as Badly Drawn Boy and I Am Kloot, with great whiskey from around the world.
The performer seemed at ease throughout his performance – laughing and joking with the crowd as he tuned his guitar between songs and performing a set that was well-received by the enthusiastic crowd.
He played a 14-song set which was a mix of his solo stuff and Starsailor classics such as Lullaby, Fever and Silence is Easy, as well as Alcoholic which he preceded with a warning for everyone to 'drink responsibly.'
Walsh first teamed up with the festival when he played their acoustic tent at the Isle of Wight Festival and loved the experience.
Recalling the weekend, he said: "It's just really laid back – I think the line-ups really good at the festival and obviously really nice whiskey cocktails helps people to get in the mood.
"I don't know what it was, I just remember playing in the Whisky Sessions tent was a great experience and had a really enthusiastic crowd."
With the band back together, fans will be looking forward to new Starsailor material in the future – but there were no promises from Walsh.
"All I can say is we're going to try. We're going to get together and try and write some new stuff," he said.
"It's got to be amazing, that's the thing. If we can come up with something that lives up to songs like Fever and Lullaby that people identified with, that is when we'll come back with a new album."
The Whisky Sessions Festival will be held at Manchester's Victoria Warehouse from Saturday November 21 November to Sunday November 22.
For tickets, visit the Whisky Sessions Festival website
Images courtesy of Paul Cooper via Whisky Sessions PR, with thanks.