When indie pop legends The 1975 teamed up with the BBC Philharmonic orchestra for Radio 1's live lounge the result was nothing short of superb.
Lead singer Matt Healy appeared demure and relaxed albeit slightly less rock and roll than usual as he graced the stage in a knitted jumper, tartan trousers and glasses to welcome the crowd to this "celebration" of the new album.
The gig then kicked off with the title track I Like It When You Sleep For You Are So Beautiful Yet So Unaware Of It, quickly captivating the crowd with its ethereal melody.
Next the tempo and heat was turned up with the bold and catchy anthem Love Me which saw Healy confidently step into his stage persona as he announced "Now this is what I call a gig."
As the guys worked through the rest of their set list the intensity ebbed and flowed from the soft lilting melodies of Change Of Heart to the percussive rock tempo of Somebody Else.
A jazzy cover of Justin Bieber's Sorry was a highlight not least because the crowd went from booing at the mention of Bieber's name to wholeheartedly singing the chorus.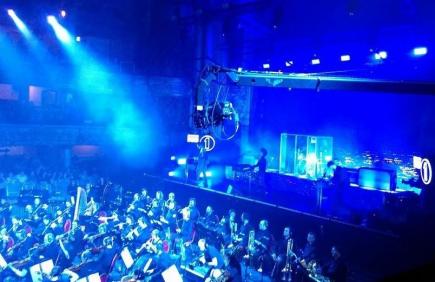 A slowed down and measured version of One Direction's What Makes You Beautiful was also well executed with the orchestra helping to transform a pop hit into a soulful symphony.
Please be naked – the album's instrumental track – then provided a relaxed interlude with soft piano melodies and Disney-esque percussion.
Throughout the gig Healy claimed to be "having some sort of a breakdown" and that the band were "extremely nervous" but this wasn't really believable until he started crying during an emotionally charged rendition of If I Believe You; a soulful ballad about Jesus.
They left the best till last with the upbeat signature track from their debut album Chocolate and their most recent chart hit The Sound which it was impossible not to dance to.
In the end the atmosphere on the night was electric and it was a treat to witness such a unique gig which perfectly balanced the intimacy of a live lounge with the grandiosity of a live orchestra.