The Frog and Bucket's annual amateur comedy competition was won by a Lithuanian national on Monday night.
Evaldas Karosas claimed the Beat the Frog World Series title by fighting off eight other finalists from Salford to Taiwan in the competition's 16th year at the Oldham Street venue in the Northern Quarter.
Each finalist was spotted at an open mic night held every Monday and Taiwan-born Kuan-wen Huang finished runner-up by the audience, while Toussaint Douglass from South London won the panel prize decided by comedy industry pros.
Hilarious compere Dan Nightingale kept the audience on their toes, and last year's winner Australian Anna Spark returned to perform an impressive routine filled with dark comedy.
Brexit was hardly mentioned and political correctness was thrown out of the window for a high-quality final enjoyed by an equal split of male and female punters.
Here's what MM thought of the nine finalists…
Winner: Evaldas Karosas
The part-time hotel worker's routine covered plenty of ground in the five minutes, from filthy humour to Eastern European stereotypes and buying a homeless alcoholic a beer.
His topic shifts were quick, and his delivery was well-timed, not allowing the audience to recover from their last belly laugh before triggering another one.
Runner-up: Kuan-wen Huang
Kuan-wen's energy was infectious as he discussed life in Britain and Taiwan, and his sudden switches to a high-pitched voice drew laughter at both the gag and his mannerisms.
A highlight saw him discuss army call-ups, explaining how a pizza-print-shirt wearing "panda" like him wasn't prepared to go to what he described as Taiwan's Blackpool.
Panel-prize winner: Toussaint Douglass
His take on racism as a black male went down a storm, and he started by posing bland quick-fire questions to a female audience member before asking "black or white?"
Gags on police brutality and massaging his white girlfriend also hit the right note, but those unrelated to race weren't as well received until he finished strongly with a swipe at vegans.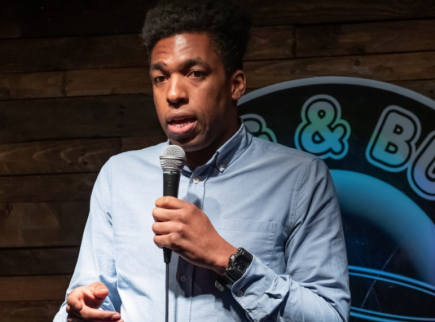 Finalists:
Karl Porter
The Salford lorry driver was first up, and he set the bar high with his energetic portrayal of hard men and overly feminine ladies – with the sex noises to boot.
It was easy to relate to the characters he embodied physically and vocally, and announcing he looks like an albino while walking on stage got the punters on side straight away.
Sally Firth
Performing as Sally the Serial Killer, her high-school teacher appearance and vocal tone made the low-energy dark humour ironically effective.
Her deadpan style hit the right notes most of the time, particularly when she mentioned wearing her dead mother-in-law's clothes after her husband asked her to 'dress up' in bed.
Amy Webber
The opera singer and music teacher performed a Victoria Wood-style song about awkward sex on a ukulele, but her singing voice was more impressive than her comedy routine.
Her microphone falling out of place a couple of times didn't help, but the rude missing lyrics didn't get as much laughter as she'd have hoped for.
Ola Labib
As a hijab-wearing Muslim, Ola's routine saw the funny side of prejudice, but it felt like the audience wanted to hear about Shamima Begum as much as they wanted to hear about Brexit.
Two well built-up gags on Osama bin Laden's hide and seek skills and having an 82-year-old husband were lapped up by punters.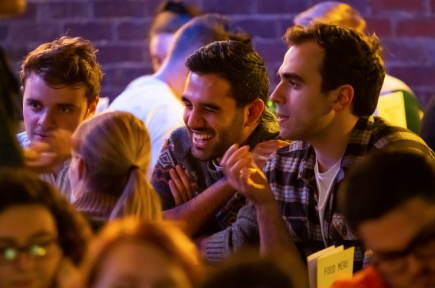 Lewis Coleman
Lewis's focus on relatable home life struck a chord with the audience and cleverly looped back to his dad's saying: "Welcome to the real world, son."
His technophobic grandma watching porn on her new smart TV landed perfectly, as you can imagine, and a dark gag on euthanasia ensured there was a collective oooh in there as well.
Erika Ehler
Erika Ehler's routine was littered with dark gags, including a reference to Malaysia Airlines, but her comments on the audience's reaction cleverly kept the energy light-hearted.
Her swipe at the standard look of a male Extinction Rebellion member showed she had the talent to grab unanimous laughter as well as being able to nail room-splitting harsh humour.
For information on other events at the Frog and Bucket visit frogandbucket.com 
Images courtesy of Carla Speight, with thanks.