Technology is seen by many as something that can break down all conceivable barriers.
But a Manchester theatre company – made up of actors with a range of disabilities – used it to the opposite effect in their recent retelling of Pyramus and Thisbe, renowned for being Shakespeare's play within A Midsummer Night's Dream.
The play which ran over the course of three days at the Contact Theatre was comprised of a cast with disabilities, who looked to challenge society's attitudes towards themes of love and physical desire in a disability context.
The subject matter, despite being more than 2,000-years-old, is one that remains very malleable – that of forbidden love, two lovers restricted from each other by boundaries both physical and societal.
The play's director Tom Hogan told MM: "The wall or barrier in our story is technology – while our lovers can communicate and spend hours on-line they cannot touch.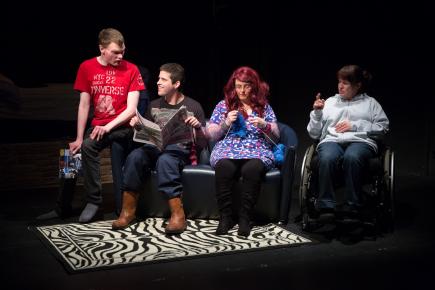 BREAKING DOWN BARRIERS: Technology is used extensively in the play
"Our story is about the desire of Ryan Pyramus and Sophia Thisbe to have a meaningful and intimate relationship."
In this modern rendition, Ryan (Rhys Worthington) and Sophia (Amy Carson, standing in for Danielle Maycox) are two old school-friends that are brought together by a chance meeting on Facebook.
While Ryan's initial efforts to rekindle the relationship are met by a blunt 'fuck off' by Sophia, the two eventually become friends and eventual lovers, much to the dismay of both of their parents.
What follows is a tale that many will recognise, that of star-crossed lovers whose love cannot be, but Proud and Loud have successfully put a modern and charming spin on proceedings that any audience could relate to.
There are subtle nods to the Ovidian tale throughout, with Sophia's scarf left on the train tracks mimicking Thisbe's torn and bloody clothing, both acting as the catalyst to Pyramus' tragic death where he thinks Thisbe is dead herself.
The warring families are also replicated, with each parent working with their respective opposite and eventually coming to verbal and near-physical blows with each other over their enamoured children.
Proud and Loud's rendition also had a small chorus which doubled as the Moon, signalling the passing of each day, with members of this group also doubling as other parts in the play.
The group was accompanied by a BSL interpreter (Siobhan Rocks) who gave a dynamic performance without saying a word.
While the play is in its nature a tragedy, there was plenty to laugh at throughout the performance.
Both sets of parents had unique personalities, with Donald (John Lee Greg) drawing several laughs as the suffering husband of Emma Pyramus (Kelly Hoye) and the Thisbe's (Nick Prince and Janet Charlesworth) repressed sexual urges often getting them into hot water with their daughter.
Ryan's mishaps with the fabled 'naked selfie' also proved to be a highlight, along with the innuendo-riddled speeches of the Moon.
The main draw of Proud and Loud's play was the use of Contact's digital projection technology, meaning that Sophia was projected onto a black curtain at the rear stage.
This method was employed not only as a solution to travel problems for some actors but it also served as a challenge to see if the audience could empathise with the titular characters on the stage, despite one not actually being physically present.
It is safe to say that there was no problem relating to the pair, with the two sharing a good chemistry despite one of them not being present.
The cast were also directly involved in the writing, with lead actors Rhys and Danielle aiding award-winning writer Cathy Crabb in the process.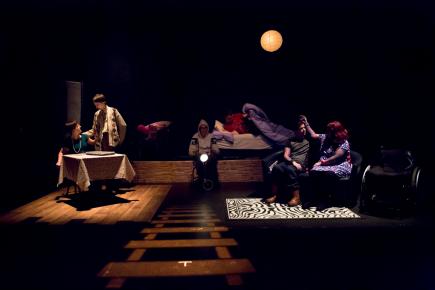 YOUNG LOVERS: The actors in the play have a range of disabilities
The play's director, Tom Hogan, said: "This time we had a writing team headed by Cathy and members of the company who took collaborative responsibility for the structure of the piece and specific responsibility for the scenes of the young lovers.
"Cathy created the older characters while leading the writing team with supportive flexibility and her ability to encourage and include the whole team in her process."
From here Proud and Loud want to move the show out from Manchester and the north of England to further afield from 2017.
"This performance is the beginning of a long journey," said Hogan.
"The next phase of this project is already being planned and we already in discussions with the Albany in Deptford.
"We are currently inviting a range of other venues, artists businesses and grant-giving trusts and the public to come on board to help us tour our work as far and wide as possible."
For more information on Proud and Loud Arts, click here.