Although the curtain comes down tonight on Birdsong's performances at The Lowry this week, for two of the younger cast members the World War One tribute has left a lasting impression.
Soap stars Alfie Browne-Sykes (above right) and Riley Carter Millington were born in the 1990s, some 75 years after the end of the Great War.
Currently playing the roles of Tipper (Alfie) and Evans (Riley) in Birdsong's fourth and final UK tour to commemorate 100 years since the end of the tragic conflict, the pair take on the parts of fresh-faced lads whisked from their homes in Britain to tunnel underground battlefields.
It's a long way from their soap backgrounds in Hollyoaks and EastEnders.
Riley hails from Stretford, studied drama at Eccles Sixth Form Centre and is the first trans-man to play a trans-male character in a British soap.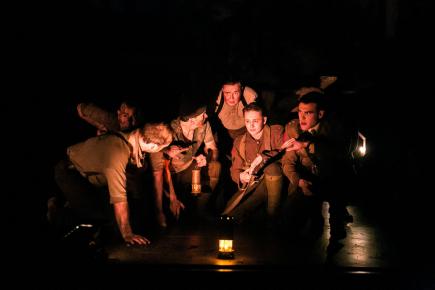 With the show moving onto Southampton later this month for another stint before it closes in July, Mancunian Matters asked Alfie and Riley about their involvement in the production adapted from Sebastian Faulks' 1993 novel.
MM: Hi Riley and Alfie, thanks for your time. How much did you know about the history of WWI before taking the part in this play?
Riley: As, like most people, I was one of those people who had heard more about the Second World War than the first, this is something that made me particularly interested in the production and the role, knowing during the research and rehearsal period I'd be learning about the First World War.
Alfie: I studied history for GCSE in school and WWI was one of our main subjects so I did have a good understanding of the history of the war. It was always something that fascinated me.
MM: Have you gained a better understanding of what many men went through during that period?
Riley: Yes, after the extensive research at the beginning of the rehearsal process, we looked at the background of the war, how and why it started, what the role of the British was in the war and in particular I looked at the 'sappers' who dug the tunnels, a technique which dates back medievally, sneaking up on the Germans by planting explosives in these tunnels that they'd dig and stay in for periods of 10 hours and more, where they'd even have to sleep in them. Crazy!
Alfie: Something I didn't know much about was the tunnellers' role in the war. Staying down pitch black tunnels for sometimes days at a time must have been horrific. To me it seems far more terrifying than being under fire from the enemy as the tunnels could collapse at any time or they could run into the enemy down there.
MM: What do you like most about the overall production?
Riley: It's been a big learning curve for me as a whole. With this being my first big ensemble theatre debut and tour, it's been great to get my teeth stuck into! Compared to the rest of the cast I'm quite new into my career of acting and its great being able to work with the cast, directors and Rachel Wagstaff herself and be able to develop this role.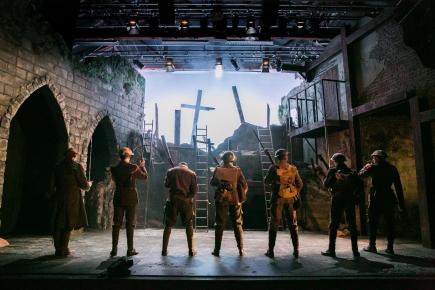 TERRIFYING: Tipper (Alfie Browne-Sykes – third from left) hangs his head in utter fear at the prospect of almost certain death, the British troops preparing to go over the top in the Battle of the Somme
Alfie: The rehearsal period was something I really enjoyed. With my background being in television, I wasn't used to having that much time to prepare a character and his journey. It was a huge eye opener for me.
MM (to Riley): As an actor who is transgender have you encountered any negativity? And has your character Kyle Slater in EastEnders given inspiration to other transgender actors and actresses?
Riley: I've been very fortunate actually in regards to negativity, I haven't received any. With social media being so accessible for trolls and people to post their hateful messages and having seen some dear friends receive tweets and horrible comments from people, I haven't in fact come across much of that myself.
Since being on EastEnders and even now, a year and half later I receive messages from other trans people who are looking to start a career in acting and how I've given them that boost of motivation to pursue acting which is great!
As just a local northern lad, from a working class background, to be where I am now, pursuing my dream and hopefully inspiring others is all I could have wished for.
MM (to Alfie): They left the character Jason Roscoe open for you, might you return to Hollyoaks in the near future?
Alfie: I left Hollyoaks with a purpose and that was to explore every avenue of this industry and to find a role that deeply challenges me. And I suppose right now those things need to be fulfilled before I'd consider returning to Hollyoaks. Although I do miss working with all those lovely people.
Well done last night to the cast of @birdsongthetour and especially @mr_brownesykes ! Make sure you go and see it.
(And yes I am wearing Ellie's clothes, I had no time to change) https://t.co/y7eSnMV360

— Sophie Porley (@SophiePorley) 4 April 2018
MM: Is this your first time performing in the theatre? How is it different to TV?
Riley: I've performed at London theatre workshop for a small verbatim piece that was with a cast of four & performed another set of verbatim monologues at the Lyric Theatre West End but this is my first big ensemble production.
It's different to television as you have a longer process to develop your character, and it still changes in small ways throughout the performances, whereas in TV there is little time to prepare for your performance and the scheduling of TV work is pretty intense. You can do several scenes a day, all in a mixed order and have to keep switching to different emotional states from scene to scene back to back! They're very different from each other but I love working on both.
Alfie: In my experience they are extremely different. Theatre seems to require a lot of time, energy and creativity in the initial stages but once you have perfected your performance everything runs smoothly. TV on the other hand is very demanding all the time especially on a soap. It's a continuous cycle of learning new scenes and performing them with little rehearsal time and it's very challenging in terms of getting the performance perfect. Especially if you are pushed for time which you always are.
MM: Will there be a chance for you to do more theatre after this production?
Alfie: I don't have any theatre work lined up after this but I'm sure there will be more opportunities in the future. The part of Tipper has been great for easing me in but I am hopeful for a meatier role in future.
MM: If you have any chance to play any character who would you love to play?
Riley: I'd love to be a marvel superhero. Wouldn't that just be amazing?! Playing a role that makes you really think outside of the box and something you can make your own and have fun with!
I've absolutely loved performing in my home town #manchester @The_Lowry for @birdsongthetour last show tonight!

— Riley Carter M (@MrRileyCarter1) 7 April 2018
Alfie: What I would most love to do is play an original character that hasn't been done before. The idea of creating something new excites me and I think the payoff would feel really great knowing that I created that character.
MM: Thanks for your time and wishing you and the rest of the cast a fantastic time touring the country until July!
Images courtesy of Jack Ladenburg, with thanks.