Rock of Ages is a rip-roaring, explosively funny musical that doesn't take itself too seriously.
The 80's inspired show set on the sunset strip follows a small town girl Sherrie (Cordelia Farnworth), living in a lonely world, who meets a city boy Drew (Noel Sullivan), born and raised in South Detroit – spot the lyrics there.
The big dreaming pair fall in love but not without some obstacles along the way, namely rock god Stacee Jaxx (Ben Richards)
This musical is both high octane and high energy in pace and performance.
Broadway's raucous wild child manages to cram in about 30 rock anthems into two acts, and it's clear to see why Rock of Ages has been unleashing audiences' inner rock demons for the best part of a decade.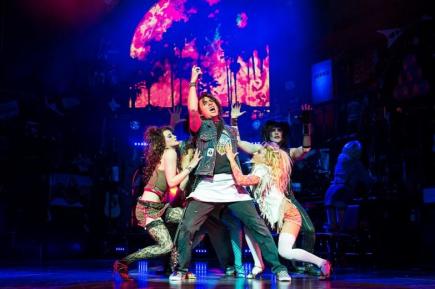 Transitions from song to song happen with ease and although Rock of Ages has a scruffy edge, timing was always on point, from spotlights to poll dances to punch lines, it all flowed incredibly well.
Noel has truly shed his Hearsay pop roots with his performance as adorable rock wannabe Drew; he played the lead incredibly well and hit high notes that would make Brian Johnson proud.
Farnworth's depiction of naïve and ambitious Sherry was well executed, her voice was mesmerising and had a real presence on the stage.
West End veteran Ben Richards depicted the sleazy, jaded rock god Stacee with real gusto, while keeping his tongue firmly in cheek.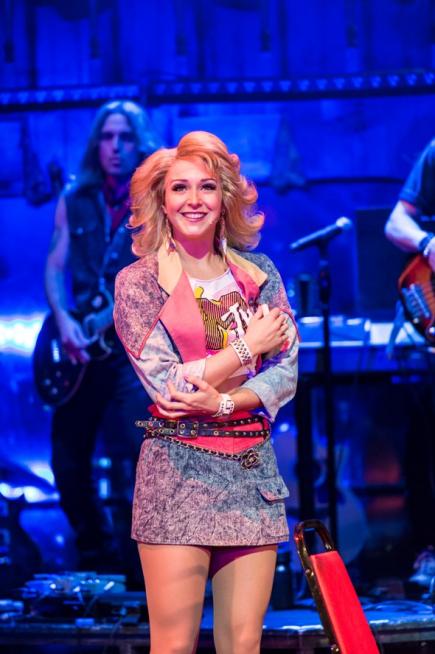 The real star of the show was the narrator Lonny, played by Voice contestant Nathan Amzi. He set the tone perfectly and having such a charismatic omnipresence loosened the audience up and allowed them to laugh at the ridiculousness of everything going on around them.  
Dance numbers were flawlessly executed, particularly the wild rebel rousing group numbers, although some of  the choreography is definitely not for the faint hearted.
The live band was exceptional, blasting out hits like We Built This City, The Final Countdown, I Wanna Know What Love Is, the fact they were on the stage the entire time gave the show some authenticity.
The most prudish of watchers may be put off by the flagrant sexual nature and smutty humour, but it's about rock, roll and the hard life in the Sunset Boulevard so there shouldn't be too many surprises there.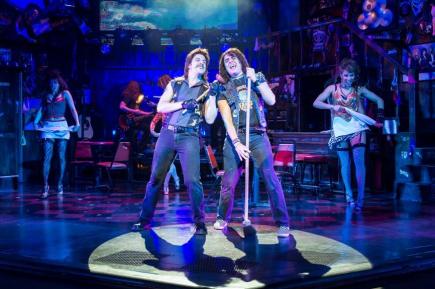 The climax to the night was the finale: Don't Stop Believing, which had the entire audience on their feet.  Journey's classic will still be ringing in your ears as you make your way home with a smile on your face.
Guitar solos, sing-alongs, and great big belly laughs were order of the day, and even if rock isn't your cup of tea, Rock of Ages still might be.