Up-and-coming bands have never been in short supply in Manchester.
And thanks to the city's musical heritage you don't have to look very far to find long-haired lads in bands, all being tipped as the 'next big thing'.
For indie rock band Our Fold though, it's been a nine-year slog to the top.
The four lads from Bolton have spent nearly a decade on the music circuit, penning perfectly crafted songs and racking up a string of impressive live performances at some of the biggest festivals in Europe.
After the release of second single She Goes On through D-Set Records, Our Fold received support from radio DJ's at XFM and BBC Manchester, confirming they're one of the most exciting bands in town.
And the lads are now gearing up to perform at XFM's 'This Feeling' gig later this month, a huge club night which promises to be the 'most rock n roll night out' in Manchester.
"It's been a long time coming; no one knows that more than us," frontman for the band, Damien Riley, told MM.
"A number of things have held us back in the past, member changes, failed recording sessions, other job commitments, but we feel the strongest we've been now, and a little wiser.
"The goal for the band has always been to get our stuff heard but to do it professionally would be the dream.
"If I could choose travelling the world singing to folk over fitting air conditioning and crawling through ceilings going home with itchy arms full of fibre glass, which once it's fitted no one likes it, I know what I'd pick."
Damien, alongside Ryan Ambler on drums, Dan McLaren on bass and Gary Drury on guitar and backing vocals formed back in 2005, after meeting in the small mining town of Westhoughton through a shared love of the same music.
It wasn't long before all night parties turned into all night jam sessions and Our Fold was born and just a few home demos and some local boozy gigs later, the band had topped the NME unsigned chart – and were invited to open the BBC Introducing stage at Reading & Leeds Festival.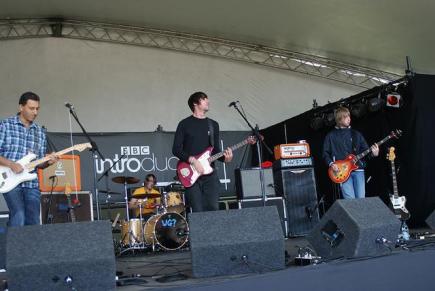 THEY GO ON: Our Fold formed in 2005 and have steadily risen up the music career ladder (© Sam Saunders)
With their guitar-laden riffs and bluesy melodies the energetic four-piece began appearing on bills at Glastonbury, Isle of Wight Festival and Lattitude alongside the likes of Kasabian and The Prodigy, building up an army of loyal fans along the way.
So much so that former Stone Roses guitarist Aziz Ibrahim joined the band for live shows in 2009.
Heavily influenced by the music he grew up with, Damien explains it was Kurt Cobain's 1991 album that inspired him to pick up a guitar.
"Nirvana for me were a huge influence, I wouldn't even be playing guitar if it wasn't for Nevermind," he admitted.
"Between the four of us we have a huge range of influences so the bands' sound varies from song to song.
"I was always really into Sonic Youth and Dinosaur Jr growing up, I loved that scene, but of course closer to home I was listening to all the classic indie bands like Stone Roses, Oasis and James."
And it seems Damien and the boys can now count James amongst their own fans after the legendary Mancunian band praised Our Fold on their Facebook page last month.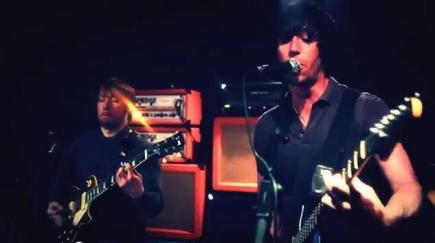 MAKING A NOISE: The band have played alongside Kasabian and The Prodigy  (© Our Fold, via Youtube)
"It was cool that they posted about us. We're huge fans and I've got everything they've done on vinyl", said Damien, before reminiscing about the time he was lucky enough to meet them.
"I flew out to Athens in July to watch James at this outdoor ancient theatre with a big rock face as a backdrop and it was stunning.
"Larry the guitarist got us passes so we went straight into the dressing room after and I finally got to thank Saul Davis for doing such a wonderful Job on our track Terrific.
"He mixed it and played violin on it too, it sounds lovely, he's a top bloke. Tim is a top bloke too. He's really intense but with a light in his eyes that is almost spiritual, like he can see straight into you.
"Then we went back to a Tiki bar and drank Mojitos till 5am. They still know how to party them boys."
And it sounds like the lads are no strangers when it comes to partying with living music legends.
Back in 2012 the band travelled to Norway to perform at Hove Festival for one of their biggest appearances yet, alongside Florence & the Machine, and ended up rubbing shoulders with rock royalty.
"We met Them Crooked Vultures at Hove Festival and ended up chatting to Dave Grohl and he invited us to watch their set from the side of the stage," said Damien.
"After our gig we arranged to meet him by the stage steps and the next thing he turns up with his minders, high-fives me and leads us up the stairs to watch his warm-ups. Next thing Josh Homme comes up, all smiles followed by John Paul Jones; it was like being in rock heaven."
"Then we watched them smash it to bits from the side with Florence and her band. I nearly exploded."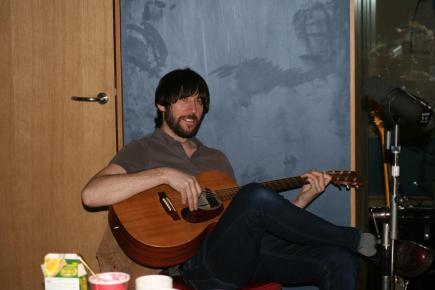 FRONTMAN: Damien Riley was influenced by the likes of Kurt Cobain growing-up (© Facebook)
After appearing at Hove, the lads went on to secure slots at other huge festivals around Europe including Isle of Wight, Bestival and Glastonbury.
"You can't beat festival gigs they're the best", said Damien.
"We've done loads of them really. Kendal Calling is a top little festival, we love playing there.
"Everyone gets into the spirit no matter what the weather and goes for it and the atmosphere is ace.
"By the end it's a sea of smiling faces with hands over their heads clapping and you can just feel everyone's energy, its magic stuff."
Although noticeably still buzzing from the bands run of festival appearances, the frontman admits he's looking forward to playing a little closer to home.
"We love the Manchester shows and we can't wait for the Ruby Lounge gig," he said.
"The 'This Feeling' club night is huge in London and the Manchester version is now growing nicely so we're really happy to be a part of it. It's going to be a big night for us, definitely."
"After that we haven't got any more gigs booked in yet but we will definitely be on the road towards the end of the year hopefully as part of a tour.
"Then we'll be concentrating on putting the album together and getting the next single out. There's something bubbling under the surface which could mean a trip away for us but details are too young to print yet. Exciting times ahead."
Tickets for the Ruby Lounge gig on September 12 are available here.
Image courtesy of Sam Saunders, with thanks