There are some who say that rock 'n' roll is dead. At the Eagle Inn in Salford, Ablaze told us something different.
A five piece heavy rock band founded over drinks, the Aussie rockers soon got bored of playing other people's music and started writing their own material. The result is a booze-fuelled, leather-clad salute to the old gods of rock.
Front man Danny Slaviero led the crowd in worship, passing a communion bottle of rum around the band during the single Where's My Drink?, before inviting the audience to the stage to partake. His manner was vaguely reminiscent of AC/DC's Brian Johnson, but with more hair.
Ablaze occupied the small venue with an easy confidence. Although they thrashed out their songs with incredible energy, they were very tightly rehearsed and utterly at ease in their music, slipping seamlessly from one track to the next. The quintet maintained their fire all through the set, never slowing down or letting the energy drop. Throughout, hair was flung and pints were spilled.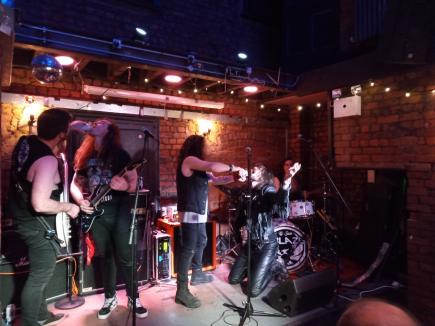 The songs range from echoes of Dropkick Murphys in Where's My Drink?, to the high octane riff of new single Just a Taste and the more subdued Long Way Home (well, as much as Ablaze can be subdued).
Meanwhile, Two's Up was an unabashed homage to fellow Down Under rockers AC/DC, and Hurricane in My Head a seedy blues tribute to Sunday morning regrets.
The venue at the Eagle Inn is situated in a gutted Victorian terrace, still retaining some of the original features. If the band wanted a venue which would epitomise the old school in Manchester, they found the perfect spot.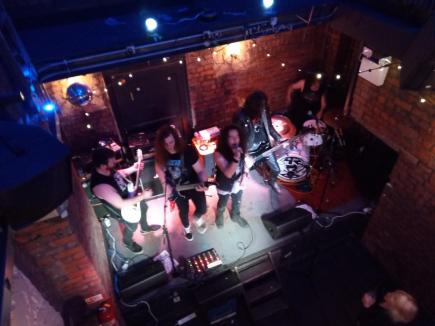 In such an intimate setting, the energy of Ablaze felt concentrated. Huddled together on the small stage at the Eagle Inn, they seemed like a large animal trapped in a cage. In the audience, the volume was so high you could almost swim in the noise.
Those in search of innovation should perhaps look elsewhere. Ablaze, in all their glory, do not bring anything particularly fresh to the table. Fans of the new should be warned that the old rock clichés abound here unashamedly.
Nonetheless, to judge them in these terms would miss the point of Ablaze. It doesn't seem that they are trying to be especially trailblazing or experimental, but to play good, honest, Aussie rock 'n' roll. On those terms, they set the bar very high indeed.
A well-drilled group of musicians, Ablaze command the stage with ease and play a fine set of classic hard rock. Those who want a booze-fuelled, grimy evening of old fashioned rock 'n' roll would do well to seek them out.