Manchester's Palace Theatre has splashed out £40,000 on 500 luxurious new seats to maximise comfort for theatre-goers – and to ensure more of them get filled. 
By spending such a hefty sum on the chairs, The Ambassador Theatre Group hopes to improve the experience of those coming to see shows and get more bums on seats.
The stalls are receiving 407 of the seats, with the front rows of the circle (39 seats) and Grand Tier (34 seats) also being replaced.
Talking about their decision to install the seats in the theatre, Stacey Broadmeadow, Theatre Manager, said: "We're extremely proud that ProBax seating has been installed in the Palace Theatre.
"The comfort of our patrons is of the utmost importance to us so we're thrilled about this major capital investment and the positive results it will bring."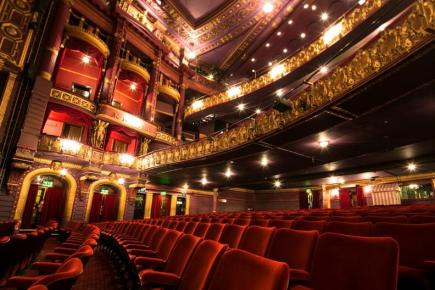 GETTING BUMS ON (NEW) SEATS: The 500 luxurious seats promises comfier viewing
The Opera House, The Palace Theatre's sister company, is also set for the same treatment in the next three years.
David Blyth, ATG's Property Director, said: "Manchester remains a top priority for ATG in terms of both production exclusives and theatre investment and so the introduction of the new seats in The Palace Theatre auditorium is another exciting development."
The next opportunity for the people of Manchester to park their posteriors on the plush new pews will be this Saturday for the Natalie Woods School of Dance and Drama annual production.
The hi-tech seats, provided by Kent-based company NuBax, are said to encourage correct posture and are also specially designed to keep people from nodding off as they increase blood and oxygen flow around the body to aide concentration levels.
The Palace Theatre was originally designed by Salford architect Alfred Derbyshire and opened in 1891 at a cost of £40,500.
In 1913, the building was renovated by architect Bertie Crew and was reopened by escape artisit Harry Houdini.
Image courtesy of marcus_and_sue with thanks