This brazen, sensual and dark adaptation of du Maurier's Rebecca has proved a breath of fresh air in its rework of the 80-year-old Gothic classic.
No sooner than the leading lady had uttered that legendary first line, 'Last night I dreamt I went to Manderley again', the audience were quickly plunged into the tempestuous tale of love, lust and English gentrification.
As a boat descended from the ceiling, with the late Mrs de Winter underneath it, the audience were left with a sinister sense of Rebecca's omnipresence throughout.
The set is truly something else – effortlessly depicting the inside of the decadent yet decaying Manderley manor at the same time as reminding the audience of the turbulent and fatal coastal landscape that awaits outside.
Whether it was Cornish theatre company Kneehigh's heritage in the county where du Maurier lived, or whether it was Olivier Award-nominated director Emma Rice's proficiency at reworking overworked novels, the opening night at the Lowry certainly had a spellbinding atmosphere.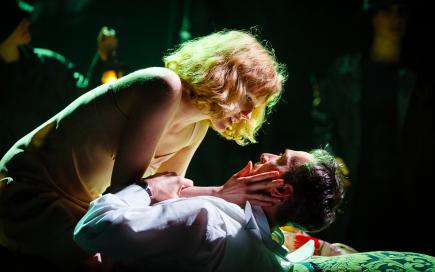 'MEN ARE SIMPLER THAN YOU IMAGINE': Pictured – lead character Mrs de Winter (Imogen Sage) and her husband Maxim (Tristan Sturrock) caught in an embrace (© Steve Tanner/Kneehigh, with thanks)
Protagonist Mrs de Winter (played by femme fatale genius Imogen Sage), whose first name is never revealed throughout, delivered a powerful performance of a woman whose naïve innocence is lost in place of a powerful and fearful femininity.
Other highlights included frantic junior servant Robert (Katy Owen), who provided much-needed comic interruptions and the Gatsby-esque dance routines of Bea and Giles Lacy (Lizzie Winkler and Andy Williams).
Accompanied throughout by an excellent haunting folk score delivered by an on-stage band of West Country fishermen, this adaptation of Rebecca stayed true to the original while still adding a splash of humour, sadness and anger that made it its own.
Rebecca runs at The Lowry until Saturday.
Tickets, priced from £12.50, are available here.
Image courtesy of Steve Tanner/Kneehigh, with thanks