The MTV Europe Music Awards come to the UK this weekend as the superstars of music head to The SSE Hydro in Glasgow.
Nicki Minaj hosts the ceremony which is taking place in Glasgow for the first time and will see the likes of Pharrell Williams, Katy Perry, Beyoncé, Justin Bieber and Ed Sheeran all battle for the awards on offer. 
Here at MM we have gone through some of the awards and made our predictions on who we think will come out on top:
Best Song: Pharrell Williams – Happy
They might as well give this one to Pharrell already.
Happy has taken the world by storm this year reaching the number one spot in the United Kingdom, United States, Canada, New Zealand and 20 more countries.
Reaching over 10 million in sales, the Despicable Me 2 soundtrack has become one of the most successful singles of all time.
Not only did it reach number one in the UK, it reached it on a record three occasions and was also nominated for Best Original Song at the 2014 Academy Awards losing out to Frozen's soundtrack Let It Go.
Best Song full nominations: Ariana Grande (featuring Iggy Azalea) – Problem, Eminem (featuring Rihanna) – The Monster, Katy Perry (featuring Juicy J) – Dark Horse, Pharrell Williams – Happy, Sam Smith – Stay With Me.
Best Male: Pharrell Williams
Once again we have to give this on to Pharrell for his incredible year.
Obviously the success of his hit single Happy gave him the edge however, his second album, G I R L, featuring collaborations with Justin Timberlake, Miley Cyrus, Daft Punk and Alicia Keys managed to reach number one in 12 countries and reached the top 10 in 17 others.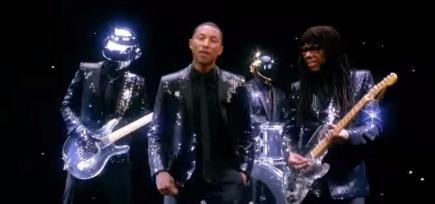 COULD PHARRELL GET LUCKY? The singer is on track to clean up the EMA's
Despite stiff competition from the likes of Eminem and Ed Sheeran, we feel Pharrell did just enough to scoop Best Male.
Best Male full nominees: Ed Sheeran, Eminem, Justin Bieber, Justin Timberlake, Pharrell Williams. 
Best Female: Katy Perry
Perry is never far from the spotlight and yet again this year she was the lady on everyone's lips.
With hit singles Dark Horse and This Is How We Do, with the prior reaching number one in the U.S.A, Netherlands and Canada and selling over 7.9 million records worldwide.
Also with entertaining live shows and always being in the news, we have to give this one to the California girl.
Best Female full nominees: Ariana Grande, Beyoncé, Katy Perry, Nicki Minaj.
Best New Act: Sam Smith
This one could go to any of the five nominees, however we have decided to give it to 22-year-old Sam Smith.
The Londoner had a breakthrough year with his single Money On My Mind which reached number one in the UK.
This was followed by smash hit Stay With Me which has become his most successful single to date reaching number one in the UK for his second as an individual artist as well as topping the charts in Canada and New Zealand.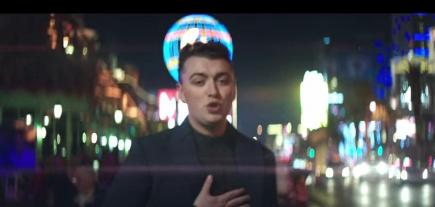 FLYING THE FLAG: Sam Smith is the only Brit to me nominated for Best New Act (C) Capitol Records
He has already picked up awards this year scooping four MOBO awards, including Best Song, Best Album and Best Male Act so surely EMA gold isn't far away for Smith.
Best New Act full nominees: Sam Smith, Charli XCX, Kiesza, Ariana Grande and 5 Seconds Of Summer.
Best Live Act: Beyoncé
This one we had to give to Beyoncé for her brilliant live performances over the past year.
With The Mrs. Carter show grossing over £125 million and over two million people going to watch her captivating shows, the American is quite clearly ahead of the chasing pack when it comes to live performances.
Best Live Act full nominees – Beyoncé, Bruno Mars, Justin Timberlake, One Direction and Katy Perry
Best Video: Pharrell Williams – Happy
Once again, we have Pharrell as a winner of yet another award, this one being for the video of his huge hit Happy.
The light hearted video of people walking down streets having a good time which has clocked up over 400 million views faced competition from Kiesza's must see video Hideaway but we think Pharrell will be getting his third award of the night.
Best Video full nominees – Pharrell Williams – Happy, Iggy Azalea (featuring Rita Ora) – Black Widow, Katy Perry (featuring Juicy J) – Dark Horse, Kiesza – Hideaway, Pharrell Williams – Happy, Sia – Chandelier. 
Best Pop: One Direction
One Direction are worldwide stars for their popular music and this one we think will be one of the awards they'll scoop on the night.
Their third album, Midnight Memories, released just under a year ago broke records the world over as well as reaching number one in 19 countries.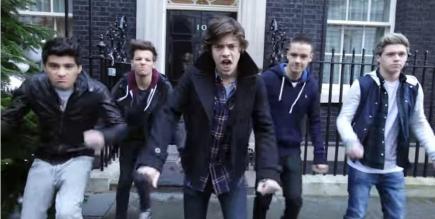 BEST BAND EVER? One Direction have racked up two nominations at the glitzy awards 
It became the fastest selling album in Amazon UK's history as well as debuting at number one on the US Billboard 200, making them the first band to have their first three album debut at the top of the chart.
Also their recently finished Where We Are Tour, which saw over three million fans attend has become one of the most successful tours of the past decade so surely there can only be one winner. 
BesT Pop full nominees – Ariana Grande, One Direction, 5 Seconds of Summer.
Best Hip Hop: Eminem
With acclaimed nominees filling this category it was hard to choose but we went for Eminem.
Slim Shady released The Marshall Mathers LP 2 to high expectations as it is a continuation of his most acclaimed album to date and it didn't disappoint.
The album debuted at number one in the UK and US selling over two million copies in the latter, becoming the second highest selling album of the year.
As well as the album, singles Berzerk, Rap God, Survival and Headlights were successes but not as much as his fourth collaboration with Rihanna, The Monster.
The song immediately became a hit, and topped the charts in 12 countries.
Following his successful year, we believe he'll be winning this category for the second straight time.
Best Hip Hop full nominees – Drake, Iggy Azalea, Kanye West, Nicki Minaj, Eminem.
Best Rock: Coldplay
Coldplay seem to have this one wrapped up following their highly successful year.
Their new album Ghost Stories entered the charts at number one in the UK, US and Canada becoming the fastest selling album in the first half of the year in the UK and the third fastest selling album of the year so far in the US, behind the Frozen soundtrack and Taylor Swift's recently released 1989.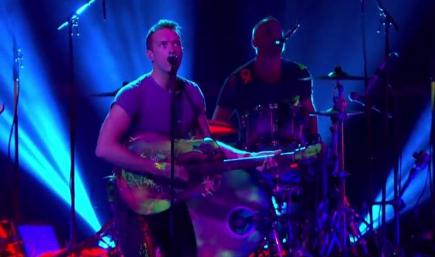 GLOWING IN THE DARK: Chris Martin and pals are in the running to pick up Best Rock
Surely this means the popular British band will be picking up the award for Best Rock.
Best Rock full nominees – Arctic Monkeys, The Black Keys, Coldplay, Imagine Dragons, Linkin Park.
Best Electronic: Calvin Harris
Calvin Harris once again had another successful year which involved him becoming the record holder for the most top ten hits from a single album in the UK chart, surpassing Michael Jackson's eight.
Along with that, Harris had two UK number ones in 2014 with Summer and Blame.
For these reasons, we see Harris walking away with the Best Electronic award.
Best Electronic full nominees – Afrojack, Avicii, Calvin Harris, David Guetta, Hardwell.
Biggest Fans: One Direction
We believe One Direction will claim another award on the night, this time in the biggest fan category.
The group with over 21 million followers on Twitter are a constant presence on the social networking site and with regular worldwide trends, we believe they'll be going home with this one.
Biggest Fans full nominees – Nicki Minaj, One Direction, 5 Seconds Of Summer, Ariana Grande, Justin Bieber.