Fresh from a three-night stand at Ronnie Scott's jazz club in London, Maxi Jazz and the E-Type Boys – a nine-piece ensemble led by the Faithless frontman – descended upon Manchester's historic music venue Band on the Wall.
"The band make my songs sound better than I could've ever imagined," Maxi had told MM before the gig.
"As a result of that, I'm utterly enthusiastic about playing them to as many people as I possibly can."
And enthusiastic they were, taking to the stage to the sound of devoted applause and dressed to impress in coordinating black attire.
They filled the stage with little room to spare, commencing casually with the defiant jazz sound of 'Change Our Destiny', the opener to their debut album, 'Simple…Not Easy', released earlier this year.
The vibe continued with 'Going Back to the Bottle' – a reflective yet upbeat account of taking comfort when dealing with lost love – which was the first song Maxi wrote on guitar 11 years ago.
Faithless fans in the audience – of which there were many – were treated to few re-workings of the band's biggest hits during the show.
Then a blues version of the dance anthem 'We Come 1' was blended into the E-Boys album track 'Homesick Blues', followed later by a reggae version of 'Mass Destruction', which moved everyone's feet with its shimmering guitars and catchy groove.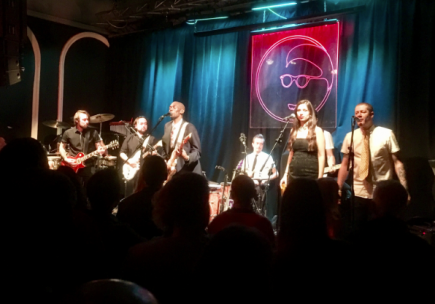 UTTERLY ENTHUSIASTIC: Maxi Jazz says new band the E-Type Boys help make his songs sound 'better than he could've ever imagined'
By this point it was clear the band's relentless touring of the festival circuit last summer has paid dividends as numerous sounds were intertwined simultaneously with apparent ease.
Two writing collaborations with band member Leigh Stephen Kenny – better known as LSK – were highlights of the 90-minute show.
'Ain't Nothing Going On For You' was complemented by Kenny's urban yet soulful vocal style and 'Stop Apologising' was similarly impressive during the looped refrain of the song's chorus.
Unreleased track 'Long Time Gone' – written by Maxi in tribute to Jimi Hendrix – began down tempo before slowly building to showcase a psychedelic dreamscape of sound.
Maxi was then handed his eye-catching purple Gretsch Setzer Hot Road guitar by a crew member for the band's performance of 'Seize Your Power' – a well-crafted song with the joyous feeling of a casual jam session featuring plenty of bass drum, funky guitar riffs, suave vocals and manic percussion.
"I'll put my smell on you/Because you're fine" are the opening lyrics to 'We're Alright', a song Maxi admits to writing after meeting a woman whose beauty took his breath away.
Sadly, he didn't get the girl, but the chance encounter did result in a smooth serenade of mellow accompaniment and soft harmonies.
'Bitter Love' followed with the striking bassline of Alexis Countouris and frantic keyboards of Chris Jerome standing out amid a strong collective performance.
Unfortunately, the Kick Horns – a four-piece horn section who featured at the Ronnie Scott's shows – were absent but this took nothing away from the band's impact.
They closed with 'Like a Samurai' – a song with a strong message and an abundance of groove – which ensured crowd participation for the finale.
Their infectious sound still ringing in the ears, it's clear to see why Maxi commenced this tour so enthusiastically.