This Christmas HOME are jumping in their telephone box and travelling back to the 80s.
Kicking off the season with Who Framed Roger Rabbit?, film programme producer Jen Hall is excited to introduce the classic for its 30th anniversary year.
A mix of animation and live action wrapped up in a detective caper, it was a highlight of the 80s bringing everything you didn't expect to the silver screen.
Similarly, Heathers brought in its own wave of dark and satirical teen angst and will be adding to its body count this Christmas season.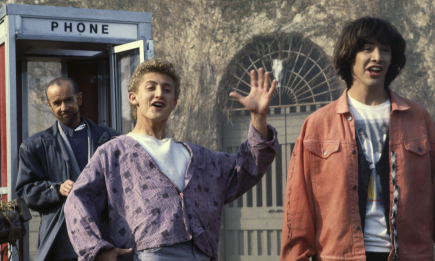 'EXCITING AND NEW': HOME's Jen Hall loves watching films like Bill and Ted's Excellent Adventure (above) at Christmas as a reminder of her childhood (image courtesy of Park Circus/Studio Canal)
This will be the third run of 80s films at Christmas for HOME – following the successes in 2014 and 2016 – and Jen is thrilled to continue the seasonal tradition.
"It was lovely to see these films that I enjoyed as a child and seeing other people bringing their children and then their children enjoying it," she told MM.
Jen's personal favourite, and arguably the king of films from the decade, Back to the Future appeared in the last season so its hair metal younger brother Bill and Ted's Excellent Adventure will be flashing onto the screen this year.
Striking a balance across the programme, music mockumentary This is Spinal Tap, action adventure Raiders of the Lost Ark, and classic horror An American Werewolf in London also made this year's list.
But why the 80s and why at Christmas?
"To me Christmas is more about being with family and seeing films," says Jen.
"I grew up in the 80s so for me it's like my childhood, seeing films at a young age, being exciting and new. I can't think of something that I've seen recently that gives me that feeling."
With a decade of superhero films defining this era, going back to a time when special effects made a film incredible or cringe-worthy, brings a nostalgia that also seems to be inspiring remakes and reboots.
Since their inception in the 70s, The Muppets have had numerous films over the years. The Muppets Christmas Carol (1992), Jen's favourite Christmas film, narrowly misses out on the 80s season but Kermit isn't free from reminiscing on the past.
The Oscar-winning 2011 movie, followed in 2014 by Muppets: Most Wanted, was a box office hit with fans both old and new.
The 1982 film The Dark Crystal will be getting a prequel series on Netflix next year, whilst Escape from New York, Terms of Endearment, and Scarface remakes are all reportedly in development.
"It's not to say they're not good but I'd rather something new be told," adds Jen.
"Because it can be done maybe it's safer – they know it works and people will be interested in it. I'd rather see more budget put into riskier films."
At HOME in the 80s runs from Friday December 14 to Sunday 22nd. Tickets are priced at £9 and can be bought here.
Main image courtesy of Park Circus/Disney, with thanks!