Leeds-based indie rock group The Dunwells were raring to show Manchester what they're made of at the second show of their latest UK tour on Saturday.
The foursome kicked off at Manchester Academy 3 with It Hurts, and it became immediately apparent that this was not your average alternative boy band.
Frontman, Joseph Dunwell, gave an infallible vocal performance, his talent only enhanced by his ability to hit each note with such ease.
The four-piece pop-rock group are made up of brothers, Joseph and David Dunwell, cousin Rob Clayton, and drummer Adam Taylor.
Like a well-oiled machine the band moved from song to song with a level of versatility and cohesion that can only be achieved by talent and a bond stronger than just musical ability.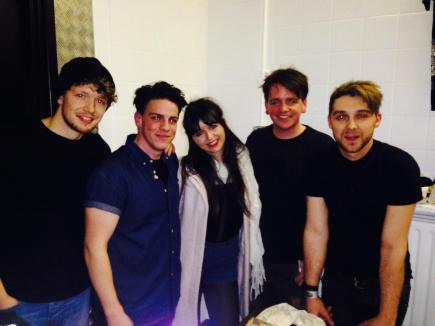 FAN GIRL: MM's Rachel snuck backstage after the show to meet The Dunwells
The Dunwells demonstrated this aptitude during their show-stopping number, Animal. Beginning in unison, the band sang almost a cappella, with only a simple drum beat and minimal guitar.
This gave way for the chilling vocals and simplistic melody, a real goose-bump inducing song which reduced the audience to sheer silence.
Looking at the crowd it was clear to see that The Dunwells have achieved something quite special, attracting a demographic you would find at Glastonbury – people of all ages had turned up to see them, loyally mouthing along every step of the way.
And the boys did not disappoint. Showcasing hits from the beginning of their career, through to the more recent, Show Me Emotion, the audience were captivated from beginning to end.
As the band head off for the rest of their UK tour, followed by a detour to South by Southwest festival in Austin, Texas, it would be fair to say…watch this space.
Local band, Ash Before Oak, were supporting last night, bringing their unique sound to the table and proving that Manchester is about more than just Britpop.
The four-piece group have adapted a sound that puts a level of maturity into classic indie-rock.
With versatile vocals that combine elements of folk, indie and sometimes even pop-punk, Ash Before Oak appealed to the varied and eager audience that attended.
Due a recent sporting injury, frontman, Peter Griffin, was rendered chair bound, only able to make the stage thanks to his bandmates comradery and sheer perseverance.
As a result, the original set-list was slightly altered, but what followed was a beautifully understated semi-acoustic set.
The two vocalists, Griffin and Mark Armor (bass guitar and vocals) put together striking harmonies, and digestible melodies with a mature edge, which were particularly prominent during the performance of their latest single, Winter Snow.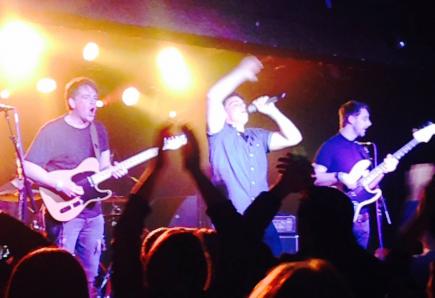 NOT YOUR AVERAGE BOY BAND: The Dunwells will continue their UK tour before heading to Texas for South by Southwest festival
One of the stand-out songs of the set, was Airbourne, a chillingly melancholic ballad, which welcomed Faberk O'Shea the bands mascot in the form of a crying clown, onto the stage for the chorus.
This was a truly versatile acoustic performance, enhanced by the bands ability to adapt even during the most untimely setbacks.
Amongst the local talent was upcoming band, This Side Up, who drew in the younger members of the audience.
With their latest single, Harbour Lights, the group, originally from Gibraltar drummed up a buzz, especially with the ladies, and made sure to make their mark on Manchester with a strong debut performance.
Similarly, singer-songwriter James Stephen, delivered a fantastic, note-perfect performance, demonstrating that young talent is rife in Manchester, you just have to know where to look.
Main image courtesy of Bonnaroo, via YouTube, with thanks.