The world's first computer game entirely based in Manchester, Beyond Flesh and Blood, will be displayed in its early stage at EXG Rezzed in London next week.
The company behind the project – which completed a successful Greenlight campaign on gaming website Steam – Designer Pixelbomb Games, which also calls the city home, is an independent business established in 2011.
One of the project leaders, Lee Blacklock, chatted to MM about how important the setting of the game has been to its development.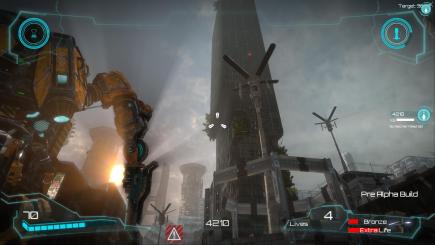 GRAPHICALLY INTENSE: Players are challenged to blast through multiple levels of hostile scavenger forces 
He said: "We have seen and played many games over the years ourselves and a lot of the time they are set in American cities, or if set in the UK, we see London used.
"The original founders of the company are local so we thought it would be interesting and about time that a city such as Manchester took the lime light.
"The city is right outside our windows, which is great for collecting reference material, but also we are involved in Manchester everyday with working and living here."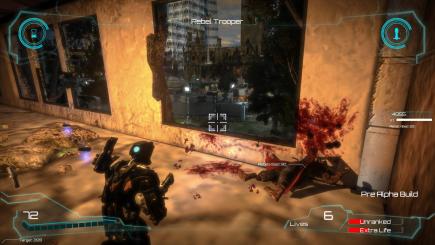 LOCATION, LOCATION, LOCATION: The Manchester setting has played a key part in the games' progress
Locations such as Manchester Town Hall, Albert Square, Deansgate, and the Triangle will all feature in the dystopian shoot 'em up.
Lee added: "We are trying to get a real representation of Manchester, rather than having just one or two landmarks on the horizon.
"The skyline of the city will have changed dramatically in the game so we have had the challenge of imagining what Manchester might look like under the games' circumstances which has been a lot of fun."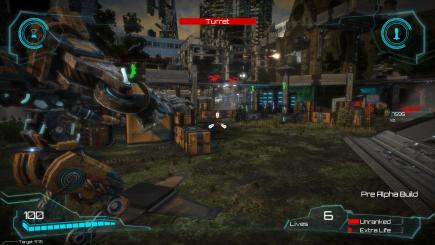 REALITY MEETS IMAGINATION: Working in the city gave developers endless reference material
Beyond Flesh and Blood is set to be released in the second quarter of this year, with its first big exposure at the capital's annual Earls Court event on March 12-14.
Level Designer for Pixelbomb Josh Wight said: "The most recognisable part of Manchester for me would have to be the Hilton Hotel – it towers over the rest of the city and can be seen from pretty much anywhere.
"It's also quite a unique building to look at. Having seen it in our game was really cool as it is a huge landmark in Manchester."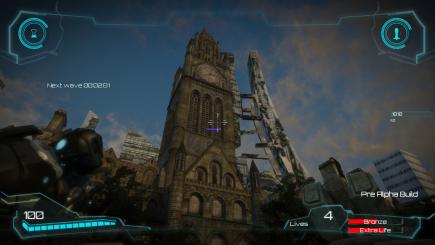 UNIQUE EXPERIENCE: Developers said using their home city as a backdrop to the game has been great
A graphically intense third-person shooter Beyond Flesh and Blood challenges players to blast through multiple levels of hostile scavenger forces and mutating enemies to help reclaim the surface of the earth.
Set 266 years from now after a global war, which led the majority of the human race to abandon Earth and live on the edge of its atmosphere in an orbital space station.
Josh added: "Creating a game set in a city that I work in has been a really unique, especially as it's my first job in the industry.
 "To create locations within the game, and then to actually walk through them in real life on a day-to-day basis is a great experience!"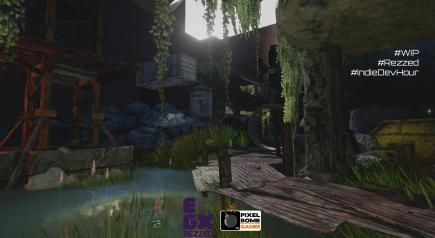 BIG REVEAL: The game will be displayed in its early stage at EXG Rezzed in London
The game was originally designed to use an Unreal 3 engine, but has recently been moved to Unreal Engine 4, which allows a lot more graphic detail and realistic gaming.
Mr Blacklock described the game as 'a third person shooter with light platforming, light hacking puzzles, lots of gory over the top violence and fast-paced action'.
Pixelbomb Games are hoping for player feedback on their game Beyond Flesh and Blood so get in touch via Twitter to @BeyondFBgame or @GamesPixelbomb.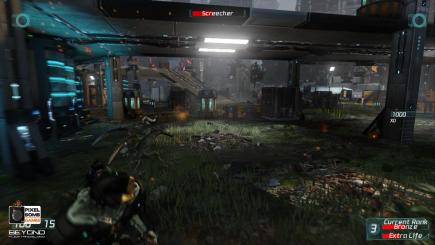 ALIEN INVASION: Gamers must mutate their enemies to help reclaim the surface of the earth
All images courtesy of Pixelbomb Games, with thanks.