Unlike the confusion seen at the Oscars, the Manchester Film Festival didn't end in farce.
Instead, Cardboard Gangsters scooped the top prize without a hint of confusion for Best Feature, beating a whole host of other talent.
The acclaim of John Connors' semi-autobiographical work was never under any doubt. The award ceremony closed off a weekend of incredible artistry and progressive vision, cementing Manchester's place as a staple of the UK independent film.
The festival opened last Thursday night with the premiere of the documentary Alfie Boe: On The Wheels Of A Dream.
It follows the musical theatre stalwart as he pursues his passion for rock-n-roll by going on tour through the uncertain and unforgiving terrain of the United States.
The opening night's highlight, however, was undoubtedly Paul Hendy's The Last Laugh. The short film served as a witty homage to comedy greats Tommy Cooper, Eric Morecambe and Bob Monkhouse, as the trio meet in a dressing room, and discuss their life, craft and regrets.
Legendary British actor Timothy Spall was in town on Friday for the showing of Stanley a Man Of Variety.
The film really did live up to its name: the Harry Potter and Mr. Turner star used the film to exhibit his extraordinary dramatic range, playing every role from a character list that included comedy legends Noel Coward and Max Wall.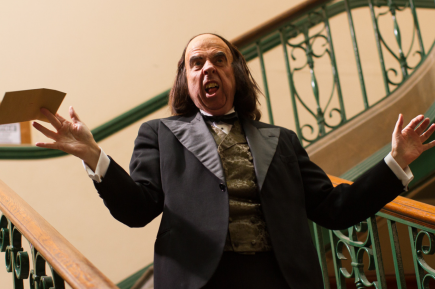 POIGNANT AND UNPREDICTABLE: Timothy Spall's depiction of schizophrenic Stanley showed the actor's incredible range
The film proved, somewhat unexpectedly, to conclude with a poignant comment on contemporary attitudes towards mental health.
Stanley, a man indeed of significant character variety, is revealed to be suffering from schizophrenia: much of the trials and tribulations that he endures throughout the film are shown to be figments of his unpredictable and often volatile cognitive state.
Friday night also saw the UK premiere of Kavi Raz's The Black Prince, the tragic yet fascinating true story of the last King of Punjab, a man who was placed on the throne at the age of five, and died a pauper alone in Paris. The film is set to receive a US theatrical release in May.
On Saturday afternoon, Josephine Doe impressed audiences with writer and co-star Erin Cipolletti's understated portrayal of family trauma.
It tells the story of Claire, a grieving young woman who is struggling to cope with the death of her father and her mother's descent into mental illness.
As a coping mechanism, she conjures a fun and brazen soul-mate in the form of Josephine, a free-spirit who guides Claire through the dark days of grieving introspection towards a path of rediscovery and personal re-evaluation.
Also shown on Saturday was Creedmoria, starring Stef Dawson, best known for her role in The Hunger Games. She plays a 17-year-old girl who becomes disillusioned with her dysfunctional home life, deciding to run away in search of a better future.
The film boasted a stellar soundtrack, with Foals' Spanish Sahara used to a particularly devastating effect. Consequently, it was no surprise to see director Alicia Slimmer land the Best Director prize at the Festival's Award Ceremony the following night.
The other two big winners from the Closing Night Gala were Cardboard Gangsters and Katie Says Goodbye.
In the former, star and principal writer John Connors, picked up the Best Actor award for his portrayal of family-man turned drug kingpin Jay Connolly.
Placing his characters in his childhood neighbourhood of Darndale, Connors gives a remarkably emotive and personal performance. The film contains significant overlap with Connor's own life growing up in the notorious and deprived Dublin suburb.
The film reaches its climax among some seemingly innocuous trees within a patch of woodland that overlooks an algae-stained lake.
"When he was a kid he used to walk through the woods," director Mark O'Connor revealed after the screening of the film.
"The stuff about his father that you see in the film – that's really what happened to John…his father died in the lake – he killed himself.
"So when John's looking into the river, that's all very, very personal."
Another highlight from the Q&A session that followed the screening came when Connors was asked about how he channelled such raw emotion during a breakdown scene in his protagonist's bedroom, resulting in him smashing his head through his wall.
"All that scene said was: 'Jay sits on the bed and contemplates'… literally nothing else.
"I didn't know what was going to happen to be honest. That was the scene that I was afraid of the most, because I'm dealing with some personal stuff myself – some guilt, stuff that I didn't want to face.
"But since I woke up that morning my hands were shaking, and before I did this film I thought that I had got to the depths of where I could go as an actor.
"I thought I did – until that morning I woke up and I was shaking. I called Mark into the back garden of the house and I went, 'Mark just get this ready I don't know what is going to happen!'
"There was just a feeling that it had to be captured straight away in one take. We couldn't re-do that – the walls were fucking broken!"
As well as the Best Actor accolade for Connors, Cardboard Gangsters impressed the Jury enough to win both the awards for Best Feature Film and Film of the Festival, beating off an array of talent from every part of the world.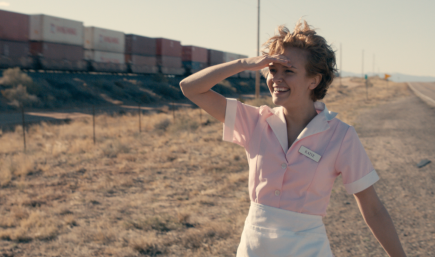 TOXIC TIMES: Katie Says Goodbye charts a 17-year-old waitress' life of poverty
Our final mention has to go to Oldham's own Olivia Cooke for her leading performance in the Festival's closing feature, Katie Says Goodbye.
Cooke is best known amongst TV viewers for playing Emma Decody in the Psycho television prequel Bates Motel, but in this role she ascends to a whole other dramatic tier, giving a stunning performance that is heart-warmingly endearing and gut-wrenchingly tragic in equal measure.
The film tells the story of Katie, a 17-year-old waitress living a life of poverty in the dust plains of Arizona, dreaming of the chance to start life anew in San Francisco.
In her desperation to save enough to move away from town and leave all that she knows behind, Katie turns to prostitution, and begins to develop a number of toxic relationships with the local townsmen.
It cannot be coincidental that the one relationship that proves somewhat wholesome during this otherwise empty time in her life is with an aging truck-driver, a man who Katie is able to live her desires for freedom and adventure indirectly through.
The film takes an unexpectedly dark turn half-way through as Katie finds herself unable to prevent herself from being raped by two of her restaurant customers and friends.
"I was like no, I don't want to do this!" Cooke told the festival audience, speaking about her initial reaction to reading the film's script.
"I was like no, I don't want to do this! Originally my worries with the character was that she was quite passive on the page, but then I had a meeting with Wayne the director and my worries were instantly put to bed.
"It's really sensitive material and I wanted to do justice to that and kind of not have her be portrayed as a victim in any way."
Cooke is well on her way to becoming a Hollywood staple, already having secured for herself a lead role in Steven Spielberg's sci-fi thriller Ready Player One, out next year.
The 23-year-old further enhanced her burgeoning reputation as one of the most promising actresses of her generation by taking home the award for Best Actress.
"Thank you so much, this means a lot seeing as I'm from Manchester.
"This is my first award – this is the first thing I've ever won!" said a delighted Cooke to a cheering crowd.
A comprehensive list of the other major winners can be found below.
Major award winners:
Film of the Festival – Cardboard Gangsters
Best Feature Film – Cardboard Gangsters
Best International Film – When The Sun Shines
Best UK Film – The Last Laugh
Best Director – Alicia Slimmer (Creedmoria)
Best Actor – John Connors (Cardboard Gangsters)
Best Actress – Olivia Cooke (Katie Says Goodbye)
Best Animation – A Little Grey
Best Experimental – Running Through Life
The Radisson Blu Edwardian Best Documentary – Das Wassup
Audience Pick – Creedmoria                            
The City Suites Best UK Short – The Last Laugh
Best International Short – A Tree. A Rock. A Cloud