Opera North present Engelbert Humperdinck's production of Hansel and Gretel with a thoroughly modern twist.
Director Edward Dick uses clever yet simple technological props to give the classic Grimm fairytale a new lease of life as it focuses on addiction and every parent's worst nightmare – their children being put in danger.
The story emphasises that the youth of today are susceptible to many dangers, and if they do not receive guidance they will stray and become lost to consume at their own demise.
As well as this, it presents a display of abandonment, not just physically but emotionally too during its two-hour showing at The Lowry.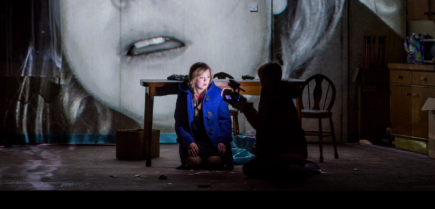 FAIRYTALE: The production presents a modern twist on the classic story
It is obvious that the main characters' mother, Gertrud – played by Susan Bullock – sees them as a burden as she allows the two protagonists to wander into harm's way.
The performance is mesmerising yet visually simple with the usage of a video camera, which creates a Blair Witch-esque modern take on the 19th-century classic.
This straightforward use of the camera ultimately fuels the sense of abandonment when both the children find themselves alone in a dense and unfriendly forest.
The camera is a central component to the opera's visual success as Hansel – played by Katie Bray – and Gretel – played by Fflur Wyn – literally command the scenery's background and whisk the performance from scene to scene without any stoppages.
It is, of course, a clever design ploy from theatre expert Ian William Galloway that effectively keeps the audience captivated.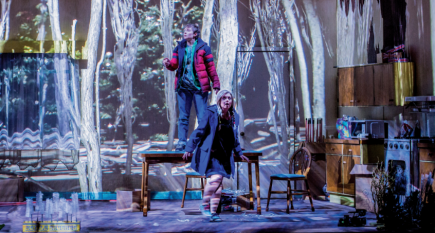 HOME RUN: The performance is mesmerising yet visually simple
As the opera performance progresses, the situation for the two children becomes more ominous as they nearly meet their end at the hands of the Witch, also played by Bullock.
Although some scenes were notably clumsy, it gave the performance a sense of imperfection, which would be expected in a story about children as it provided the two leads with realism and relatability.
From the lead roles to conductor Christoph Altstaedt and his pitch perfect orchestra, everything worked is this neo-visual opera performance of a timeless tale of addiction, imagination and abandonment.
Hansel and Gretel takes the audience back to the basics of what frights us: that we fear the worst and that the noise in the dark is always scarier than what makes the sound.
*Opera North's Hansel and Gretel is showing at The Lowry in Salford on Saturday, March 11.