Of all of his tragedies, King Lear – the tale of a monarch's decent into madness after he attempts to secure an early retirement – is perhaps Shakespeare's finest.
And it is done a great justice by the Northern Broadsides troop at The Lowry's Quays Theatre.
The play, directed by Jonathan Miller, is about a selfish old man who deeply offends God by resigning from his post as ruler, and pays a terrible price for it.
Lear – portrayed by the incredible talent, Barrie Rutter – sees Britain fall into chaos and ruin after he divides its rule between two of his daughters in the hopes of retiring from his post as King, a divine duty bestowed for life.
A look into the devastating impact a struggle for power, driven by greed, false flattery, and self-interest, can have on a nation felt remarkably apt the evening after the General Election.
Perhaps, this is at least a small part of why the audience in this little theatre felt so receptive to every joke and every damning assertion about the constructs of power.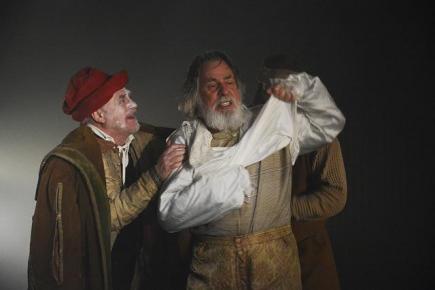 UNFUNNY FOOL: As Lear descends into madness it is unclear who is the fool and who is the wise man
Shakespeare's purposefully unfunny, really rather cutting, on point and therefore hilarious, Fool – performed by  Fine Time Fontayne – had the audience in stitches but in that 'if you didn't laugh you'd cry' way.
But certainly, for the most part, it was the exceedingly high quality of acting that had everyone so completely engaged and engrossed.
After 38 hours with no sleep covering the election, there are not many things that would have even kept me awake, let alone genuinely enthralled from start to finish.
To add to the skill behind every actor's powerful performance – each one without fault – Miller's Lear was stripped back and condensed but without losing any of the key elements of this theatrical masterpiece.
Audiences often come out of cumbersome four-and-a-half hour versions of Shakespeare's writings, worn down by the tragedy of it all and unenthused by the elaborate scene changes, druidic symbolism and complex sub-plots.
Lear's sub-plot about the Earl of Gloucester who rejects one loving son in favour of his evil bastard – much like the King rejects one loving daughter in favour of two evil ones – could constitute a play on its own, and has in Friedrich Schiller's The Robbers.
And King Lear as we know it today is the amalgamation of two versions by Shakespeare, the History and the Tragedy.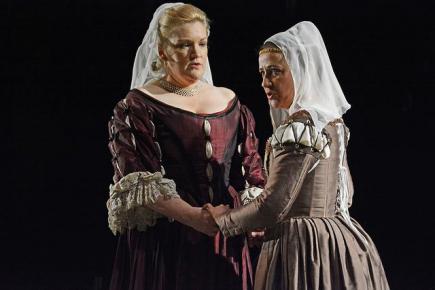 FALSE FLATTERY: Lear's evil daughters betray him after he divides his power between them
This all taken into account makes any adaptation of the drama quite likely to fall into the usual traps when portraying Shakespeare but Miller's abridged script and minimalist stage most definitely does not.
Miller's second collaboration with Northern Broadsides is true to the company's trademark vigour, simplicity and down-to-earth performance style that have won over a whole new generation of Shakespeare fans – and this is just one more undoubted success.
The creative clarity with which Miller's King Lear is delivered makes the play ever more poignant and a potent reminder, especially at a time when we witness a power shift in the UK, of the timelessness of Shakespeare.
Tonight is the final night of King Lear at The Lowry and it is unfortunately, but unsurprisingly, sold out.
However the production moves to York International Shakespeare Festival and will be touring the country until mid-June.
So if you want to find out who is the fool and who is the wise man, click here.
All images courtesy of The Lowry, with thanks.