Feminist science-fiction film The Last of Her Blood that follows a young woman's fight for survival in a post-apocalyptic reality and is based in Manchester is set for release this week.
MM caught up with 22-year-old director Venla Shantali to discuss her upcoming movie, which will hit the big screens on June 12, and what inspired her to venture into sci-fi.
Venla is a freelance filmmaker originally from Helsinki, who has been living in Manchester for more than three years.
She described The Last of Her Blood as a futuristic film that explores the life of a young Scandinavian woman called Elfrida – the last in her blood line after a brutal world war.
To survive this post-apocalyptic, dystopian reality she must discover her own sense of self, and fight to stay alive using a mythological axe passed down from her father.
Most of the filming took place in an abandoned park called Pomona Island – an area between Manchester and Salford – and was funded through Venla's successful Kickstarter campaign.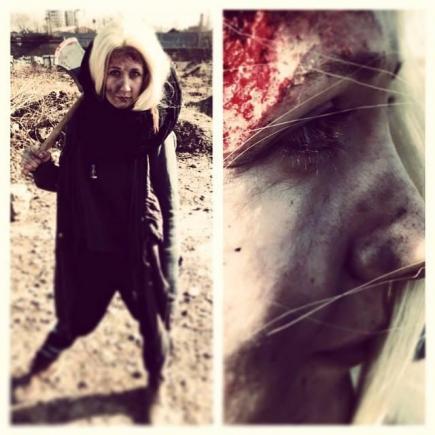 DESOLATE AND NEGLECTED: Venla said the Manchester area they filmed in was perfect for the post-apolcalyptic setting
Venla said: "This area is perfect for shooting a post-apocalyptic film as it is desolate and neglected.
"The locations I have used are not owned by the council but by other third party companies such as Network Rail.        
"I went the right way about contacting the relevant teams to gain permission but I was often either asked for an extortionate amount of money or just told no without reasoning.
"The attitude of these parties should be to help the local communities and local filmmakers, not try to extort money whenever possible."
The world Venla has created is one where difference is rejected, in particular racial difference, as the project explores themes such as exclusion, otherness and alienation.
Manchester is often triumphed for its diversity but Venla believes the city is a kind of superficial assimilation of different cultures.
She said: "At first I really thought of it as a city with many different diversities and cultures mingling together.
"But the closer I've looked it seems Manchester does have a great mixture of things but I am not too sure about the mingling."
The director's upcoming film ties in feelings of rejection she has felt herself living as a 'foreigner' in Britain.
"The idea of the film actually emerged through the notion of how I felt when people found out I am not actually from England," Venla told MM.
"The first impression people get is that I am Mancunian, but when they realise I am foreign some people change their attitude slightly.
"Obviously every foreign person will get stereotypes thrown at them, and to some extent that is fine, as long as it remains a fun joke."
Venla spoke of the ways racism infiltrates society in various forms, not solely because of skin colour but through a fundamental fear of otherness.
She added: "People are scared of things that they know little or nothing of."
The Last of Her Blood will create a reality where all single races, such as white and black, have been wiped out and only mixed-races prevail.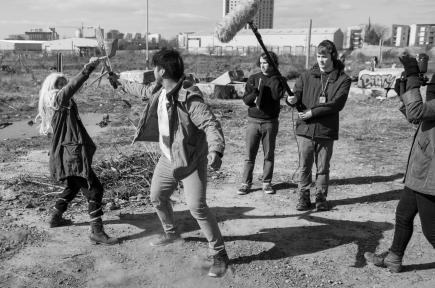 NO BLACK AND WHITE: In The Last of Her Blood's reality single races have been wiped out and mixed-races prevail
Elfrida, the female protagonist, is the last person of Scandinavian decent to survive and must navigate a reality where difference is feared and rebuffed.
When asked who has influenced her the most as a director, Venla mentioned Tim Burton's work as one of the reasons she became a filmmaker.
"While watching his films I think everyone can relate and feel special, and that is something I would love to bring through my story too," she said.
"I know how it feels to be isolated, outcast and bullied but I have taken that experience and given a message that anyone who feels that way can break through it.
"Tim Burton's art work and poems are very important for me and have inspired me to create the story of Elfrida, the outcast of society."
Venla explained that being naturally blonde had an influence on the film's subject matter, as 'blonde people are not taken as seriously as brunettes'.
She said: "Though it started as a joke that blondes are a bit thicker it has stuck in our society. You can see this in films and in existing female heroes."
With a (blonde) female character cast as her leading role, this director has created space for women in the pervasively masculine sci-fi genre.
Manchester has a rich feminist history ranging from the suffragette movement to a variety of cultural hubs currently championing female creativity.
The Last of her Blood joins a long list of woman-headed art projects in Manchester, with an insertion of sci-fi as a proverbial middle finger to the glass ceiling.
"Stereotypically, it is every boy's dream to grow up to be an astronaut," Venla said.
"As a child, I grew up with science-fiction and action films and these really inspired what I wanted to do in the future.
"I feel that having a strong female lead is important in recognising the potential of women."
Sci-fi culture of comic books, television series, films, etc. has often been criticised for either its lack of female representation or the over-sexualisation of female heroes.
Venla added: "Having a non-sexualised female hero was a priority for this film.
"It seems that everywhere we look in films there is a female hero wearing tight leather – Catwoman, Gomorrah, Black Canary, Black Widow.
"The way they are portrayed is wrong and it is time society sees these characters as heroes and not through the 'male gaze'."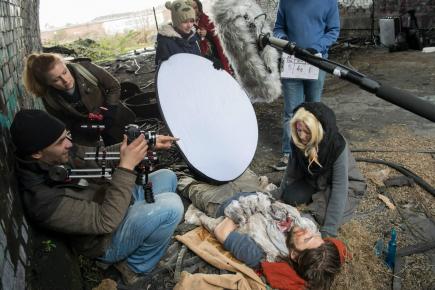 GLIMPSE OF HOPE: Venla explained that it is not easy to make it big as a female in the fimmaking world, let alone with sci-fi feminism
A few mainstream directors have attempted to re-write gender scripts in supernatural films but unfortunately they remain the exception.
Sex sells, and female sexuality has become a central marketing technique for capitalist industries such as film and television.
Joss Whedon, creator of Buffy the Vampire Slayer, has often been recognised for advocating powerful women in Science-fiction, and was honoured with a prize for his contribution to feminism back in 2006.
In his acceptance speech Whedon revealed the question he had been asked by reporters for years: "Why do you always write these strong female characters?"
His answer was a perfect encapsulation of sexism within the industry: "Because you're still asking me that question."
Venla echoed similar feelings about her decision to use a female hero, and expressed her desire for the project to be a 'feminist revision of sci-fi films'.
She said: "Equality and balance is what I strive for and it should be considered normal to have a female hero just as it is for a male hero."
The feminist workings of this film project are as much behind the camera as they are on screen.
More female filmmakers are emerging and being acknowledged in the mainstream, but it is still predominantly a (white) man's game.
Speaking about her experience as a female filmmaker, Venla told MM: "It is not easy to make it big but we have come a bit further.
"I think every woman director had a glimpse of hope in 2010 when Kathryn Barlow won best director for Hurt Locker as the first woman to ever win.
"I admire her work, especially being a female, but I still face difficulties with some people on set as they refuse to take me seriously because I am a woman.
"Even more experienced female filmmakers have told me how they sometimes start doubting themselves because someone on their set doesn't take them seriously or calls them 'a little girl'."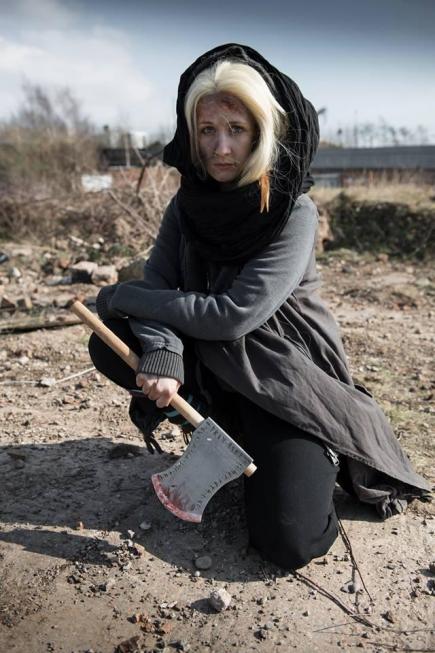 EQUALITY AND BALANCE: Venla hopes that one day having a female hero in films will just be normal
Venla proudly stated that her selection process of crew members is based on skills and enthusiasm rather than gender.
She is willing to do the extra work to become a successful filmmaker but expressed her disappointment at having to take certain roads solely because of her gender.
"I am glad to have found funding websites that support only female cinematographers, but ideally I wouldn't want to see those sites as everyone should have the same equal opportunity for any work," the director said.
There has certainly been a cultural shift that sees more women in prominent positions, but the film industry still has some way to go.
It is important projects like this gain support and continue to thrive in an overwhelmingly masculine business.
The Last of Her Blood will be released on June 12. For more information visit the film's Facebook page or follow @TheLastBloodUK on Twitter.
All images courtesy of The Last of Her Blood, via Facebook, with thanks.