Back in August 2017, the internet went into meltdown as Taylor Swift wiped her social media slate clean. Eventually, after three long days of Blank Space, she posted a grainy, flickering video to Instagram of an ominous black snake.
Fans were left bemused. Was it a reference to her infamously tricky friendships, or even more infamous romantic history?
It turned out that Swift has embraced the reptile as the unusual mascot for her latest album, Reputation, and her first UK stadium tour of the same name that kicked off in Manchester last night.
At one point, the star was joined onstage by a gigantic, rainbow-coloured cobra and later on, she hitched a lift on an eerie snake skeleton. This was a show where ophidiophobes should beware!
The night was divided into six distinct acts, giving the Pennsylvanian plenty of opportunity to show off an expansive back catalogue – and wardrobe.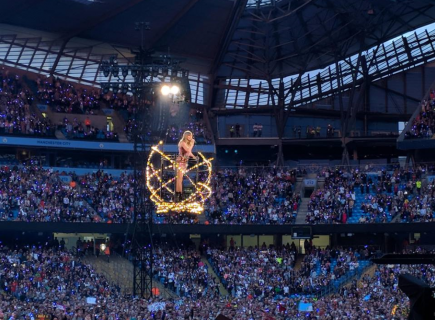 WORLD-CLASS: The production value is on another level
As you would expect, it was songs from Reputation that studded the setlist.
Of the new tracks, the highlight had to be the finale, This Is Why We Can't Have Nice Things. Taylor and her fourteen dancers frolicked in a huge fountain against a backdrop of a rundown manor house, while both fireballs and fireworks wowed the 40,000 capacity crowd.
There had been controversy before the show, held at Manchester City's Eithad Stadium, with Ticketmaster moving audience members from the front rows to the back due to 'changes in production'. But with three stages dotted around the cavernous ground, fans in all corners had a chance to get a good view of their idol.
OId-schools listeners were not forgotten about: a medley of Style, Love Story and You Belong With Me was a particular treat.
For Shake It Off, Swift was joined by her incredible support acts, Camila Cabello and Charli XCX, and even mums and dads couldn't resist getting up for a dance. She even harked back to her country roots by picking up a guitar for a catchy acoustic version of I Knew You Were Trouble.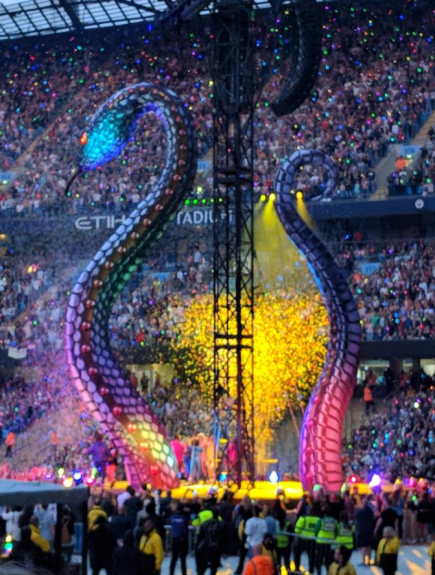 BEWARE: This isn't a show for ophidiophobes
Watching such a polished performance can make you wonder if you are watching a human or a robot. But taking to the piano for New Year's Day/Long Live, a laughing Swift made a rare mistake, which only enamoured her further to the audience.
There was an emotional nod to last year's Arena bombing, when Swift praised Manchester's 'incredible resilience'.
She added: "I just wanted to say, Manchester, it's such an honour to be playing for you tonight."
Judging by the crowd's reaction, the feeling was mutual.
For a singer as known for her private life as her music, Reputation is a jubilant middle finger to the people who've tried to bring her down over the years.
Whatever your opinion on her, her incredible pop tunes are bound to keep slithering into your ear for a long time.
*Taylor Swift's Reputation tour continues at the Etihad Stadium tonight. You can buy tickets HERE.