The sofa in the green room of The Comedy Store is leopard print. It's a loud vibrant fabric, unashamedly honest. Very much like scouse comedian Adam Rowe.
Although, Rowe comes across more subdued and considered than his onstage persona. He's a career driven comedian with a dream to be one of the best stand-ups the UK has ever produced.
This possibility isn't looking altogether unlikely. Over the past year, Rowe's career was catapulted forward with viral success – amassing over 50 million views.
In these videos he tells stories of his trials and tribulations with crazy girlfriends, nights out, hangovers, Greggs, WhatsApp groups and other relatable topics.
He's a raconteur – the opposite of a one-liner comedian.
That's why he didn't believe his agent when he was told that he won funniest joke at the Edinburgh Fringe Festival this year.
The acclaimed joke goes: "Working at the Jobcentre has to be a tense job – knowing that if you get fired, you still have to come in the next day."
Even though the joke has opened doors for Rowe, it has plagued him ever since.
As I went on stage after the first act tonight a guy got up to go the toilet. Asked his wife what his name was.

Her: "it's Ulf"

Me: "Ulf? That's a weird name…"

Her: "Well it's Swedish… and it's short for Wolf"
 

— Adam Rowe (@adamrowecomedy) October 8, 2018
"I fucking hate that joke now," admits Rowe. He's had to repeat the joke in almost every interview since and every night in his show "Undeniable", where it no longer gets a laugh.
"The last week of my Edinburgh Fringe Run just sold out and that joke never got a laugh, not one of those days, because everyone in the room knew the joke. So I'd get to it and they go 'Wheyyy! That's why we're here!'"
But he can't take it out of his hour long show – because it's too much of an important part. He aims to deconstruct his character with "Undeniable". Rowe was on the dole for a short period between jobs and it was a very upsetting time for him.  
He describes his show as "complex" – it digs deeper than his viral clips would suggest. Which may come as a surprise as Rowe comes across as a cheeky scouse lad through his online videos.
He describes himself as an angry person who has struggled with anxiety and irrational behaviour. He doesn't have the time to reveal that side of himself in the shorter sets that he does at various club nights, at venues that include The Comedy Story, The Frog and Bucket and Liverpool's Hot Water Comedy Club.
"I don't want people coming to the show and expecting what they see at the comedy store or online," says Rowe.
"It's an extension of that in a way, it is me just trying to be funny for an hour but I will take audiences to a place they don't necessarily feel comfortable.
"Then I'll change their minds with jokes – rather than just going: 'Here's something funny! Here's something funny!'"
He delves in to his troubled background as a way of explaining to the audience how he has become the way he is. His parents were alcoholics, they broke up when he was ten years old and he was raised by his father.
Rowe stresses the importance of comedy having to come from an honest place but the need for that truth to be manipulated to make it funny.
"It's just about manipulating it to give people the night out that they paid for. That's the difference between stand-up comedy and just reading from a diary.
"Your diary is 100 percent truth but your stand up set is a manipulation of that. That manipulation makes people laugh so the audience get their money's worth.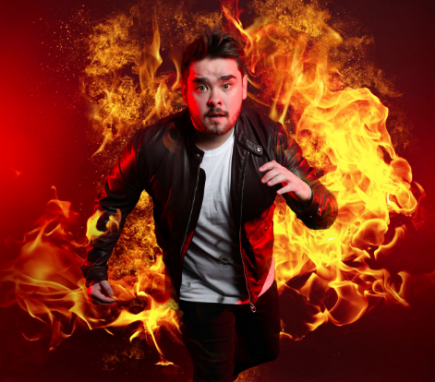 "I think for comedy, to be funny consistently you have to lie because the truth doesn't always end in the funniest place – but a joke has to end in the funniest place. The end of the story has to be the funniest bit.
"You can't have the end of your story not being as funny as the middle in a stand up set – but that generally isn't reality.
"If you think if a night out as one story, all the fun stuff happens in the middle but then it would end: 'But then we went home! And I got in bed and I went to sleep,' and that's not the end of a stand-up story.
"So you have to edit it so at the end something false happens or you have to end the story in the middle and don't carry on with the rest of it."
SLEEPING WITH NELSON MANDELA
In his set, Rowe is particularly merciless about his current partner. He describes her as not being 'the one' for a host of funny reasons. The general shtick is that she is a complete psychopath and he is the put upon boyfriend.
With a chuckle, Rowe admits that this isn't true and that they have an agreed arrangement in place for such jokes.                                
"Genuinely, she is happy as long as I am talking about her. As long as the audience know that she exists. Then that's fine. So I can say whatever I want – as long as it's in a root of truth."
In a sterner manner, Rowe recounted how he first broached the subject of her role in his comedy career.
"On the first few dates I made abundantly clear that 'If you're going to date me, you're signing over our experiences'.
"I will write about my life and if you're in it, that's part of it. It was literally: This is how it is. That's going to happen. If you can't handle that, you have to go."
Lounging back on the leopard print sofa, Rowe also admits that some of his scenarios are completely fabricated but they come from an amalgamation of different experiences and thoughts.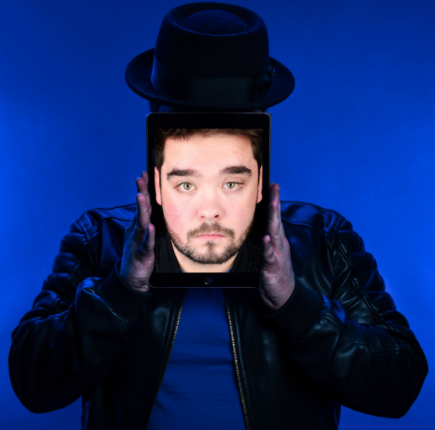 "I had a bit for a while about two girls on a bus discussing whether they would sleep with certain celebrities.
"One of them mentions Nelson Mandela and asks the other 'Would you sleep with Nelson Mandela?' and the other girl says 'No, I wouldn't because one of my boyfriends has been in prison and he was a fucking dickhead'.
"Then I turn around and say 'I don't think these two people went to prison for the same reasons. There's a big difference between fighting apartheid and petrol bombing your nan's house.'
"None of that happened."
Rowe isn't afraid of delving in to darker more controversial topics. His favourite style of comedy to watch is the dark, edgy irreverent style humour popular in America. His favourite stand-up comedians include Jim Jeferries, Bill Burr, Louis CK ("pre-scandal" he hastens to add), Patrice O'Neal and Dave Chappelle.
Rowe puts the current trend of edgier humour in the states being down to Netflix.
"So Netflix is based in America and that's the home of comedy now and that's where all the big acts specials go and Netflix do not restrict what comedians say at all. Here it's a lot more censored – because people get offended easier.
"For example, I feel an audience over there is willing to listen to a comedian on what they're actually saying whereas audiences over here if you say certain buzzwords will turn off.
Like if you say 'Muslim' onstage in Britain – because of certain context and issues that certain political groups have with that faith – we'll hear that word and go 'HUHHH! It's going to be racist.' – it could be a pro-Islam joke, it could be anything.
"'Rape' does the same thing – stuff like that. 
"The audience will go into a shell and will ask 'Is he allowed to do comedy about that subject?' Whereas in America, it's not the word or the subject but what you're saying about it that's more important."
Rowe is of the opinion that all topics are ripe for humour – but that everyone has a right to be offended. So this ultimately puts comedians in a position of responsibility. Comedy is a serious business.
After the interview, Rowe led MM further in to the inner-sanctum of Manchester's The Comedy Store. He opened the door across the green room.
It was an office that looked somewhat like The Architect's room from The Matrix. Screens with CCTV images of the venue were plastered all over one wall, there were views of the auditorium, the bar and outside the venue.
A man in glasses spun round in his seat to address us.
"I'm like Wizard of Oz," he says. "I have eyes and ears everywhere."
The man is Paul Home, the General Manager of The Comedy Store – the eyes and ears not included within the iconic logo of the laughing mouth.
It's a tightly run operation.
Rowe shares that he is working on a documentary about the comedy industry.
He's also working on a script for a comedy drama.
However, Rowe says that he is only branching out in to sitcom writing to "facilitate more tour sales."
He continues: "Everything I do is to improve my live audience. Everything. So there's nothing I'm working on that doesn't put fuel in that car.
"I'm not doing the comedy drama because I've always wanted to write a comedy drama, I'm doing it because I think I've got the basis of a good story and I think if I got credit for writing it and starred as one of the bigger roles in it then people would go 'Let's go and see him live'.
"I will tour every year for the rest of my life," says Rowe with complete assuredness.
Can you all just RT this please? I'd be dead grateful.

I AM GOING ON TOUR!! All over the UK & Ireland.

All shows: https://t.co/sYgCOjHk45 pic.twitter.com/MyyAz0EwUS

— Adam Rowe (@adamrowecomedy) September 21, 2018
The "Adam Rowe: Undeniable" UK Tour begins at the end of October.
He performs at The Lowry on November 4.
Image courtesy of Steve Ullathorne, with thanks.