New to The Warehouse Project's enviable array of lineups this year is a select number of day-into-night shows – playing from 2 until midnight in what will be the last year at their celebrated Store Street venue.
When Saturday's daytime debut was first announced as 'Four Tet and Friends', it was difficult to think of a more suitable curator than one of the industry's most original producers.
London born Kieran Hebden has become concretely known within the Electronic music community since his emergence in 1998.
Under pseudonym Four Tet, his ear for bathing hypnotic melodies in gloopy electronic sounds has seen his slow burning, ambient techno genre go from strength to strength.
His seventh studio album, released last year, is a sometimes-calm, sometimes-cosmic 56 minutes, building downtempo basslines underneath the warming strings and synthesized percussion exclusive to Four Tet's discography.
'New Energy' was a well received LP, sparking an equally as celebrated series of intimate live dates throughout the winter.
WHP18 /// STORE STREET.

FOUR TET — 06.10.18 pic.twitter.com/rGYkf7IFUL

— The Warehouse Project (@WHP_Mcr) October 8, 2018
Said tour was reviewed just as much as an art exhibition as a live performance.
Attendees were immersed in mood-flipping colour thanks to hundreds of dangling bulbs over Hebden and the surrounding crowd.
Going from such original staging with a heavily invested, closely-kept crowd to a thousand- strong dancefloor inside a famous disused warehouse, I did begin to doubt during the short taxi journey across Manchester whether the style could fill the floor.
The ensemble of friends recruited to prop up the evening's headline set was, at first glance, not spoilt with bigger names considering Four Tet has worked with the likes of Burial, Floating Points and The XX previously.
Ben UFO was perhaps the most renowned of group. His back-to-back set with Hebden opened the event and beforehand I was intrigued to see whether Four Tet's artistry would compliment or clash with Ben UFO's often assaulting heavy bass.
Hebden showed flexibility of course, seeming to showcase his experience and comfort in matching the deep techno his friend brought to the table.
This wasn't the Four Tet that we have become accustomed to from his own work, certainly not reminiscent of 'New Energy'.
Instead, it was Four Tet the DJ, reminding us that despite numerous original albums, he shouldn't be taken for anything less than an excellent selector on the dance floor.
The set was hard-hitting and welcoming to arriving revellers. However it immediately illustrated that this may not be an extended showcase of Four Tet's own sound, but rather a free pass to his peers to explore the expanding sub-categories of electronic music throughout the three rooms.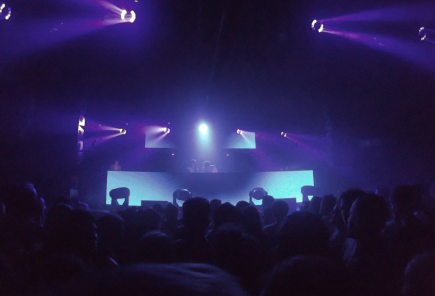 EXCELLENT SELECTOR: Four Tet served a reminder of his mixing prowess
San Francisco duo known as BATHING followed with the second set in the main room.
Their set was performed live using miniature synths and drum machines run through phaser pedals, creating a very minimal, psychedelic sound completely opposite to the thumping atmosphere that preceded them.
It was mesmerising to watch two artists operate hardware in a digital-heavy time, so complete credit to them.
However I believe their genre would've perhaps been better placed on a smaller stage. Their slow build up was gradual and became rather tedious after 25 minutes or so.
They would lift you with gentle euphoria, progress slowly, and then drop you in the middle of nowhere by changing it up without any real climax to their foreplay. In the midst of a clearing dancefloor and rising chatter, we moved on.
The third and smallest room provided a more intimate, music-orientated space compared to the festival-like scenes of rooms 1 & 2.
Whether it was the soulful house set of Hidden Spheres or the fidgety Romanian tech played by Space Afrika later on, the music of room 3 was a reliable backbone to the whole event.
It provided reassurance that the organic culture of underground music is not only still alive within big club institutions like The Warehouse Project, but when the venue is right, is capable of stealing the show.
Breezing from room to room of the Store Street maze was like flicking through an encyclopaedia of electronic music.
Anthony Naples filled the main room with well mixed and very well received tech house, whilst Danish DJ 'Courtesy' was at home in room two. She was pulling out stomper after stomper, bouncing them off the tunnel-like walls and vibrating the audience with intergalactic synth and ecstatic dance music – in parts reminiscent of Irish duo Bicep's signature sound.
Before long the main room was packed from brick to brick in anticipation of Four Tet's closing set. And it didn't disappoint.
Hebden weaved through his notorious taste, delivering favourites like 'Lush' and 'Scientists' with perfection.
His transitions between tracks were faultless and occasionally more entertaining than the tracks themselves. Even more mesmerizing was the showcase of 3D lighting, which not only engulfed Hebden and his trademark curly hair, but took the experience to a different dimension for those watching.
For a man with such a progressive and contemporary sound, Hebden still understood that on a Saturday night in front a thousand plus people, a Destiny's Child remix would go down a storm.
Not many could pull it off the way Hebden did, reminding us why he is a Grammy nominated reproducer. Rihanna, The XX and Bonobo have all had the Four Tet treatment in the past, and all made an appearance on the night to great acclaim.
Often overlooked at events like this is how well a crowd performs.
A poor crowd can break a very good event. Here though, there was never that concern. For those who will be disappointed by the move out of Store Street in 2019, they need not worry if the Warehouse Project can maintain the same northern warmth and togetherness that makes their nights so special.
Nothing so embodied this spirit when Hebden dropped a remix of Ariana Grande's 'No Tears Left to Cry'. Perfectly appropriate and perfectly executed, the Manchester crowd were as surprised as they were in love with the moment.
Hats off to Four Tet and his talented group of Friends for a memorable daytime debut in this season's The Warehouse Project.
The only thing that topped the music was getting the bus home for midnight. A very welcome alternative to the usual 6am bedtime an event like this brings.